ISLAMABAD -- Pakistan is enhancing its efforts to crack down on money launderers and terror financiers to meet the requirements of the Financial Action Task Force (FATF) and exit the global terrorism-financing watchdog's grey list.
The FATF, a Paris-based inter-governmental organisation, formally placed Pakistan on its grey list in June 2018 for failing to take action against money laundering and terror financing.
The grey list is comprised of countries that the FATF is monitoring for weaknesses in their efforts to combat money laundering and terror financing.
The FATF extended the deadline for Islamabad to complete an action plan aimed at meeting the FATF's requirements to September, and it will evaluatePakistan's progress on the FATF Action Plan in the next plenary cycle beginning in October.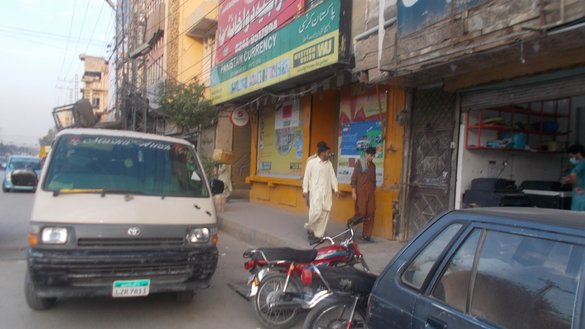 In the government's latest crackdown, the Federal Board of Revenue (FBR) on August 28 reported it had discovered Rs. 1.4 billion ($8.4 million) in illegal bank transactions.
The Directorate General of Intelligence and Investigation in Islamabad took action after a review of the tax profile of a suspicious man who had used different business names while providing professional services to various clients, local media reported, citing the FBR.
The suspect could not explain a Rs. 1.1 billion ($6.6 million) bank transaction and the sources of his income, the FBR said.
In addition, an associate of the suspect made a Rs. 329 million ($1.9 million) bank transaction that authorities deemed suspicious. The two men were working together and have more than 50 accounts in Pakistani and foreign banks, the FBR said.
Authorities registered a complaint against both men under the Anti-Money Laundering Act 2010, it said.
Cases on the rise
Authorities have traced more than 20 suspicious bank accounts during the past two months, said Choudhry Mutahir, an official at the FBR.
"In these cases, the account holders have paid little or no taxes, while their transactions run into millions," he said August 28. "Therefore, we are further investigating the cases and their connection with proscribed organisations, who have been using the money to finance acts of terror in the country."
The branch of the FBR that is working FATF-related cases is helping lead the investigations into suspected cases of money laundering and terror financing.
"Soon, we are going to lodge several cases against the suspects as the government has strictly issued directives to act against suspicious people in line with the guidelines of the FATF," Mutahir said.
In another case on July 13, the Khyber Pakhtunkhwa Counter Terrorism Department (CTD) arrested three suspects in Kurram District who were carrying $78,000 (Rs. 13 million) and 5 million AFN (Rs. 10.8 million) as well as Pakistani banknotes.
Authorities registered a case against them under the Anti-Terrorism Act 1997 Section 11-F (membership of a proscribed organisation) and Section 11-N (terrorist financing).
The suspects entered Pakistan from Afghanistan via the Kharlachi border post in Kurram District and financed terrorist outfits, said Raza Khan, a CTD inspector, at the time.
On July 18, a Federal Investigation Agency unit working on FATF-related cases said it discovered a network of money launderers in Lahore and arrested its four members.
The arresting officers seized Pakistani currency, foreign currency, laptops, mobile phones, and receipts related to hundi and hawala, as well as cheque books, local media reported.
More laws in the pipeline
Legislation is helping to strengthen efforts to curb terror financing, according to Minister of State for Parliamentary Affairs Ali Muhammad Khan.
"Pakistan is taking the steps for the sake of its own safety," he said. "We have lost over 70,000 people to terrorism in the last 20 years, and we need peace."
The United States and other allies appreciate Pakistan's efforts to crack down on terror outfits and successfully prosecute them, he said.
The conviction earlier this year of Hafiz Saeed, leader of the banned militant group Lashkar-e-Taiba (LeT) and its associated political arm Jamaat-ud-Dawa (JuD), received wide praise from US officials, Khan said.
"More laws are in the pipeline to ensure the conviction of terror-financing suspects that will not only fulfil the conditions of the FATF but safeguard our people against extremism," he said.
"Our actions speak of our intentions. There are arrests, prosecutions and new amendments to the existing laws to make our country safe and make economic progress," he said.
Pakistan is taking serious steps to stay off the FATF's grey list, Prime Minister Imran Khan told ARY News on August 27.
"Pakistan may face a worsening economic situation if it fails to take concrete measures against money laundering and terror financing," he said. "We will do everything to satisfy the world that Pakistan wants to eliminate terrorism and seeks peace."