LAHORE -- Pakistan's Anti-Terrorism Courts (ATC)s in Punjab Province have convicted 13 men of terror financing this month in an effort observers say is aimed at meeting the requirements of the Financial Action Task Force (FATF).
The Paris-based inter-governmental organisation in June 2018 placed Pakistan on its grey list for failing to take action against money laundering and terror financing.
A deadline for Islamabad to complete an action plan aimed at meeting the FATF's requirements has been extended to September.
Those recently convicted were sentenced from one to 16 years in prison for their crimes.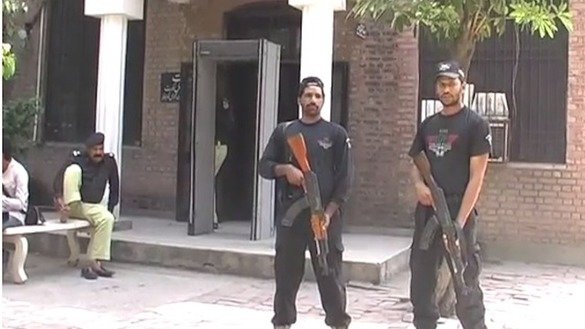 An ATC in Gujranwala District on Thursday (June 25) convicted five al-Qaeda terrorists and sentenced them all to 16 years' imprisonment for terror financing and possessing explosives.
"The convicts, including Abdullah Umair alias Hanzla, Ahmad ur Rehman, Asim Akbar Saeed, Muhammad Yaqoob and Muhammad Yousaf were arrested by Punjab Police Counter Terrorism Department (CTD) on December 26, 2019, in Gujranwala when they planned to commit a terrorist activity there," Additional Inspector General CTD Punjab Rai Tahir said in an interview.
"All the convicts were given prison sentences of five years for terrorism financing, seven years for keeping explosives, three years for supporting the proscribed organisation al-Qaeda and one year for having al-Qaeda literature in their possession," Tahir said.
'A good move for Pakistan'
"The personal property of all the convicts has been confiscated. A fine has been imposed on these convicts," he added.
Earlier on June 18, an ATC in Lahore convicted four Jamaat-ud-Dawa (JuD) leaders of terror financing and sentenced them to one to five years in prison.
Zafar Iqbal and Yahya Aziz each received five-year sentences, while Abdul Rehman Makki and Abdus Salam each received one-year sentences.
The court ordered the confiscation of the convicts' assets that they had obtained from terror financing.
The JuD leaders were arrested and charged with collecting funds for the proscribed organisation Lashkar-e-Taiba (LeT).
"Zafar Iqbal, Yahya Aziz and Abdus Salam are also UN [United Nations] Designated Persons involved in terrorism financing," Tahir said.
Another four JuD members were convicted of terror financing by a Faisalabad-based ATC on June 17. Muhammad Awais, Azmatullah, Muhammad Afzal and Binyamin were convicted and sentenced to one-year prison terms for providing funds to LeT, according to Tahir.
"These convictions will play a major role in checking terrorism financing in Pakistan," Tahir said.
"I think this is a good move for Pakistan to avoid FATF restrictions," said Riffat Ullah Orakzai, a Peshawar-based journalist.
"Pakistan now wants to keep itself away from terrorism, and these steps are meant to reassure the world about Pakistan's seriousness toward the elimination of terrorism," Orakzai said.
"Pakistan is no longer a safe haven for terrorists as in the past," he said.