ISLAMABAD -- Pakistani authorities in Islamabad June 3 arrested a currency dealer accused of providing financial services to the Afghan Taliban. The arrest comes as part of efforts to curb terror financing and money laundering.
The Federal Investigation Agency (FIA) detained Haji Khairullah Barakzai in connection with charges of terrorism financing following the dismissal of his pre-arrest bail plea by the Islamabad High Court (IHC).
Khairullah has been running hundi or hawala businesses illegally and was involved in money laundering, smuggling millions of rupees abroad, Dawn reported June 4.
The arrest of Khairullah will help curb terror financing and money laundering not only in Pakistan but in neighbouring Afghanistan too, FIA officials said.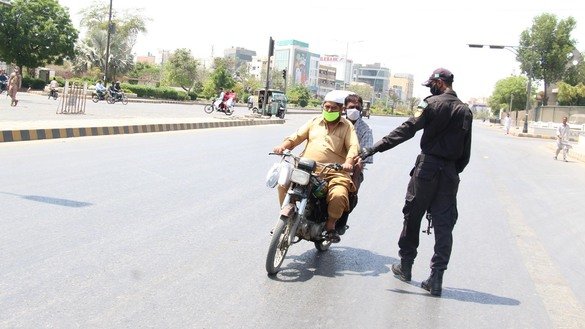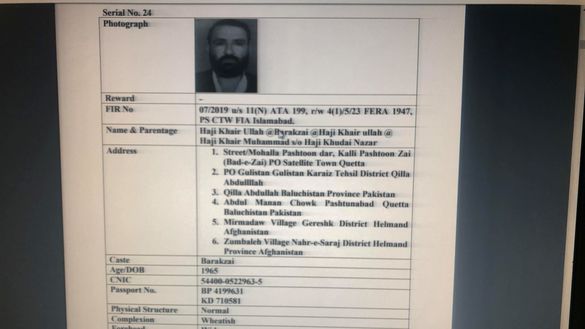 In June 2012, the United States and United Nations Security Council imposed sanctions on Khairullah and his currency-exchange business, freezing his assets and imposing a travel ban.
He was listed for "providing financial, material, or technological support for, or financial, or other services to, or in support of, the Taliban", according to the US Treasury Department, which also designated two exchange houses and Khairullah's business partner, Haji Abdul Sattar Barakzai.
They jointly operated hawala through Afghanistan, Pakistan and Dubai and provided financial assistance for the Taliban, it said.
The FIA has included Khairullah, who also uses the names Khairullah Barakzai and Haji Khair Muhammad, on its list of high-profile terrorists.
A native of Helmand Province, Afghanistan, "Khairullah was closely linked with the Taliban leadership and carried out money laundering alongside its legitimate business of currency exchange," said Haji Ghulab, an Afghan elder in Quetta familiar with the affairs of the Afghan Taliban.
After the government banned Khairullah and his businesses, he went underground, said Ghulab.
His arrest could expose several illicit and secret businesses of the Afghan Taliban leadership abroad, he added.
For years, Taliban leaders have presented themselves as humble servants of their cause and have been careful to cloak their business dealings in obscurity.
An FIA investigation earlier this year found evidence that former Taliban chief Mullah Akhtar Muhammad Mansoor owned a real estate business in Karachi. Mansoor was killed in 2016.
On April 11, an anti-terrorism court in Karachi sought further information on the case and asked the FIA to complete the process of obtaining possession of the properties. Since then, the process has continued working its way through the legal system. Lately it has encountered delays due to the coronavirus pandemic.
Efforts against terror financing
The arrest of Khairullah is part of the government's continued efforts to satisfy the requirements of the Financial Action Task Force (FATF), a Paris-based anti-money laundering organisation.
The FATF, which placed Pakistan on its grey list in June 2018, in April extended a deadline for Pakistan to meet its requirements from June 2020 to September 2020.
The FATF in its evaluation report last October asked Pakistan to "adequately identify, assess and understand its ML/TF [money laundering and terror financing] risks", including transnational risks and risks associated with terrorist groups operating in Pakistan, particularly the "Islamic State of Iraq and Syria" (ISIS) and al-Qaeda.
"This should include the integration of TF [terror financing] into Pakistan [sic] broader counter-terrorism approach; actions to enhance operational coordination and cooperation between the FIA and CTDs [Counter Terrorism Departments]; and enhancement of investigators', prosecutors' and judges' capacity and implementation of procedures to support their action, particularly the FIA," it suggested.
Pakistani authorities in recent months have launched efforts aimed at informing the public to prevent money laundering, terrorist financing and other illicit activities.
The State Bank of Pakistan in February began using messages on automated teller machines (ATMs) throughout the country to raise awareness.
The message reminds users that the sale, purchase and transfer of foreign currency through hawala and hundi are illegal.
It is now difficult for militants to use illegal means of transferring money because of the government's efforts in curbing terror financing and money laundering, said Ajmal Shirazi, a foreign-exchange dealer in Karachi.
"Without checking and keeping on record the proper documents, particularly Computerised National Identity Cards, we don't transfer the money or exchange the currency," Shirazi said.