PESHAWAR -- Chinese-made test kits for detecting COVID-19 are giving faulty results, leading to major problems and distraught for both Pakistani healthcare workers and those being tested.
Suhail Khan, a student in Mardan, said his brother was admitted to a private hospital in Peshawar for a severe chest problem on May 25.
"He was diagnosed with COVID-19," he said, noting that the hospital used Chinese-made testing kits.
Khan's brother soon thereafter passed away, and because of safety concerns, the district administration buried him and barred relatives and villagers from performing his funeral rites.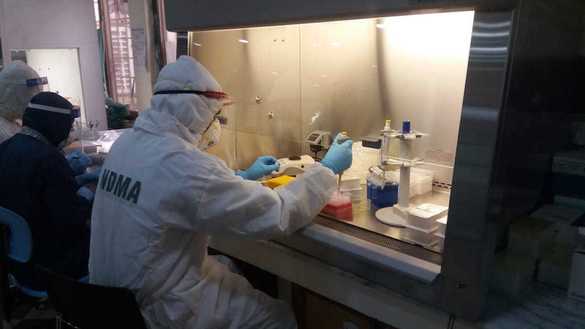 The same evening of his brother's burial, Suhail received some disturbing news from Khyber Medical University (KMU), which uses government-approved testing kits. Suhail had sent the university his brother's swab to confirm the private hospital's results.
"We received his results, which were negative," Khan said, blaming the Chinese kits for delivering a false positive and preventing a proper burial for his brother.
"There are widespread complaints about the authenticity of the kits supplied by China to the local market. Many people have been tested incorrectly," said Dr. Mukhtiar Khan, secretary of the Khyber Pakhtunkhwa (KP) chapter of the Pakistan Medical Association.
China has been sending low-quality COVID-19 testing kits that are not detecting the virus correctly, he said.
Beijing has donated some of the kits, while Chinese firms have sold others.
"There are reports of false positives and false negatives, which create problems for the patients as well as for treating physicians," he added.
So far, over 4,000 healthcare workers have been infected with COVID-19 in Pakistan due to use of substandard personal protective equipment (PPE) supplied by China, he said, adding that over 50 medical workers had died.
More than 370 patients who initially tested positive using Chinese-made tests at a KP-based laboratory over the past two months "were declared negative when they were re-tested in laboratories using non-Chinese and standard kits", said Muhammad Zaheer, a infectious-disease specialist based in Peshawar.
Conversely, more than 250 patients who initially tested negative later turned out to be positive when labs using non-Chinese kits tested their samples, he said.
"It is a big dilemma. China is in the habit of earning a huge amount from manufacturing low-quality medical equipment, and the COVID-19 pandemic has proved a blessing for that country as PPE [personal protective equipment] and testing kits are in great demand globally," Zaheer said.
"There are many examples in which people tested positive for COVID-19, but after being tested at other labs, they turn out to be negative," said Dr. Hussain Ahmed from Peshawar.
The main issue is the use of Chinese kits by private labs that want to save money, he said.
'Healthcare workers have suffered'
In May, KMU returned 1,000 kits -- which included 3,000 tests -- to suppliers after it declared them deficient.
"KMU has been performing 1,500 tests per day and cannot afford to use Chinese-made kits... we use only quality kits approved by the National Institute of Health (NIH) Islamabad," said Dr. Hazrat Shah, a molecular biologist at KMU.
"The COVID-19 pandemic is a worldwide issue... China is infamous for smuggling of electronic, cosmetics, firecrackers, etc., but it is a very serious issue, and the country should ... stop supplying inferior kits," said Dr. Azam Khan, a physician at Khyber Teaching Hospital Peshawar.
"Our healthcare workers have suffered from using Chinese-made PPE, and now the kits are playing havoc with human lives," he said, referring to PPE supplied by China that has been blamed for the deaths of healthcare workers.
"I have seen many people incorrectly diagnosed as COVID-19 patients. They underwent a great ordeal, but many doctors have now been sending the patients' swabs to reputable labs in order to get accurate results and to safeguard the patients and their relatives from unnecessary stress," he said.
Medics have brought the faulty test kits to the notice of the KP government, said Muhammad Nadeem, the acting chief executive officer of the KP Health Care Commission.
"On April 30, we carried out an inspection of labs throughout the province and have recognised only 12 for COVID-19. These included seven public and five private [labs]. Apart from these labs, we will not recognise results from any other outlet," he said.
"It is a public health issue, and Chinese kits are adding to the woes of the patients and the doctors. In this particular disease, the doctors rely solely on the outcome of the tests, which need to be authentic and accurate," Nadeem said.