PESHAWAR -- Established with the objective of saving lives of victims of terrorism and natural disasters, Rescue 1122 is continuing its mission by helping those affected by the COVID-19 outbreak.
"During the last two and a half months, from mid-March 2020 to date, our teams have shifted 1,348 suspected and confirmed coronavirus patients to hospitals and quarantine centres," Dr. Khatir Ahmad, the director general of Rescue 1122 Khyber Pakhtunkhwa (KP), said Tuesday (May 26).
All these operations were carried out in accordance with rules and regulations set by the World Health Organisation to ensure the safety of rescue teams and patients, Khatir said.
"The staff of Rescue 1122 is ready to meet any kind of emergency because we have joined this service for the sacred cause of saving human lives during emergencies," he said.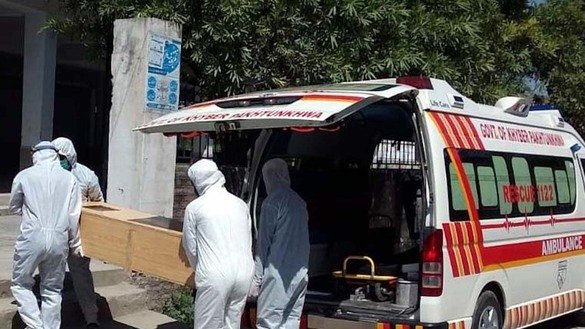 The department has separated and reserved ambulances specifically for COVID-19 patients to ensure the safety of other patients who are receiving emergency services, according to Khatir.
The department is ensuring the safety of its staff members and has provided personal protective equipment, including gowns, gloves, shoes and eyewear, he added.
Due to the training of Rescue 1122 staff members in the handling of emergencies, team members -- especially doctors -- also provide counselling to patients to save them from depression, he said.
Many COVID-19 patients are stressed over fear of the illness, but team members properly treat them, give them advice on how to gain strength, show resilience and overcome fear, Khatir said.
"We are also receiving calls for help from relatives of novel coronavirus patients," said Bilal Ahmad Faizi, a spokesman of Rescue 1122 KP.
"All the callers seeking help for coronavirus-related emergencies are given prompt replies," he said.
Rescue 1122 serves 26 districts of KP Province, including three merged districts, Khyber, Mohmand and Bajaur, he added.
Since its inception in 2010, Rescue 1122 has responded to 331,462 emergencies and saved 336,072 lives, according to Bilal.
Those emergencies included 654 related to bombings in different districts, mostly in Peshawar, as well as 557 other incidents related to insurgency.
Saving lives
Rescue 1122 has undertaken preventive measures to save lives.
"Our rescue teams are conducting disinfectant spraying on a daily basis at places of public gatherings and congested localities within Peshawar city," KP Chief Minister Mahmood Khan tweeted on May 19.
Khan urged locals to co-operate with Rescue 1122 during its preventive and safety initiatives so that it can protect the public during the pandemic.
Citizens appreciate the efforts of Rescue 1122 in saving lives from all kind of emergencies, including the pandemic.
"Rescue 1122 service's co-operation with the journalist community is very laudable, and we are very much thankful for it," said Syed Bukhar Shah, president of the Peshawar Press Club.
Rescue 1122 teams have visited the Peshawar Press Club several times to spray disinfectant, he said.
In addition, Rescue 1122 provided services to the offices of different newspapers and TV channels to ensure the safety of media workers, according to Shah.
Media workers who contracted the coronavirus while performing their duties are thankful to Rescue 1122 for approaching them and disinfecting their homes and localities, Shah said.
"In our locality in the Ander Sher area of Peshawar city, special spray machines of Rescue 1122 arrived for disinfection, much to the satisfaction and relief of the residents of this congested locality," said Muhammad Shoaib, a resident of Peshawar.
The role played by Rescue 1122 when militancy and terrorism were at their peak in KP is still in citizens' minds, he said.
The service has not only provided rescue during emergencies but played a very effective role in saving hundreds of thousands of lives, Shoaib said.