KARACHI -- The death of "Islamic State of Iraq and Syria" (ISIS) leader Abu Bakr al-Baghdadi last month has weakened the terrorist outfit in Pakistan and Afghanistan, making it vulnerable to law enforcement agencies, say security analysts.
The elusive ISIS leader was killed along with a large number of other ISIS militants in a nighttime raid on October 26 by US special forces in northwest Syria.
The raid culminated with al-Baghdadi cornered in a tunnel, where he detonated a suicide vest, killing himself and three of his children.
His death is a major blow to terrorism not only worldwide but also in Pakistan and Afghanistan, where the group declared its Khorasan chapter, known as ISIS-K, in January 2015.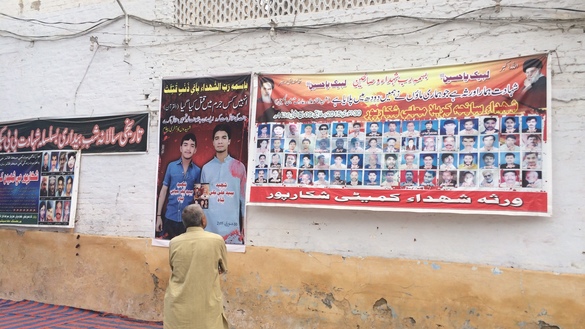 In the years following its formation, ISIS-K unleashed some of the most devastating attacks in Pakistan and Afghanistan, killing hundreds of innocent civilians, particularly at mosques and public places.
Security agencies in Pakistan and Afghanistan responded by cracking down on the terror outfit, killing and arresting many ISIS-K members.
"The killing of al-Baghdadi is a significant blow to ISIS-K," said an Islamabad-based senior law enforcement official who spoke on the condition of anonymity.
"His [al-Baghdadi's] killing is a major loss for the group's affiliates in Pakistan, which are already suffering from the crackdown and internal dissension," said the official, who himself has been involved in efforts against ISIS in Pakistan.
Pakistani law enforcement agencies have killed a number of ISIS-K leaders in Pakistan in recent months, he said. Authorities have also made efforts to counter the influence of the group, paying special attention to potential recruiters in academic institutions.
Meanwhile, across the border, the Afghan Defence Ministry on November 16 announced that more 600 militants belonging to ISIS-K surrendered over the two previous weeks.
"Robust clean-up operations started recently on Afghanistan's region bordering with Pakistan, which forced the ISIS-K militants to surrender," said the ministry.
"Pakistanis, Central Asians and Iranians are included in the militants who surrendered," Afghan media reported, citing the Defence Ministry.
The recent surrender of hundreds of ISIS-K militants shows that the killing of al-Baghdadi has furthered demoralised the militant group in Afghanistan, said Haji Tor Sulemankhel, a tribal elder in Nangarhar Province.
"The terror outfit has already lost its strength and territory in the Afghan provinces of Nangarhar and Kunar because of the military operations," said Sulemankhel.
ISIS in the region
ISIS-K's weakened status highlights the group's motley collection of militants.
In Pakistan, a number of militants from the Tehreek-e-Taliban Pakistan (TTP) joined ISIS-K. The TTP had been crumbling under sustained military pressure, the killings and arrests of top leaders, and internal fissures.
Some TTP commanders who joined ISIS-K had already fled to Afghanistan after Pakistani forces destroyed their hideouts in North Waziristan and elsewhere in Operation Zarb-e-Azb, launched in June 2014.
Lashkar-e-Jhangvi, a proscribed Pakistani anti-Shia group, also allied with ISIS-K, teaming up to carry out attacks targeting mainly Sufi shrines and Shia mosques in Pakistan.
In Afghanistan, disgruntled leaders from the Afghan Taliban, local criminals and former TTP leaders hiding in Afghanistan made up the ranks of ISIS-K.
"Most of the current ISIS-K affiliates in Pakistan and Afghanistan were previously allied to al-Qaeda, but after the killing of Osama bin Laden in May 2011 in Pakistan, al-Qaeda began to wane," said Munir Ahmed Shah, a Karachi-based journalist who monitors militant groups in the region.
"ISIS was the biggest beneficiary of al-Qaeda's decline, and many of the latter's affiliates in the region joined the former," Shah said.
However, ISIS-K's power has constantly waned in the two countries, Shah said, adding that after ISIS central's territorial defeat in the Middle East earlier this year and the killing of al-Baghdadi further undermined the militant group and its branches worldwide.
ISIS has been trying to rebuild its image after losing its territory in the Middle East, say security analysts.
In May, ISIS announced it had established a "Hind Province" in Pakistan. The announcement came after ISIS claimed an attack in Indian-administered Kashmir.
Since then however, ISIS has falsely claimed responsibility for a number of terrorist attacks and other criminal activities in the past few months in Pakistan in an attempt to raise the group's profile in the face of dwindling fortunes.
With the announcement of the new province, ISIS "seeks to build and restructure foundations of insurgencies across the globe after its losses in Iraq and Syria, it is attempting to recruit also from Pakistan", Rita Katz, the director of the SITE Intelligence Group, which monitors terrorist threats, said in a tweet.
"Fragmenting the 'Khorasan' province and changing its provincial structure show that ISIS wants to hide its global loss of strength," Shah said.