KARACHI -- The "Islamic State of Iraq and Syria" (ISIS) has falsely claimed responsibility for a number of terrorist attacks and other criminal activities in the past few months in Pakistan in an attempt to raise the group's profile in the face of dwindling fortunes.
These phony claims have intensified after ISIS lost its last pocket of territory in Syria in March, and after it announced the creation of "Pakistan Province" in May, apparently shifting its focus towards Pakistan and India.
The group also suffered a huge blow when ISIS leader Abu Bakr al-Baghdadi was killed during a raid by US special forces in Syria last month.
ISIS-K, which refers to its Khorasan branch, has claimed a number of attacks in Pakistan via its propaganda outlet Amaq, but nearly every one was later disproved.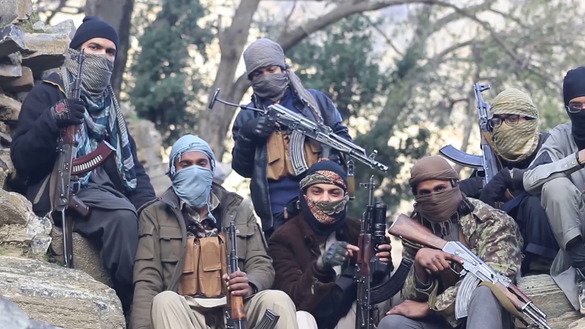 Recently, the group bragged about committing several terrorist acts in Karachi, including assassinating police officers, said a senior intelligence official based in the city.
"But these claims were spurious, and they just wanted to instil panic in the city," said the official, who was not authorised to speak to the media.
Among the claims, ISIS took the responsibility of carrying two attacks in Bajaur district, a region that has recently merged into Khyber Pakhtunkhwa.
The terrorist group on October 28 claimed it killed Mufti Sultan Muhammad, a leader of the Jamiat-e-Ulema Islam (Fazl) party in Bajaur. The group also took the credit of the August 6 attack on security forces in the district.
Law enforcement officials in Bajaur said the ISIS-K claims were assessed carefully by officials from several law enforcement and intelligence agencies.
"We believe the attacks were carried out by local militants and the ISIS-K took credit just to divert attention from the ongoing crackdown against the militants in Bajaur district following the two attacks," said a law enforcement official who requested anonymity.
"Bajaur has recently been facing a surge in incidents of targeted killings, but with the help of residents, the security situation is under control," he said.
Attempts at recruiting
The situation is different in Balochistan province, where law enforcement officials say ISIS-K has successfully wooed local militants, especially from the proscribed Lashkar-e-Jhangvi (LeJ), to join their outfit.
Part of the group's efforts to recruit new members is to show strength through attacks, but none of their claims were verified.
"The attacks were carried out by local militants but the ISIS-K took responsibility because of its global brand," said a Quetta-based intelligence official.
He said that LeJ and other militant outfits are using the ISIS tag to confuse law enforcement agencies and divert their attention from the ongoing crackdown.
For example, ISIS on May 20 used social media to say it had killed a police officer in Karachi.
"It was a completely phony claim," the official said of that slaying.
Making matters worse for the group in Pakistan, six ISIS members were killed in Quetta in September during a major operation, and two of its leaders were killed in Sindh in March.
ISIS depends heavily on social media to publicise its supposed guilt for terrorist acts, said Naimat Khan, a Karachi-based journalist who closely covers militant outfits.
"But in many cases, its claims are proved wrong," Khan said.
In some cases, several militant groups, including ISIS, take responsibility for the same deed, he said.
ISIS is eager to publish propaganda and makes false claims via its Amaq news agency.
The group is trying to spread fear by seeming omnipotent, according to Amjad Hussain, a Lahore-based social media strategist.
He urged media outlets to research before airing or publishing the baseless claims of militant groups that aim to terrorise the public.
ISIS-K problems
The recent killing of ISIS leader al-Baghdadi in Syria have also revealed deep inconsistencies in the messaging efforts of ISIS-K.
The significant variance between posts by the semi-official ISIS-K media outlets on Telegram on October 27, a day after reports surfaced of al-Baghdadi's death, and October 31, when ISIS admitted to its leader's death, suggests the group is struggling with its outreach efforts.
The lack of discipline in ISIS-K messaging reflects a group that has essentially gone rogue and abandoned the core rules of ISIS.
These ongoing difficulties the group is experiencing come just days after recent chats on pro-ISIS-K groups on Telegram reveal the deepening splits between ISIS-K members over who they consider infidels.
The messages, posted starting September 20, expose rifts on whether other militant groups, such the Tehreek-e-Taliban Pakistan (TTP), are apostates.