KARACHI -- Pakistan saw a decline in the number of terror attacks and fatalities in 2019 as security forces continued to root out militant outfits including the Khorasan branch of "Islamic State of Iraq and Syria" (ISIS-K) and Tehreek-e-Taliban Pakistan (TTP).
As many as 229 terrorist attacks took place across Pakistan last year -- including four suicide attacks -- according to an annual security report published by the Pak Institute for Peace Studies (PIPS), an Islamabad-based think tank. The figure represents a decrease of about 13% from 2018.
The 2019 attacks, launched by different militant, insurgent and violent sectarian groups, claimed 357 lives, a decline of 40% from a year earlier, the report said. Another 729 people were injured.
While ISIS-K and the TTP -- along with their affiliate and splinter groups -- carried out their violent activities across the country, most of their focus was in Khyber Pakhtunkhwa and Balochistan in 2019, it added.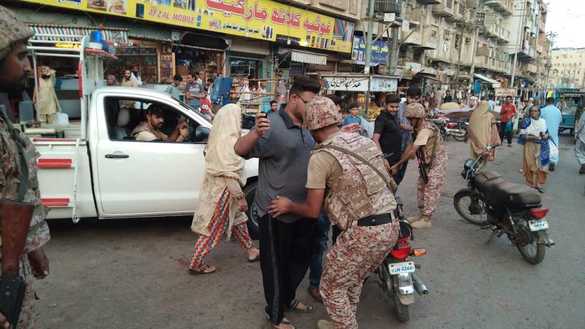 Militants killed, captured
The TTP and the Balochistan Liberation Army (BLA), a Baloch proscribed separatist group, emerged as major actors of instability in Pakistan in 2019. However, activities by ISIS-K declined significantly, the PIPS report said.
"In 2018, ISIS-K had shown a strong presence in Balochistan and it was found to have been involved in four major terrorist attacks in the province. However, in 2019 it has failed to carry the momentum," said Muhammad Amir Rana, the director of PIPS.
Last year, law enforcement agencies killed 113 militants in military and security operations, as well as through battles and other confrontations with the insurgents, the report said. That figure compares with 105 militants killed in such actions in 2018.
They also apprehended 231 suspected terrorists and members of proscribed militant groups in 99 operations conducted throughout the country.
There has been a gradual decrease in the number of terrorist attacks and consequent fatalities in Pakistan since 2009, with the only exception in 2013, which saw a surge in sectarian violence, said PIPS.
Since 2014, Pakistan has launched several operations in the country to dismantle networks of militant groups -- both local and international -- in an effort to restore peace in the country.
"The continuous anti-militant operational and surveillance campaigns by security forces and police counter-terrorism departments (CTDs), as well as some counter-extremism actions taken under the National Action Plan (NAP), have apparently helped sustain that declining trend from 2013 onward, which continued in 2019 as well," Rana said.
The NAP is a counter-terrorism strategy that the government enacted in early 2015.
Pakistan did see a drop in terror incidents and related deaths last year, according to another source, the 2019 Global Terrorism Index (GTI) published by the Sydney-based Institute for Economics & Peace.
The reduction in terrorism fatalities in Pakistan is associated with the weakening of the proscribed militant outfits, such as the ISIS-K and the TTP, which were involved in killing hundreds of civilians in the past few years.
ISIS-K –- a local chapter formed by the ISIS in January 2015 for Pakistan and Afghanistan –- unleashed some of the most devastating attacks in those two countries, particularly at mosques and public places.
In 2018, ISIS-K carried out its three deadliest terror attacks, killing 251 people -- or 36% of all terrorism deaths that year in Pakistan -- most of which occurred in Balochistan, according to the GTI 2018 report.
The deadliest terrorist act that year took place in July 2018 at an election rally for a candidate of the Balochistan Awami Party in Mastung District, Balochistan, taking at least 150 lives and making it the third most lethal terrorist act globally for that year.
Still, continuous extensive counter-terrorism operations against the group, including the killings and arrests of its key leaders, have shattered the network of ISIS-K.
Impact of al-Baghdadi killing
To be sure, many analysts and security officials link the dwindling of ISIS-K with the killing of its elusive chief, Abu Bakr al-Baghdadi, along with defeats in the Middle East.
ISIS lost the last pocket of territory it controlled in Syria last March, and al-Baghdadi was killed along with a large number of other militants in a nighttime raid last October by US special forces in northwest Syria.
"Successes against ISIS and al-Baghdadi's slaying have stopped the further recruitment of existing Pakistani militants, who usually take inspiration from trans-national militant outfits such as ISIS and al-Qaeda," said an official at the Sindh Counter-Terrorism Department in Karachi, who requested anonymity because he is not authorised to speak to the media.
Efforts by security forces to surround ISIS-K militants in Afghanistan show the enfeeblement of that terrorist group, he said.
ISIS-K in Pakistan, seeking to instigate sectarian discord by targeting Muslim minorities such as Shia and Sufis, had allied with the Lashkar-e-Jhangvi (LeJ), a proscribed sectarian outfit.
However, LeJ itself has suffered from the crackdown by Pakistani security forces. Most of its leaders have been killed or arrested.
The TTP, formed 12 years ago, also has seen its actions curtailed in the country. Security forces have killed or captured its high-ranking leaders, and internal rifts have consumed its surviving members' energies.