KARACHI -- The "Islamic State of Iraq and Syria" (ISIS) has been increasing phony claims of responsibility for attacks in Pakistan as the terrorist group suffers continuing setbacks worldwide.
The terror group's Khorasan chapter in Pakistan and Afghanistan, known as ISIS-K, on December 4 claimed its fighters killed a Pakistani intelligence officer with an improvised explosive device (IED) in Mohmand District, Khyber Pakhtunkhwa (KP).
In another claim on December 8, ISIS-K said it wounded another official of the same intelligence agency in Mastung District, Balochistan Province.
Both claims proved to be false.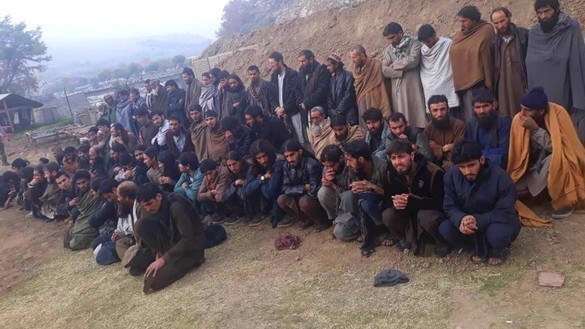 "No attacks on security officials have been carried out in those areas during the last week," said a senior law enforcement official on the condition of anonymity.
"No such incidents were reported," said Alamgir Khan, a Mohmand-based journalist.
The non-existent attacks are among the group's latest false claims.
ISIS-K bragged about assassinating a paramilitary soldier in Mastung District September 19. Unidentified motorcyclists shot and killed him.
It similarly boasted of setting off an IED in the Baizai area of Mohmand District September 20. The blast killed two security personnel.
Several law enforcement and intelligence agencies carefully assessed those claims, said law enforcement officials.
"These claims are bogus, and ISIS-K just wants to instil fear in the country," said a security official who was not authorised to speak to the media.
"We believe the attacks were carried out by local militants and that ISIS-K took credit just to divert attention from the ongoing crackdown against ISIS-K and other militant outfits," he said.
Hiding defeat
Since its emergence in 2014, ISIS-K has been responsible for at least 2,800 deaths and 419 terror-related incidents in Afghanistan and Pakistan, according to the 2019 Global Terrorism Index published by the Sydney-based Institute for Economics & Peace (IEP).
Most of the victims were civilians.
ISIS-K recorded its deadliest year in 2018. Terror-related deaths increased by 24%, from 891 in 2017 to 1,060 in 2018. Of the 1,060 deaths attributed to the ISIS-K, at least 75% occurred in Afghanistan, followed by Pakistan and India with 241 and five deaths respectively, according to the index.
However, both ISIS-K and ISIS are now facing defeat.
US-backed Syrian fighters in March expelled ISIS from their last patch of territory in Middle East, where the terrorist group once controlled a vast swathe of Iraq and Syria.
Elusive ISIS leader Abu Bakr al-Baghdadi was killed along with a large number of other militants in a nighttime raid on October 26 by US special forces in northwest Syria. The raid culminated with al-Baghdadi cornered in a tunnel, where he detonated a suicide vest, killing himself and three of his children.
The successes against the ISIS in the Middle East have proved to be a major blow to terrorism not only worldwide but also in Pakistan and Afghanistan, where the group declared the creation of ISIS-K in January 2015.
ISIS-K has been facing defeat in Nangarhar Province, Afghanistan, amid government operations against the terror group, and hundreds of the group's fighters have surrendered to security forces.
About 1,450 ISIS fighters and their family members have surrendered to the government over the past two months.
ISIS-K itself on November 17 issued a statement admitting the group's defeat in Nangarhar, adding that its members had no bullets left and that they were starving.
"We resisted the American bombing until we escaped Baghouz [Syria], and we fought in Nangarhar until we had no ammunition," the militant group said in a statement released on Telegram.
One of the surrendered ISIS fighters confirmed that the group had had nothing to eat in its last days and that the militants had no other option but to surrender.
"The surrender of ISIS-K fighters en masse is in fact recognition of the group's defeat in Afghanistan," said Haji Tor Sulemankhel, a tribal elder in Achin District, Nangarhar Province.
Pakistani security forces meanwhile continue their operations against the terrorist group.
Sindh Police on February 28 killed two ISIS-K leaders in a shootout in Dhadar, Balochistan Province. Maulvi Abdullah Brohi and Abdul Hafeez Pindrani were, respectively, the chief and deputy chief of ISIS in Sindh Province, said officials.
Pakistani security forces on July 20, 2018, killed Hidayat Ullah, the ISIS mastermind of a suicide bombing at an election rally in Mastung a week earlier. The explosion took at least 149 lives.