PESHAWAR -- The Khyber Pakhtunkhwa (KP) government has ordered the establishment of Joint Crisis Management Units (JCMUs) across the province to ward off any threats to political parties and their 21 leaders contesting general elections on July 25.
The decision was made Saturday (July 14) after Caretaker Chief Minister Dost Muhammad Khan and his cabinet met with political party leaders to discuss the security situation in the wake of deadly attacks in Peshawar, Bannu and Mastung.
Eighty-six Frontier Constabulary platoons have returned to KP from federal control, while 500 police officers from Pakistani-administered Kashmir will also be arriving to assist in protecting political events, leaders and the polls, Khan told the participants of the meeting.
"The JCMUs established at district levels will serve as nerve centres to collect intelligence reports, ensure security arrangements before and after election campaigns, and at the same time generate a co-ordinated response in case of any untoward incident," a government communique released after the meeting said.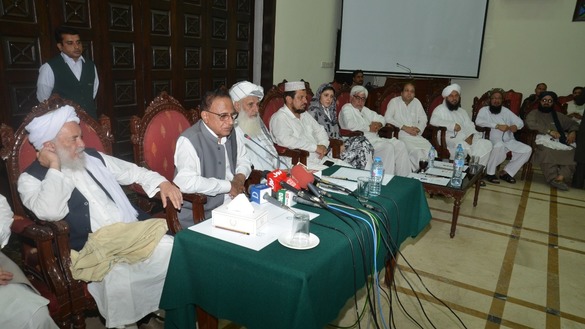 JCMUs will also oversee sub-command posts to be established in different parts of each district in order to accelerate responses to emergencies, according to the document.
"JCMUs must have representatives from local armed forces' units, police, Levies, civil administration [and] relief departments [health, Rescue 1122]," the communique said, adding that all representatives must hold co-ordination meetings immediately and review the situation regularly.
As per the new order, politicians should inform the civil administration before holding corner meetings, which would allow the administration to issue security advisories.
All politicians should also nominate one representative to manage the security aspect of the election campaign. The representative will work in close liaison with local police and the civil administration to co-ordinate protection of a candidate at political gatherings, according to the order.
The political parties should also employ party members to help police and other law enforcement agencies check security at entry and exit points for political gatherings.
A need for security
"The [caretaker chief minister's] concern and measures for enhanced security are welcome, but the real issue is providing a level playing field to all the political parties, and that can be possible only with enhanced security," Jamaat-e-Islami Pakistan leader Ibrahim Khan, who attended the security meeting, told Pakistan Forward.
"It's important to co-ordinate with the political parties for security measures and for the police to be routinely informed in advance about the corner meetings and the main gatherings," Pakistan Peoples Party KP spokeswoman Nighat Orakzai told Pakistan Forward.
The establishment of JCMUs is an encouraging step, she said, but it would be more effective if it is not just limited to this election.
Any step to ensure peaceful elections is appreciated, but these measures should have taken effect much earlier, said Awami National Party (ANP) candidate Ghulam Ahmed Bilour, whose nephew Haroon Bashir Bilour was killed July 10 in a suicide bombing that targeted an election rally in Peshawar.
"We are not afraid, and going to the voters again, it should not be only [the JCMUs] but also the caretaker governments that have to go the extra mile to protect candidates as well as voters on election day," he told Pakistan Forward.
Supporters of various political parties agreed.
"The caretaker government should have taken this step much earlier," Muttahida Majlis-e-Amal supporter Jalil Khan told Pakistan Forward. "The Bannu and Peshawar losses could have been avoided."
"The next government should continue with the plan, and the JCMUs should be set up on a permanent basis," Shamim Khan, an ANP supporter, told Pakistan Forward.