PESHAWAR -- An estimated 30,000 mourners flocked to the funeral of local Awami National Party (ANP) leader Haroon Bashir Bilour Wednesday (July 11) in Peshawar, a day after a suicide bombing claimed by Tehreek-e-Taliban Pakistan (TTP) killed at least 21 people.
A teenage suicide bomber blew himself up at an election rally Bilour was attending in Yakatoot village, Capital City Police Officer Peshawar Qazi Jamil ur Rehman said at a news conference, adding that the blast wounded 63 others.
A seven-member joint investigation team headed by Khyber Pakhtunkhwa (KP) Counter Terrorism Department Deputy Inspector General of Police Mohammad Tahir has been formed to submit a report within a week, he said.
Bilour was the provincial spokesman of the ANP, which has long opposed the TTP. He was a vocal opponent of the militants, often condemning their attacks on civilians and on security forces.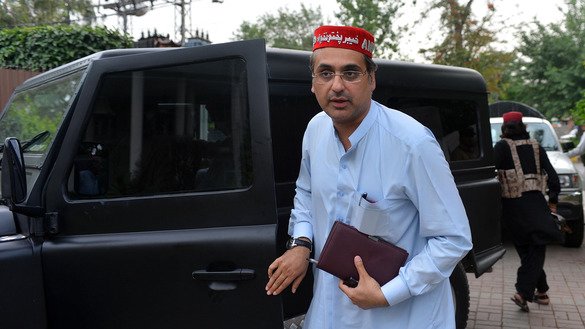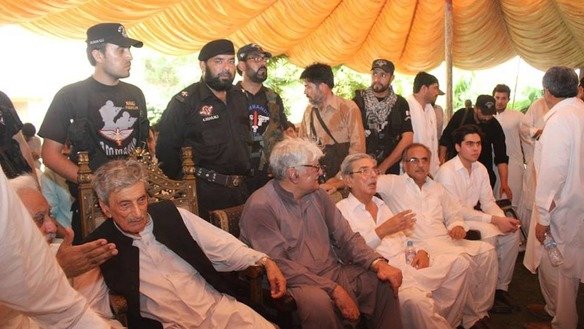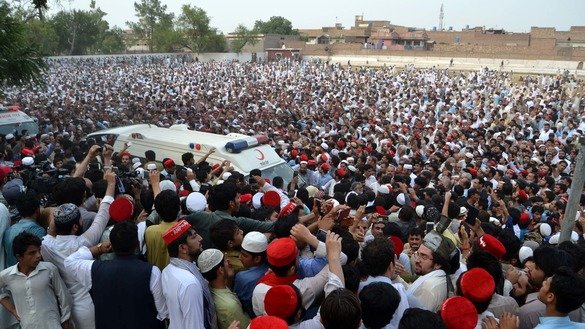 Taliban militants have killed hundreds of ANP leaders and supporters during the past few years. Bilour's father, Bashir Ahmed Bilour, a former KP minister and ANP politician, was himself killed in a suicide bombing in December 2012. His uncle, senior ANP leader Ghulam Ahmed Bilour, has survived two suicide attacks.
The Election Commission of Pakistan Wednesday decided to postpone polls in Constituency PK-78 in Peshawar, where Bilour had been running for a provincial assembly seat in the general elections scheduled July 25. The new election date for that constituency has not yet been announced.
Militants fear democracy
The TTP claimed responsibility in a statement released Wednesday.
The bombing was meant to intimidate the public into not participating in elections, said Brig. (ret.) Mehmood Shah, a Peshawar-based security analyst and former security secretary for the erstwhile Federally Administered Tribal Areas.
"The TTP and other radicalised militant groups want to advance their own agenda of fear and violence and will not accept elections... the government shouldn't take the threat of violence lightly," he told Pakistan Forward.
"Democracy is the best solution to terrorism," Shah said.
The Natio­nal Counter Terrorism Authority (NACTA) July 9 warned that six politicians could potentially be targeted by terrorists during the ongoing election campaign.
They included as follows: Pak­istan Tehreek-e-Insaf (PTI) chairman Imran Khan, ANP leaders Asfandyar Wali Khan and Ameer Haider Hoti, Qaumi Watan Party head Aftab Sherpao, Jamiat Ulema-e Islam (F) leader Akram Khan Dur­rani and Talha Saeed, the son of Hafiz Saeed -- the leader of the Jamaat-ud-Dawa (JuD) militant group, NACTA director Obaid Farooq told the Senate Standing Committee on Interior.
The senior leadership of the Pakistan Peoples Party and of Pakistan Muslim League-Nawaz has received threats, he added.
Facing down terrorism
ANP President Asfandyar Wali Khan declared three days of mourning for Bilour. He remained defiant, however, and said his party would not be coerced by terrorism into boycotting the polls.
"Electioneering will begin after three days. We will take part in polls and win to establish peace in the country," he told reporters at Bilour's residence Wednesday.
"We demand the government ensure free, fair and transparent elections and punish those hampering the election process," he said.
"I appeal to party workers to stay calm and work for peace," he said. "Our party is known for non-violence, and we will defeat terrorists through the power of vote."
"We cannot leave the field open to miscreants because of fear of terrorism and will fight in the election at any cost," Khan said.
The party does not bow to terrorists and will continue to strive for peace, said ANP General Secretary Mian Iftikhar Hussain.
"We have sacrificed more than 1,000 workers and leaders in the fight against terrorism and will do the same for the sake of our people," he told Pakistan Forward. "The TTP is opposed to democracy and wants to establish its unlawful rule by force."
Hussain's only son, Mian Rashid Hussain, was killed by the TTP in 2010.
Widespread condemnation
The attack was widely condemned in Pakistan and abroad.
Chief of Army Staff Gen. Qamar Javed Bajwa expressed his condolences and denounced the slayings in a tweet posted by a Pakistani army spokesman.
"We are fighting against nexus of inimical forces which aren't willing to absorb a peaceful and stable Pakistan. We remain undeterred and shall defeat them," he said.
The Pakistani army Tuesday announced it would deploy more than 371,000 troops to ensure peaceful and fair and free elections July 25.
Other Pakistani officials, including caretaker Prime Minister Nasir ul Mulk, and the leaders of other political parties added their condemnations.
"Sad to learn of Haroon Bilour and other ANP workers deaths and strongly condemn the terrorist attack at the ANP corner mtg in Peshawar," tweeted PTI chairman Imran Khan.
The US Embassy in Islamabad strongly condemned "the attack in Peshawar against civilians campaigning for this month's elections".
"We send our deepest condolences to the families and friends of those who were killed and hope for the speedy recovery of those who were wounded," the statement said.