QUETTA -- Security forces in Balochistan have launched an extensive counter-terrorism operation against the "Islamic State of Iraq and Syria" (ISIS) after a suicide bomber struck a political rally at the weekend.
The death toll from the July 13 attack has risen to 149, with 186 others injured, Balochistan Caretaker Minister for Information Malik Khurram Shehzad told Pakistan Forward Monday (July 16).
The blast targeted local politician Siraj Raisani as he spoke to a crowd of supporters. Raisani was killed.
The dead also included nine children aged 6-11, Qaim Lashari, deputy commissioner of the Mastung region, said Sunday (July 15), adding that 70 patients remained in hospital with five in critical condition.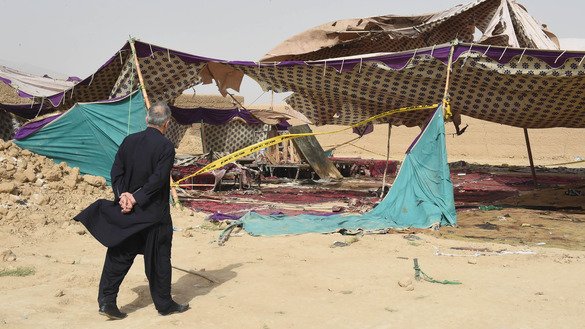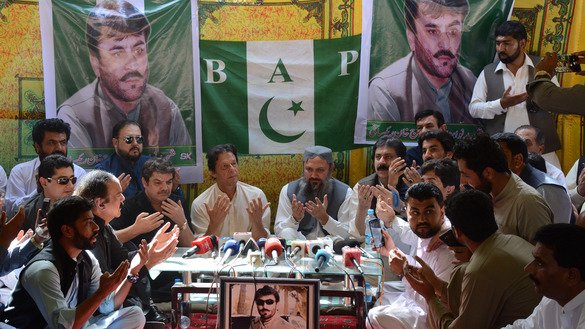 The latest toll tops that of a 2007 bombing in Rawalpindi targeting former premier Benazir Bhutto, which took 139 lives, including Bhutto's.
The country's worst-ever terrorist death toll came from a massacre at the Army Public School in Peshawar in 2014 that left more than 150 people dead, many of them children.
Grief and horror
"Widespread fear and grief" have followed the deadly attack, Shehzad said. "The whole province is in mourning, and it has also badly affected the ongoing election campaigns in Balochistan."
Hostile forces are challenging the rule of law in an attempt to create an anarchic situation and diminish faith in the electoral process, he said. "It is an attempt to provoke the masses against the state."
"Tribal leader Siraj Raisani started his speech on stage when suddenly a horrific blast occurred," Jamil Pirkani, an eyewitness who was injured, told Pakistan Forward in Civil Hospital Quetta. "It was a very high-intensity explosion that spread body parts everywhere."
"The explosion was so deadly and horrific ... I have never heard such a terrible sound in my entire life," said Zahoor Baloch, another eyewitness who was wounded.
"When we reached the spot for rescue operations, dead bodies were scattered around and a huge number of wounded [survivors] were shouting for help," Muhammad Zeshan, a rescue worker who rushed blast victims to Quetta, told Pakistan Forward.
"Many members of the same families were killed," he said.
Arrests made
Authorities quickly identified and arrested several suspects accused of co-ordinating the attack, said Shoaib Zahid, an Islamabad-based senior intelligence official.
"ISIS militants are utilising local support for the execution of major plots in our region," he told Pakistan Forward. "The ongoing operations against extremist groups have largely eliminated the support network of ISIS in Balochistan, and it is in our top priority to foil the anti-peace goals of our enemy."
"A special team of counter-terrorism officials ... have so far arrested nine suspects in Balochistan for their alleged links with ISIS," he said. "We are expecting more developments into the matter as these suspects have revealed very vital information about their network."
Afghan President Ashraf Ghani called Pakistani Chief of Army Staff Gen. Qamar Javed Bajwa to express his condolences and "assure ... enhanced border security measures on the [Afghan] side to assist Pak Security Forces during [the] election period", Inter Services Public Relations spokesman Maj. Gen. Asif Ghafoor tweeted Monday.
A comprehensive security plan
The Mastung attack "was a plot by hostile forces that are deeply rooted in our tribal areas", a senior defence official based in Quetta told Pakistan Forward on condition of anonymity.
"The new wave of terrorism in Pakistan, especially in Balochistan, appears to be an engineered strategy aimed at foiling political stability in the country," he said.
"A comprehensive security plan is in place throughout Balochistan, and additional security personnel have been deployed in all sensitive parts of the province," the source said.
Security forces at all sensitive areas and official buildings have gone on high alert, Balochistan Caretaker Home Minister Agha Omar Bangulzai confirmed.
"We reviewed the entire security situation of Balochistan in a high-level law and order meeting on July 14 and decided that all security concerns regarding the upcoming general elections will be dealt with by a comprehensive plan and that the public will be made aware of all necessary steps," he told Pakistan Forward.
"We are in a war-like situation, and the enemy is working on all possible plans to keep the masses away from elections," he said.
Building trust in security
"ISIS is now utilising all resources to strengthen its roots in Pakistan. Other militant groups could not carry out such an extensive terror attack," Maj. (ret.) Omar Farooq, an Islamabad-based defence analyst, told Pakistan Forward.
"The operational capacity of ISIS was largely eliminated in ongoing counter-insurgency operations in Balochistan, but I think there is still an active network of militants operating inside the tribal belt of Balochistan and Khyber Pakhtunkhwa," he said.
"It is essential to fix those major cracks in the national security policy, because of which militants still have easy access to sensitive areas," he said.
"Without eradicating the trust deficit between the public and security forces, it is not possible to end militancy," Farooq said. "The state must set up a policy to inform the public about the latest security situation and its role in the peace process."