PESHAWAR -- The Awami National Party (ANP) and the family of slain ANP leader Haroon Bashir Bilour remain undeterred after his death in a suicide bombing this week, coming out in force Thursday (July 12) to reiterate their resolve to fight terrorism and contest in the upcoming general elections on July 25.
Bilour, who had been contesting the KP Assembly seat for Constituency PK-78 in Peshawar, was killed along with 21 other party members when a teenage suicide bomber targeted an election rally in Peshawar Tuesday (July 10).
Tehreek-e-Taliban Pakistan (TTP) claimed responsibility.
Bilour was the provincial spokesman of the ANP, which has long opposed the TTP. He was a vocal opponent of the militants, often condemning their attacks on civilians and on security forces.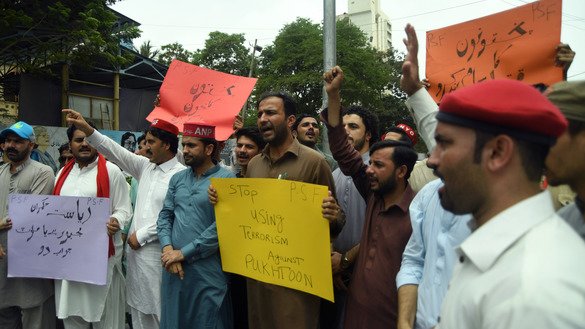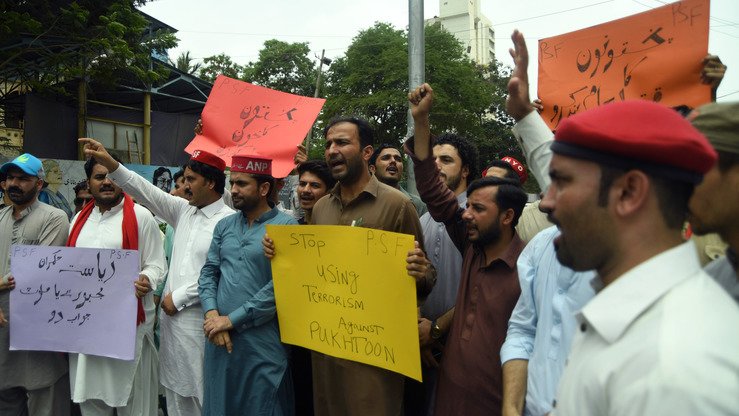 Taliban militants have killed hundreds of ANP leaders and supporters over the past few years. Bilour's father, Bashir Ahmed Bilour, a former Khyber Pakhtunkhwa minister and ANP politician, was himself killed in a suicide bombing in December 2012. His uncle, senior ANP leader Ghulam Ahmed Bilour, has survived two suicide attacks.
Sacrifices for democracy
Despite the Taliban's continued threats against the ANP and the Bilour family, Haroon Bilour's son Danyal led Thursday's rally and addressed party workers, saying the entire family stands behind the party's decision to contest the polls.
"I am the grandson of Bashir Bilour and son of Haroon Bilour, who sacrificed their lives for Pashtuns and Pakistan, and I will follow their footsteps," Danyal said. "I am willing to sacrifice my life for Pakistan too."
"I am not afraid; I can offer my life, but the terrorists can't terrorise us as we are from a family of martyrs," he told Pakistan Forward.
"Tomorrow, if they attack me too, don't give up hope," Danyal told party workers at the rally.
"We have sacrificed Bashir Bilour and now Haroon for the cause of democracy and people of Pakistan," Ilyas Bilour, Haroon's uncle and a former senator, told Pakistan Forward.
"If the terrorists feel they can terrorise Pakistanis, no, we are firm and will fight them and will continue our struggle for peace and stability of the this region," he said.
"We have lost everything and have nothing to lose any more, so we are not afraid, come what may," he said. "We are in mourning for three days, but we will be on the roads again, for the peace of our region and security of our nation."
ANP President Asfandyar Wali Khan declared three days of mourning for Bilour but vowed to continue campaigning immediately afterward, saying, "There is no other option."
"The party will continue to campaign for the upcoming general election; if somebody wants to terrorise and keep us out, it will not work at all," he told Pakistan Forward from Bilour's house in Peshawar.
"These are terrorists we are dealing with... The main problem is that [the Taliban] know who all of us are, but we don't know about them," he said.
"Instead of attacking us from the back, they should come in front if they want to fight us," he said.
Standing against terrorism
"The killers of innocents need to be punished, and the security of the candidates for the upcoming polls must be enhanced," said ANP General Secretary Mian Iftikhar Hussain. "But one thing is for sure, the terrorists can't terrorise us."
Hussain's only son, Mian Rashid Hussain, was killed by the TTP in 2010.
"The ANP will go for polls by all means," he told Pakistan Forward. "They are followers of Baacha Khan, who always advocated non-violence, so these terrorists can't terrorise them."
"The Bilour family has always stood against terror, and its sacrifices will be remembered in history," Peshawar-based security analyst Brig. (ret.) Mehmood Shah, told Pakistan Forward.
"It is time to look ahead; the elections have to be made successful by all means, and extra security and vigilance are needed to counter such cowardly attacks of terrorists who are targeting innocent civilians," he said.