The US military Tuesday (October 20) announced an initiative to strengthen alliances with partner countries and find new ways to co-ordinate their militaries against the global influence of Russia and China.
"China and Russia are rapidly modernising their armed forces and using their growing strength to ignore international law, violate the sovereignty of states and shift the balance of power," US Defence Secretary Mark Esper said said during a speech at the Atlantic Council, a think-tank in Washington.
Chinese provocation in the South China Sea and the Kremlin's war with Ukraine "demonstrate their brazen attempts to chip away at the autonomy of others and undermine the resilience and cohesion of countries and institutions", he said.
"America's network of allies and partners provides ... an asymmetric advantage our adversaries cannot match," Esper said.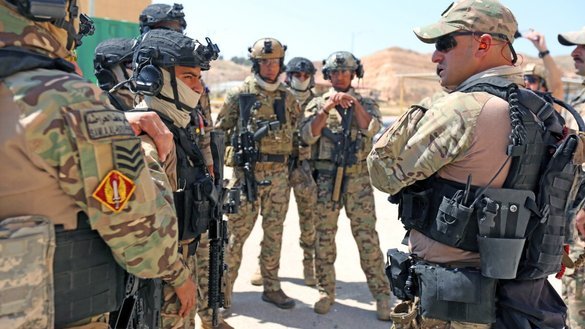 The initiative is called the Guidance for Development for Alliances and Partnerships (GDAP).
China, Russia lack friends
Beijing and Moscow lack a key tool for gaining influence, said Esper: partnerships.
"China and Russia probably have fewer than ten allies combined," he said, adding that their lawless behaviour will scare away potential partners.
The United States, meanwhile, enjoy an extensive "network of allies and partners", as well as relationships that are "rooted deep in our common values and interests", Esper said.
However, Esper cautioned against taking "our long-standing network of relationships for granted".
He cited his own relationship-building visits to Malta, Mongolia and Palau, as well as US plans to base troops in Poland.
On the other hand, "the smaller the nation and the greater its needs, the heavier the pressure from Beijing", he said, citing Myanmar, Cambodia and Laos.
"Like-minded democracies such as India and Indonesia ... all recognise what China is doing," he added.
US strategy includes expanding US arms sales, to strengthen allies and to bolster the US defence industry against Russian and Chinese competition, Esper said.
He has accelerated permission to export "critical" weapons systems and to protect US markets, said Esper.
For example, he said, Washington recently relaxed restrictions on exporting battlefield drones, which it could sell to Taiwan and the United Arab Emirates.
Beijing as a global 'bully'
Beijing is becoming increasingly aggressive in territorial disputes, observers say.
"From India to Japan... to Australia to Canada, the Chinese have been bullying their way around the world," Hong Kong's last British governor, Chris Patten, said in an online discussion July 8.
In Central Asia, the Russian and Chinese regimes are vying for influence.
Chinese military officials regularly confer with defence ministers from Kazakhstan, Tajikistan and Kyrgyzstan, and Beijing supplies arms. Turkmenistan, for instance, receives air defence systems, drones and light armoured vehicles from China. Kazakhstan and Uzbekistan receive combat drones from China as well as technical assistance to their armed forces.
Beijing is paying special attention to Tajikistan, which borders both China and Afghanistan and shares a longer border with Afghanistan than does any other country.
A few years ago, China built a military base in Tajikistan near the Wakhan Corridor, Afghanistan, potentially the beginning of encroachment into Afghanistan, a country key to Chinese regional ambitions.
In the South China Sea, Beijing, at the expense of other nations' territorial claims, has been building artificial islands and establishing a heavy military presence in a brazen pursuit of resources.
Beijing has constructed a series of ports along the Indian Ocean, creating a necklace of refuelling and resupply stations from the South China Sea to the Suez Canal. Ostensibly commercial in nature, the ports would allow its rapidly growing navy to expand its reach.
Beijing is leveraging its financial dominance to demand military use for strategic ports, including Gwadar, Pakistan, and Jask, Iran.
Kremlin's malign influence
Moscow's activity on the world stage, meanwhile, makes clear the malign nature of the Kremlin led by President Vladimir Putin.
State-backed actors appear intent on manipulating foreign societies, undermining governments, violating international treaties, spreading disinformation and degrading human rights.
For example, in Libya, Moscow is wielding the Wagner Group mercenary army to support strongman Khalifa Haftar against the United Nations (UN)-recognised government.
In Syria, Kremlin support for President Bashar al-Assad has left a trail of bloodshed.
Last year, a Russian intelligence unit, known as Unit 29155, covertly offered the Taliban rewards to attack coalition troops in Afghanistan.
In Central Asia, Kyrgyzstan is questioning the intent of Russian deployment of air and missile defence systems on its territory, Turkmen officials bridle at Russian exaggerations of Ashgabat's border security failings and Tajikistan resents the Kremlin narrative that it "needs" Russian military assistance.
In Kazakhstan, concerns are rising over how Moscow's most recent efforts to expand co-operation under the Eurasian Economic Union are meant to strengthen Russian control of ex-Soviet states.
The Kremlin may be best known for spreading disinformation and discord online through troll factories and hacking units. Most recently the COVID-19 coronavirus pandemic has given Moscow another chance to foment chaos.
The pandemic has imposed severe costs worldwide, increasing the need for burden sharing, said Esper.
"Our threats today have not diminished; rather they have only been exacerbated as ... our competitors seek to exploit the global crisis," he said.
The United States expects its allies to "stand shoulder to shoulder with the United States in confronting Chinese bad behaviour and Russian aggression", he said.