BEIJING -- Chinese President Xi Jinping increasingly is employing jingoistic rhetoric during public speeches, while at the same time the Chinese military is becoming more aggressive and making incursions into the territory of other sovereign nations -- a trend that is alarming neighboring countries, observers and concerned members of the international community.
Xi in recent weeks has issued sharp warnings to potential "invaders", boasting of Beijing's military resolve to protect the "new China" against all aggressors.
In one notable recent speech on October 23, Xi said war must be fought to deter invasion and that violence must be met by violence.
The speech marked the 70th anniversary of China's entry into the Korean War -- the first and so far only time Chinese and US forces have fought directly.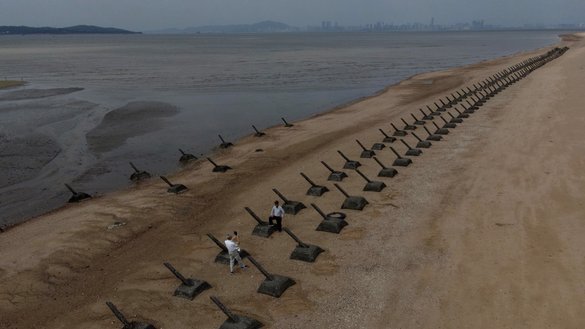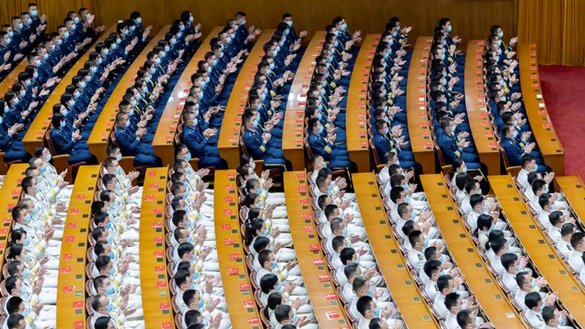 The war, essentially fought to a bloody stalemate, is hailed in China as a victory and an example of resilience and spirit against a more advanced foe.
In a long speech, heavy on patriotism and flecked by anecdotes of heroism by Chinese forces, Xi said "victory" in the 1950-53 conflict was a reminder that his nation stood ready to fight anyone "creating trouble... on China's doorstep".
"Chinese people don't create troubles, nor are we afraid of them," Xi said to applause.
"We will never sit back and watch any damage to our national sovereignty... and we will never allow any force to invade or divide the sacred territory of the motherland."
Despite Beijing's increasing willingness to engage in conflict with its neighbours and beyond, Xi said "pursuing hegemony or bullying leads nowhere".
Invoking the spirit of war
The Chinese regime made much of the 70th anniversary of its forces entering the fight -- intended as much for domestic consumption as it is a warning to its superpower rivals and neighbours.
Chinese state media unleashed a wave of propaganda during the anniversary week, with daily interviews during prime-time news with Chinese veterans who survived the war.
An action-thriller, "Sacrifice", directed by three of the biggest names in Chinese cinema and depicting a small band of Chinese troops holding off foreign forces in the final days of the war, hit cinemas across the country on October 23.
The fanfare surrounding the war anniversary is part of Xi's nationalist drive to return a once-weak China to its purportedly rightful place of dominance in the world, analysts say.
"Xi is invoking the spirit of war in a broad sense," Alice Ekman, an analyst of China at the European Union Institute for Security Studies, said before the speech.
Across the Taiwan strait, tank traps on the beaches of Kinmen Island are a stark reminder that Taiwan lives under the constant threat of a Chinese invasion -- and fears of a conflict breaking out are now at their highest in decades.
Democratic Taiwan has learned to live with the warnings of Beijing's authoritarian leaders that they are ready and willing to seize a place it views as part of its territory.
But that background static has reached hard-to-ignore levels recently with Chinese jets now crossing into Taiwan's defence zone at an unprecedented rate and the People's Liberation Army releasing propaganda simulating an invasion of the island -- and even an attack on US bases in Guam.
"China is angry at Taiwan and acting all the more brutish," Taiwanese college freshman Wang Jui-sheng said.
The US military on October 21 announced it had agreed to sell more than $1 billion worth of missiles to help Taiwan defend itself from a Chinese invasion and on October 27 approved a $2.4 billion sale of 100 Harpoon coastal defence systems.
A global bully
The Chinese regime has been viewed as a strategic threat by a number of countries for years, but recently the implications of Beijing's actions around the world have expanded significantly the degree of alarm.
"From India to Japan... to Australia to Canada, the Chinese have been bullying their way around the world," Hong Kong's last British governor, Chris Patten, said on July 8.
"What's happened in Hong Kong is just part of a broader series of actions taken by the Chinese Communist Party taking advantage of the fact that we're all of us focused very much on dealing with the coronavirus," he said, referring to Beijing's imposition this year of a controversial security law in Hong Kong, which effectively ended the city's cherished autonomy and democracy traditions.
Chinese aggression has extended to neighbouring India.
In mid-June, Chinese and Indian soldiers engaged in violent hand-to-hand fighting in the Ladakh region that left 20 Indian troops dead. The Chinese regime acknowledged suffering casualties but has not revealed any figures.
The clash arose from "an attempt by the Chinese side to unilaterally change the status quo" on the border, Indian Foreign Ministry spokesperson Anurag Srivastava said at the time.
Since then, the two nations have sent tens of thousands of extra troops to the mountainous border.
In early September, shots were fired for the first time in 45 years on the border. Both sides accused each other of opening fire.
Inside the Xinjiang region of China, more than one million Muslims languish in camps as Beijing attempts to forcibly integrate their community and root out its Islamic heritage.
On October 27, US senators brought forth a resolution declaring that the Chinese regime is committing genocide against Uighurs and other Turkic-speaking Muslims in Xinjiang.
Bulwark against authoritarianism
In Central Asia, the region is undergoing a geopolitical transition in which the Russian and Chinese regimes are vying for influence.
But the US military on October 20 announced an initiative to strengthen alliances with partner countries and find new ways to co-ordinate their militaries against the global influence of China and Russia.
"China and Russia are rapidly modernising their armed forces and using their growing strength to ignore international law, violate the sovereignty of states and shift the balance of power," said US Defence Secretary Mark Esper.
Beijing's provocation in the South China Sea and the Kremlin's war with Ukraine "demonstrate their brazen attempts to chip away at the autonomy of others and undermine the resilience and cohesion of countries and institutions", he said.
Beijing and Moscow, however, lack a key tool for gaining influence: partnerships.
"China and Russia probably have fewer than ten allies combined," Esper said, adding that their lawless behaviour will scare away potential partners.
"America's network of allies and partners provides ... an asymmetric advantage our adversaries cannot match," he said.