WASHINGTON -- The peaceful transfer of power to US President Joe Biden on January 20, after one of the most contentious electoral seasons in the history of the United States, underscores the strength and resilience of US democratic institutions, observers say.
Every four or eight years, the American people elect a new president who also commands the US Armed Forces.
It has long been a point of pride for the United States that even in times of deep political strife, the sitting president accepts the election of a new leader and steps down peacefully.
John Adams set the precedent back in 1800, the first time the presidency passed from one party to another, ceding power after losing to Thomas Jefferson and beginning an over 200-year tradition.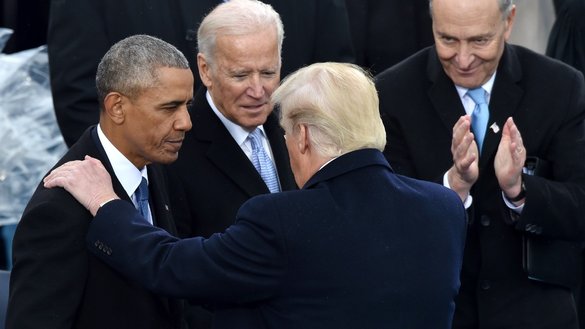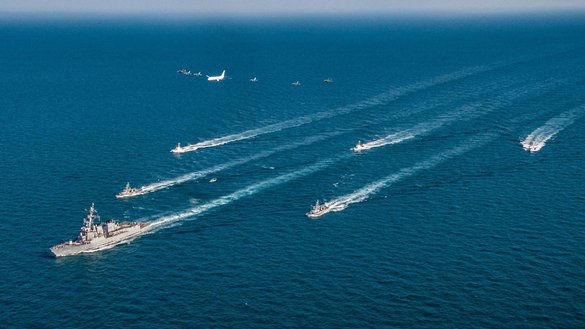 And that is why, despite a bitterly fought presidential election in November and a tumultuous period leading up to Inauguration Day on January 20 -- including a violent attack on the US Capitol on January 6 -- Donald Trump agreed to step aside for Biden, the 46th president of the United States.
Commitment to allies
Another point of pride has been the US military's continuing commitment to its allies around the world, regardless of who is president.
US Army Gen. Mark A. Milley, chairman of the Joint Chiefs of Staff, has expressed this commitment on several occasions.
"American values have made us strong for two-and-a-half centuries, and we will never waver in our commitment to the US Constitution," he said in December. "Our goal should be to sustain great power peace that has existed since World War II, and deal firmly with all those who might challenge us."
The US Department of Defence (DoD) in October 2018 outlined its National Defence Strategy, listing one of its main goals as keeping Russia and China "from throwing the current international order out of balance".
"Authoritarian actors are testing the limits of the international system," Milley said. "The strength of the United States is our network of allies and partners that we have. That's why the US can deal with any of the challenges we have in the world."
"We must maintain peace through strength," he said. "It is a dangerous world, and it is better with friends."
United against common enemies
Back in October, the US military rolled out an initiative to strengthen alliances with partner countries and to find new ways to co-ordinate their militaries against the global influence of Russia and China.
"China and Russia are rapidly modernising their armed forces and using their growing strength to ignore international law, violate the sovereignty of states and shift the balance of power," Mark Esper, a former US defence secretary, said last October 20 during a speech at the Atlantic Council, a think-tank in Washington.
Chinese provocation in the South China Sea and the Kremlin's war with Ukraine "demonstrate their brazen attempts to chip away at the autonomy of others and undermine the resilience and cohesion of countries and institutions", he said.
"America's network of allies and partners provides... an asymmetric advantage our adversaries cannot match," Esper said.
"China and Russia probably have fewer than 10 allies combined," he said, adding that their lawless behaviour will scare away potential partners.
The United States, meanwhile, enjoys an extensive "network of allies and partners", as well as relationships that are "rooted deep in our common values and interests", Esper said.
The initiative is called the Guidance for Development for Alliances and Partnerships.
The strategy includes expanding US exports of "critical" weapons systems to strengthen allies and to bolster the US defence industry against Russian and Chinese competition.
Efforts to tarnish US democratic system
Following the election-related violence in the United States earlier this month, officials in Russia, Iran and China issued public statements expressing their glee over the unrest and spun the news to justify their ongoing campaigns of repression in their own countries.
Russian officials pointed to the storming of the US Capitol on January 6 as evidence of America's decline, with Konstantin Kosachyov, chairman of the Russian upper parliamentary chamber's foreign affairs committee, saying it showed US democracy was "limping on both feet".
But in contrast to any sort of democratic norms, Russian President Vladimir Putin has acquired the power to be "president for life". New legislation grants Putin and his family immunity from prosecution for any crime committed during their lifetimes, and exemptions from searches, arrests or questioning.
The chaos unleashed on the Capitol "shows above all how fragile and vulnerable Western democracy is", said Iranian President Hassan Rouhani.
However, Iranian democracy is only a democracy in name.
The Guardian Council, which oversees Iran's elections, routinely vets candidates seeking office. Last year, it barred some 9,500 potential candidates from standing, almost two thirds of the 14,500 hopefuls.
"The greatest danger for democracy and national sovereignty is the day when elections become a formality," Rouhani said after the council's decision last January.
Moreover, last February, Iran saw the lowest turnout in a parliamentary election since the 1979 revolution, with 42.6% of eligible voters casting their ballots. In Tehran, turnout was slightly more than 25%.
Meanwhile, Chinese state media attempted to liken the Capitol rioters to the Hong Kong protesters who occupied their city's Legislative Council Complex in July 2019.
The causes and motivations of the two groups are starkly different.
Hong Kong protesters broke into the Legislative Council to demand full democracy and to halt an unpopular bill that the city's unelected leadership was pushing through the system.
Beijing cracked down on the unrest, imposing a harsh security law on the restless city, arresting scores of critics and smothering dissent. In doing so, it broke its 1997 promise to retain Hong Kong's civil liberties for 50 years.
Those storming the US Capitol sought to overturn the results of a free and fair presidential election. Judges nationwide, many appointed by Trump, threw out more than 60 frivolous lawsuits contesting the results.