KARACHI -- Pakistani security personnel thwarted a major attack on the Pakistan Stock Exchange Monday (June 29), preventing Baloch militants from entering the building and perpetrating a massacre.
Militants approached the exchange, opened fire and hurled a grenade, killing three security guards and a policeman before being gunned down.
All four assailants were killed, said local police chief Ghulam Nabi Memon.
"Police have recovered modern automatic weapons and explosive materials from the terrorists," Karachi Police said in a statement.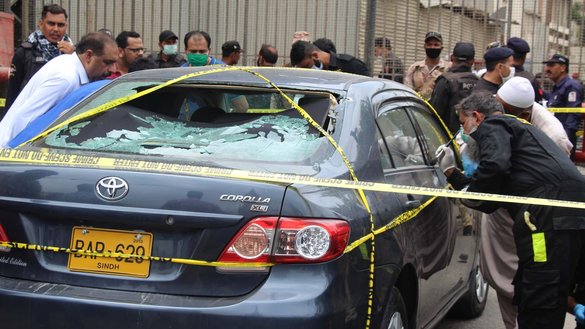 Police and private security guards prevented the terrorists from entering the building, said Murad Kapadia, an employee of a brokerage firm.
"The quick response from law enforcement agencies shows that militants have lost their capability to carry out attacks," said Kapadia, who was on the second floor of the building at the time.
The banned Balochistan Liberation Army (BLA) later claimed responsibility in a message sent to AFP, saying an elite unit of fighters had carried out the assault.
The militants have carried out a string of high-profile attacks across the country in recent years -- including in Karachi.
The BLA is one of several insurgent groups fighting primarily in Balochistan Province.
The group has targeted infrastructure projects and Chinese workers in Pakistan multiple times in recent years, including during a brazen daylight attack on Bejing's consulate in Karachi that killed four people in 2018.
In May last year, the BLA raided a luxury hotel in Gwadar, where a port development is the flagship project of a multi-billion-dollar national infrastructure project funded by China.
Last year, the US State Department designated the BLA a global terrorist group, making it a crime for anyone in the United States to assist the militants and freezing any US assets they may have.
Violent history
Following the June 29 attack, Pakistani authorities vowed to strike back against any group found responsible for the onslaught and promised to dismantle their networks and destroy their bases.
"An investigation has been launched, and very soon we will reach their masterminds," Interior Minister Ijaz Shah said in a video message posted afterward.
"The cowardly attack on #KarachiStockExcahnge [sic] was thwarted by the brave & timely action by Sindh Police. All Pakistanis are grateful to Sindh police for not only saving so many live [sic] but successfully defending the nerve centre of Pakistan's economy," tweeted Bilawal Bhutto Zardari, chairman of the opposition Pakistan Peoples Party.
Business continued as usual at the Karachi Stock Exchange.
"The terror attack was an attempt to send a message to the world that Pakistan is not safe. They wanted to downgrade Pakistan's economic activity and harm investors' confidence," said Maj. Gen. Omer Ahmed Bukhari, chief of the Sindh Rangers.
Karachi was once a hotspot for crime and violence, with heavily armed groups tied to politicians frequently gunning down opponents and assaulting residential areas.
The situation has largely stabilised in recent years following operations by security agencies against armed political outfits and Islamist militants.
Militant groups still retain the ability to launch periodic attacks in many rural areas and occasionally in urban centres.
[Zia Ur Rehman from Karachi contributed to this report.]