KARACHI -- Law enforcement agencies are continuing their work against militant and criminal groups even as security personnel take part in efforts to prevent the spread of the coronavirus.
Paramilitary Rangers and the Sindh Police's Counter Terrorism Department (CTD) on April 17 arrested two men suspected of being militants belonging to Lashkhar-e-Jhangvi in raids in the West District of Karachi.
The suspects, identified as Samiullah (alias Arshad) and Muhammad Jaffar (aliases Barkat and Iftikhar), were listed in the Red Book, a list of most-wanted militant suspects, and had a bounty of Rs. 5 million ($31,300) for information leading to their arrest.
The pair were wanted in connection with attacks on law enforcement personnel, sectarian targeted killings and the killings of members of the Awami National Party and of the Ahmadi community in Karachi.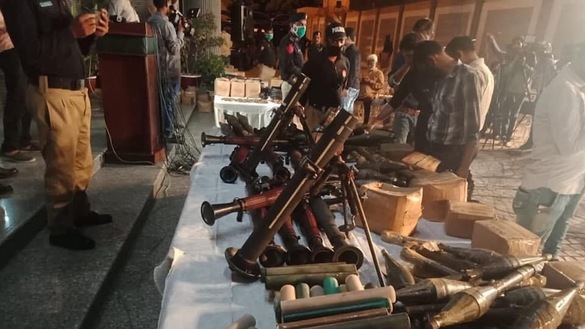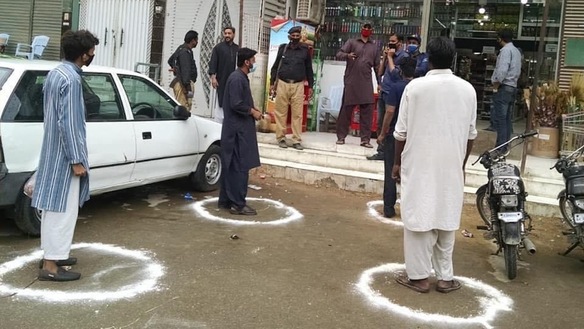 Meanwhile, Karachi Police's Special Investigation Unit (SIU) and federal intelligence agencies carried out a joint raid on April 19 in the Gulistan-e-Johar neighbourhood, arresting four militants belonging to al-Qaeda in the Indian Subcontinent (AQIS), said SIU Senior Superintendent Irfan Bahadur.
"The arrested militants were identified as Muhammed Umer, Muhammed Bilal (alias Fida), Muhammed Waseem and Muhammed Amir," he said, adding that all four had undergone training in Afghanistan.
The suspects had conducted reconnaissance on certain sensitive locations for future attacks, including the Pakistan Stock Exchange, City Courts and the Police Training Centre, he said.
The SIU in another raid on April 21 in the Pak Colony neighbourhood arrested four suspects accused of alignment with the People's Aman Committee, a proscribed criminal syndicate.
The detainees, identified as Anwar (alias Kojag), Majid (alias Kalu), Muhammad Sohail, and Riaz Golimar, were wanted in connection with a number of heinous crimes, said Bahadur, adding that arms and ammunition were recovered from their possession.
Militants exploit coronavirus
Militant outfits are seeking to exploit the coronavirus crisis, assuming that law enforcement agencies are distracted, security analysts and officials said.
On May 9, the Interior Ministry sent an advisory to Sindh Province warning that terror outfits were planning to attack important security installations, buildings, public places, and public gatherings, thereby inflicting maximum damage to lives and property.
It asked provincial officials to enhance their security arrangements.
"They [terror outfits] may use improvised explosive devices (IEDs), vehicle-borne improvised explosive devices (VBIEDs), and other terror techniques," the advisory said.
"The fact is that both militants and violent criminals are well aware of the fact that security men are preoccupied with lockdown-related duties, which is why the security apparatus must continue to keep a watchful eye on such elements to prevent acts of terrorism and mass violence," Dawn reported on April 21 in regards to the arrests of the AQIS suspects.
The "Islamic State in Syria and Iraq" (ISIS) in its Al-Naba newsletter in mid-March urged followers to show no mercy and to launch attacks amid the coronavirus pandemic.
In neighbouring Afghanistan, the Afghan Taliban's intensified attacks while the authorities work to stem the coronavirus outbreak show that the militant group remains committed to worsening the lives of Afghan citizens.
"The focus and attention to continue crackdowns on militant outfits will be distracted to some extent because most law enforcement personnel are helping the government's efforts to contain coronavirus spread," said an Islamabad-based senior intelligence officer, who spoke on the condition of anonymity.
However, Pakistani authorities have recognised that militant outfits in Pakistan could exploit the crisis, he said.
"It is why law enforcement agencies have proactively been making raids by using their intelligence networks, and they have had successes in recent days," he said, referring to the arrests in Karachi.