PESHAWAR -- Pakistan has opened up trade with Afghanistan via its deep-water port city of Gwadar in Balochistan Province, paving the way for increased trade and commerce between the two neighbouring countries.
The Sibulk Tradition cargo ship carrying 16,000 tonnes of fertiliser for transit to Afghanistan arrived at Gwadar on May 29, Abdul Razak Dawood, an adviser to the prime minister on Commerce and Investment, announced in a tweet on the same day.
"This marks the beginning of a new era in Pakistan's trade via sea with Afghanistan," Dawood said.
The fertiliser headed for Afghanistan will be packed in bags in the region of Gwadar to help "contribute to the socio-economic development of locals", he added.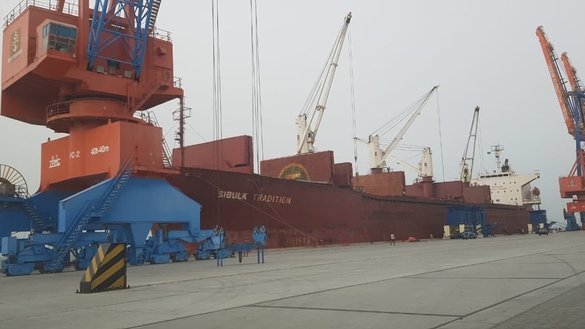 Apart from fertiliser, Afghanistan will be able to receive sugar and wheat from Gwadar under the Afghanistan-Pakistan Transit Trade Agreement 2010.
The initiation of the route between Pakistan and Afghanistan via Gwadar is a "dream come true", Lt. Gen. (ret.) Asim Saleem Bajwa, chairman of the China Pakistan Economic Corridor and special assistant to the prime minister on Information and Broadcasting, tweeted May 30.
The beginning of trade between Pakistan and Afghanistan through Gwadar will stimulate a host of commercial activities, added Bajwa.
New vistas of business
The business communities of both Pakistan and Afghanistan are hailing the move and expressed hope that the initiative will help improve trade between the two countries and the livelihoods of workers on both sides of the border.
"This is a very welcomed and much-needed step as the Karachi seaport is already overloaded with work, and clearance of goods for Afghanistan takes extra time," said Nauman-ul-Haq, director of the Khyber Pakhtunkhwa chapter of the Pakistan-Afghanistan Joint Chamber of Commerce and Industry (PAJCCI).
The new trade route will have a very positive impact on Pak-Afghan trade and will help boost trade, benefiting inhabitants of both countries, he said.
Trade via Gwadar will open up new vistas of business between Pakistan and Central Asian countries via Afghanistan over the long term, he added.
About 6,000 to 7,000 containers slated for Afghanistan are stuck at the overburdened Karachi port and border posts in Pakistan because of delays in clearance, resulting in losses for businesses because of detention charges and demurrage, he said.
Some of these delays are due to the COVID-19 pandemic and the closure of borders as a preventive measure to stem the spread of the disease, Nauman explained.
Haji Zalmay Azeemi, vice president of the Chamber of Commerce and Investment in Nangarhar Province, Afghanistan, lauded the trade-route initiative.
He expects it to benefit Afghan businesses.
"Trade from Gwadar augurs well for businesses in Afghanistan because of lower transportation charges ... at this port," he said.
Azeemi expressed hope that transportation charges for goods from Gwadar to the Pakistani-Afghan border crossing at Chaman would be about half for those on routes connecting Karachi to Chaman or Karachi to Torkham.
'Step in right direction'
"This is an appreciated development, and it will have a positive impact on Pak-Afghan Trade," said Ahmad Shah Yarzada, a Jalalabad-based businessman and board member of PAJCCI in Afghanistan.
Pak-Afghan trade has declined in the last few months and needed pragmatic steps for a positive turnaround, said Shah.
He emphasised the importance of early clearance of goods in transit at shipping and border posts, as delays are causing losses to businesses.
"Gwadar is a suitable location for transportation of goods between Pakistan and Afghanistan via the Chaman border crossing and will give a boost to trade between the two countries," said Zia-ul-Haq Sarhadi, chairman of the Pakistan Custom Clearing Agents Association.
Sarhadi lauded the export of goods to Afghanistan from Gwadar. Its packing and transportation in trucks will benefit working-class citizens in both countries, he said.
"The initiation of trade with Afghanistan via the Gwadar seaport is a step in the right direction with the objective of improving trade between Pakistan and Afghanistan, benefiting millions of inhabitants on both sides," he added.
Trade between Pakistan and Afghanistan dates back centuries and millions of residents have an interest in it, so steps that improve and expand trade are necessary and in the best interest of the countries and populations of the region, Sarhadi said.