KARACHI -- Relatives of the victims of a deadly 2017 suicide bombing in Sindh province have hailed the death sentences handed down to the two militants of the Khorasan branch of the "Islamic State of Iraq and Syria", known as ISIS-K, who masterminded the attack.
The blast hit a Sufi shrine in the town of Sehwan, killing more than 70 worshippers.
The court in Karachi on Monday (May 18) found Nadir Ali Jakhrani (alias Murshid) and Furqan Bangulzai (alias Farooq Bangulzai) guilty of facilitating Barar Brohi, the suicide bomber.
The court sentenced both to death on 70 counts of murder as well as to a fine of Rs. 14 million ($87,000) each.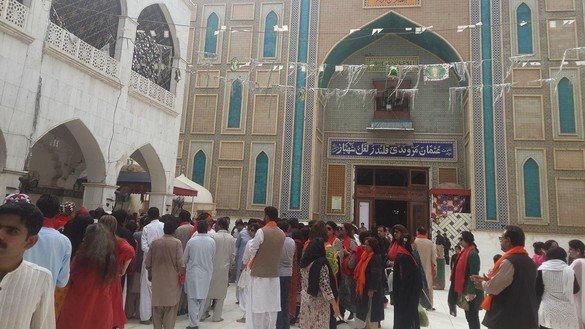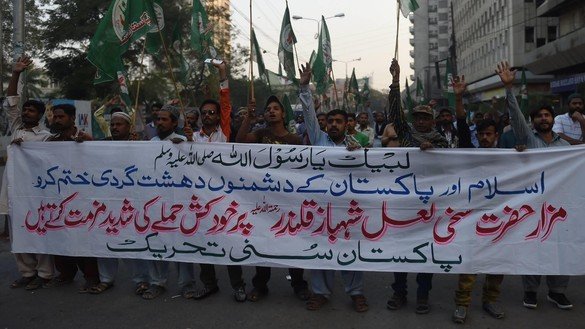 The Sindh Police Counter Terrorism Department arrested Jakhrani in November 2017 and Furqan in February 2019.
The two were part of an ISIS-K Sindh group headed by Abdul Hafeez Pindrani that had been involved in attacks on Shia worship places, Sufi spiritual leaders and political rallies that killed and wounded hundreds of Pakistanis, according to authorities.
Sindh Police killed Pindrani and Maulvi Abdullah Brohi, another top leader of ISIS-K in Sindh Province, in a shootout in February 2019.
The court issued perpetual warrants for six other suspects accused of facilitating the shrine bombing. They remain at large.
Inhumane, barbaric acts
Relatives of those killed or injured by the suicide bombing hailed the court's decision.
Firdous Khokhar, a resident of Shahdadkot District in Sindh Province, was at the shrine with her three children during the bombing.
Her two sons -- Kashif and Zahid -- were killed, while she and her daughter Asiya were wounded.
"I am very happy to hear that the court has punished the culprits who killed dozens of innocent devotees, including women and children," said Khokhar.
She cannot forget the blood-stained clothes of those killed and wounded, including her children.
"No faith allows such inhumane and barbaric acts," she said.
Sufi shrines in Pakistan are frequently the targets of militants belonging to various banned groups, including ISIS-K and Tehreek-e-Taliban Pakistan (TTP).
Although ISIS-K has been weakened by security operations against militant outfits across the country, law enforcement agencies have continued to crack down on the Pakistani branch of the terror outfit.
On May 16, the Punjab Police Counter Terrorism Department (CTD) killed four ISIS-K militants in a shootout in Bahawalpur District.
"They [the ISIS-K militants] were planning to attack some sensitive places in Bahawalpur," said a spokesman for the Punjab CTD, adding that officers were conducting raids to arrest three suspected accomplices who escaped.
Earlier in December, the Punjab CTD arrested two suspected ISIS-K militants in Muzaffargarh District during an intelligence-based operation.
Standing against militants
The recent death sentences are the latest punishments handed down by Pakistan's anti-terrorism courts, which authorities established to fast track the most heinous cases.
In the recent case of the shrine bombing, three witnesses, all civilians, testified in court.
"The appearance of [non-governmental] eyewitnesses in the anti-terrorism courts is encouraging and shows that people now trust the courts and are not afraid of militants," said Shabbir Ahmed, a senior lawyer in Karachi who deals with terrorism cases.
Twenty-six other witnesses, all government officials, testified in court as regulations required them to do.
In the past, civilian courts' judges endured open threats from terror groups and a number of lawyers and eyewitnesses were killed for prosecuting and testifying against the militants, Ahmed said.