KARACHI -- Individuals who have joined the "Islamic State of Iraq and Syria" (ISIS) and other terrorist groups are facing increasingly harsh punishment for their actions from governments around the world.
Since the start of 2018, Iraq, for instance, has convicted more than 500 foreign men and women who traveled to the Middle East to join ISIS.
Eleven French nationals figure among the non-Iraqis on death row, while three others have been sentenced to life in jail, having been found guilty of belonging to ISIS.
So far, no executions have taken place but the fate of hundreds of foreign terrorists sentenced to death or life terms in prison depends on Iraq's justice system, not on its executive branch, Prime Minister Adel Abdel Mahdi told AFP.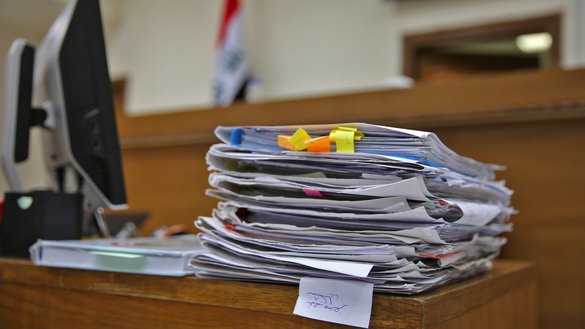 "We have made no promises to any country to lighten these sentences," Abdel Mahdi said in his first full-length interview with international media.
"The justice system does not allow the Iraqi state to pardon those condemned to death," he said.
It is up to Iraq's court of cassation to examine terrorism-related verdicts and either uphold, amend or scrap them.
In Iraq, "the death sentence is legal -- Europe has abolished it, and we respect that position, but we differ on it," Abdel Mahdi said in the August 8 interview shared with local television stations.
Anti-terror courts in Pakistan
In Pakistan, the government signed into effect a constitutional amendment allowing military courts to try terrorism suspects and lifted a de facto ban on capital punishment after the attack on the Army Public School in Peshawar in December 2014.
The federal government sent the cases of 717 accused terrorists to military courts from December 2014 to December 2018, according to Inter Services Public Relations (ISPR).
In the cases finalised so far, military courts sentenced 310 to death and another 234 to various sentences ranging from life imprisonment to five years in prison, said the ISPR. Two of those accused were also acquitted.
Fifty-six of the 310 death sentences have been carried out, ISPR said.
Those given the death penalty include the masterminds, perpetrators and abettors/facilitators of several high-profile terror attacks.
Saad Aziz, an ISIS-linked terrorist, received a death sentence from a military court in 2016, for example. He is still awaiting execution.
He was involved in a number of terrorist activities in Karachi, including the May 2015 slaying of about 45 members of the Ismaili community in the Safoora Goth neighbourhood and the April 2015 murder of Sabeen Mehmud, a social worker and human rights activist.
Sabia Ali, a friend of Mehmud, expressed satisfaction with the court's performance.
"Trying and prosecuting, especially awarding death sentences, have helped in reducing militancy in the country because it created fear among the militant groups and trust among the residents," Ali said.
Standing against militants
Pakistan's military courts fast-track proceedings on serious cases that the regular court system cannot handle expeditiously.
In one recent case, a local anti-terrorism court on June 29 in Gujranwala District, Punjab Province, sentenced two militants to more than 17 years each.
The militants, who were both members of Jaish-e-Muhammad (JeM), were sentenced for their involvement in subversive activities and collecting funds for the terror outfit.
In the past, judges and lawyers of civilian courts endured frequent threats from terror groups.
More than 160 lawyers -- not including judges or other officers of the court -- have been killed since 2004 in Pakistan, according to the New Delhi-based South Asia Terrorism Portal website.
Most of the attacks come from Tehreek-e-Taliban Pakistan (TTP) and ISIS, which regularly threaten to assassinate judges.
Among the most devastating was a suicide bombing in August 2016 in Quetta Civil Hospital, where dozens of local lawyers had gathered to mourn the assassination earlier that day of Bilal Anwar Kasi, the president of the Balochistan Bar Association.
ISIS claimed responsibility for the bombing, which killed at least 70 Pakistanis, mostly lawyers and judges.
"In Pakistan, it is not easy to go against militants in the courts," said Raja Hasan, a senior lawyer in Karachi.
"For us judges and lawyers, it is normal for the [Taliban] militants to tell us that they know where our children go to school," he said. "It is frightening, but to bring back peace to the country, we are standing against these anti-peace elements," Hasan said.