KARACHI -- Devotees of diverse religions, peace activists and other Pakistanis returned to the Lal Shahbaz Qalandar shrine earlier this month to mark the second anniversary of a deadly terrorist attack, demonstrating their resilience and solidarity.
The suicide bombing on February 16, 2017, at the shrine in Sehwan -- about 200km northeast of the provincial capital, Karachi -- occurred just as a celebration of Sufi music and dance, known as dhamaal, was being performed after evening prayers.
The explosion killed 85 people and injured more than 300. "Islamic State of Iraq and Syria" (ISIS) claimed responsibility.
Two years after the bombing, disciples of Saint Qalandar and others including peace activists attended a three-day Urs celebration at the 800-year-old gold-domed mausoleum to demonstrate their solidarity with the victims and to promote tolerance for all religious worship.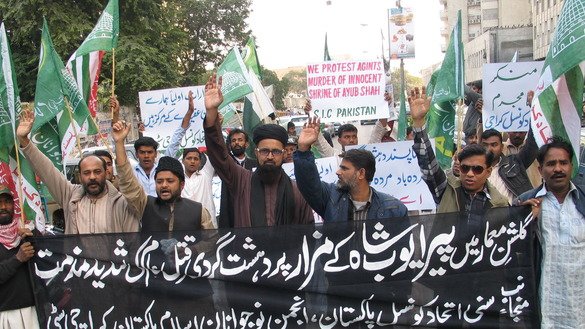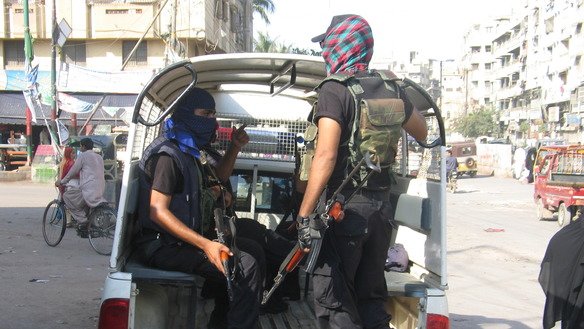 Firdous Khokhar, a devotee of Qalandar and a resident of the Gharibabad locality in Shahdadkot, Khokhar, Sindh Province, along with her three children, were at the Qalandar shrine when the bomber blew himself up.
Her two sons -- Kashif and Zahid -- were killed, while she and her daughter Asiya were badly injured.
For Khokhar, Qalandar's shrine is a source for comfort and a place where she finds mental solace for the loss of her sons.
"Last year, my husband tried to stop me from going there, but I went with my daughter as it's where I lost my two sons," she said.
On the second anniversary of the bombing, she again visited the shrine. "Our life and death are with Saain Qalandar," Khokhar said.
Promoting tolerance and pluralism
Sheema Kermani, a Karachi dancer and activist, along with her dance team arrived in Sehwan to perform dhamaal with religious devotees to mark the bombing.
Clad in an orange that symbolises the attire of Sufis, Kermani danced in the shrine's compound, while a group of folk singers from rural Sindh sang praises of Saint Qalandar.
Her performance was aimed at promoting tolerance and pluralism, said Kermani, who heads Tehreek-e-Niswan, a Karachi women's-rights group.
It was not her first visit to Sehwan. She performed the same dance there just three days after the attack in 2017.
"The main purpose of organising" another anniversary observance is "to show our resilience against the militant groups who bomb shrines and worship places", Kermani told Pakistan Forward.
"Such activities are mainly aimed at strengthening shrines as a platform for inter-faith and communal harmony," she said.
Tehreek-e-Niswan plans to expand its activities to other shrines and religious facilities in the province, such as the temple at Sadhu Bela, the Ashram of Bhagat Kanwar Ram, the Dargah of Budha Lal Faqir and the shrine of Sachal Sarmast, according to Kermani.
"Such sacred spaces have always existed for devotees belonging to all faiths, to visit in freedom and communal harmony," Kermani said.
Music and the sound of bells from dhamaal dancers have always been part of the Sufi tradition of humanism, inter-faith harmony, and the promotion of tolerance and peace as well as the solidarity of society, said Kermani.
The terrorists'' hatred of these beliefs spurred the bombing, she said.
"This philosophy was directly attacked in 2017, and now we all must work together to regain, preserve, protect and promote it," she added.
Arrests continue
Meanwhile, police are continuing their investigation.
On February 20, Karachi police said they arrested two Lashkar-e-Jhangvi militants identified as Furqan Bangulzai and Ali Akbar from the Gadap area accused of involvement in facilitating the bombing of the Sehwan shrine.
Police said they arrested a key suspect -- Nadir Ali Jakhrani, alias Murshid -- in November 2017 in connection with the explosion.
Militants belonging to various banned groups, such as the Tehreek-e-Taliban Pakistan and Lashkar-e-Jhangvi, have frequently targeted Sufi shrines in Pakistan.
Militants who attack shrines and other cultural symbols try to justify themselves by saying that such destruction is necessary in building a new culture and identity, said Abdul Majid Baqi, a Lahore-based Sufi researcher.
Such extremists often follow a philosophy that conflicts with Sufi Islam, he added.