PESHAWAR -- Despite losing his right hand in a suicide bombing, Deputy Superintendent of Police (DSP) Faqirabad Alamzeb Khan reports for duty every day.
He is among a number of Khyber Pakhtunkhwa (KP) Police officers who were wounded in terrorist bombings and other attacks but continue to serve the public and protect the province.
Khan was wounded in a suicide bombing in Akora Khattak, Nowshera District, in January 2012.
"We got a tip about a suicide bomber, and I, as station house officer [SHO] Akora Khattak, along with my team was checking buses when he triggered explosives around his vest," Khan said.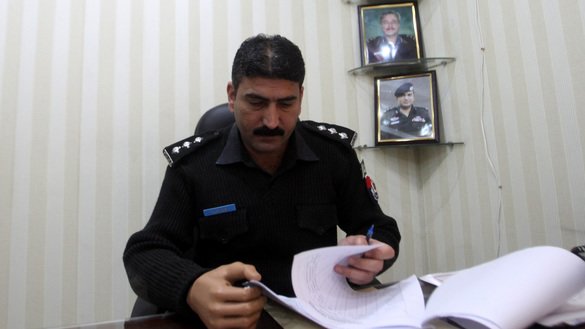 Eleven other Pakistanis were wounded.
Khan received treatment for four months for the loss of his right hand and his other injuries, but he rejoined the force soon after he recovered.
After performing duties and leading operations in Nowshera, Charsadda, Dera Ismail Khan, Tank and Kohat, Khan was appointed DSP in Faqirabad circle of Peshawar in December 2019.
"I use to feel it [the loss of my hand] in the beginning, but now I got used to it and perform my duty one-handedly and with more commitment," Khan said.
'Nothing can stop me'
Khan is not alone in his commitment.
For example, Senior Superintendent of Police (SSP) Gul Wali faced three different attacks before being wounded in the third in Gulbahar, Peshawar.
"Our batchmate [police academy classmate] Gul Wali was critically wounded by terrorists in July 2013 in Gulbahar, Peshawar, and remained under treatment for years before he rejoined his duty recently," said SSP Sajjad Khan.
Wali's driver and bodyguard were killed.
"One SP [superintendent of police] Imtiaz Ahmad lost an eye in a bombing in 2007, but he continued serving the force," Khan added.
That attack near Qissa Khwani Bazaar in January 2007 killed Capital City Police Officer (CCPO) Malik Mohammad Saad and wounded Sher Akbar (now a deputy inspector general [DIG]), among others.
However, "all those [wounded] recovered, put on their uniforms immediately and went to the field to restore peace," said Khan.
Inayatullah Khan, known as Tiger, a bomb disposal specialist in KP, is yet another example. He lost his left leg in an explosion in Dera Ismail Khan in January 2015.
Undaunted, he has defused more than 600 improvised explosive devices (IEDs) and anti-personnel mines since he joined the Bomb Disposal Squad (BDS) of the KP Police in 2000.
"Nothing can stop me from doing my job of saving lives," he said.
Recognising sacrifice
In March 2019, Tiger was recognised by Chief of Army Staff Gen. Qamar Javed Bajwa for his service and contributions over the past two decades and received Rs. 500,000 ($3,150).
Former CCPO Peshawar Qazi Jamil ur Rehman in 2018 introduced a policy to assign officers severely injured by terrorism to police stations near their residences.
"The step was taken to facilitate those who have sacrificed for the police force and for the peace in the country," said Rehman, adding that the martyrs and those wounded are the real heroes of the force.
"There are many brave officers who were critically wounded in attacks and operations, but they continued performing their duty with more commitment," said Qaisar Khan, a Peshawar-based journalist.