PESHAWAR -- People with disabilities in Pakistan are demanding an end to militancy as the nation marked International Day of Disabled Persons on Tuesday (December 3).
Shafique Ahmed, 23, was hit by a rocket in 2013 while in his home in North Waziristan.
"I was shifted to the hospital in Peshawar 10 days after the incident, where doctors amputated my leg, and I grew up using assistive devices to walk," he said.
Ahmed curses the Taliban militants for making him disabled.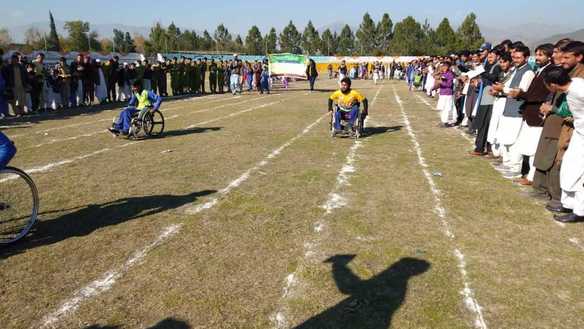 However, peace holds the key to preventing violence and ensuring a safe future for Pakistanis, he said.
"Without violence, progress is possible," he said. "Now the public has equal opportunities for development."
Those who are disabled are justified in denouncing the violence that incapacitated them, said Dr. Mehboob Rehman, chief of the physiotherapy department at the Hayatabad Medical Complex.
"The World Health Organisation [WHO] says that disabled people are among the most marginalised groups in the world. People with disabilities have poorer health outcomes, lower educational achievements, less economic participation and higher rates of poverty than people without disabilities," he said.
"Disability is now understood to be a human rights issue," Rehman said, citing the WHO.
Bomb and suicide attacks in the tribal districts have left victims with a host of health issues, especially disabilities, and they require the support of families and society, he said.
The number of orphans rose because of violence in the tribal areas and Malakand Division, according to Ayaz Khan, an official at the Khyber Pakhtunkhwa (KP) Social Welfare Department.
More than 6,000 residents became disabled in Malakand during militancy between 2007 and 2009, he said.
"Militants are notorious for killing and injuring civilians through acts of terrorism to spread terror," he said.
The situation has improved greatly after the army killed or drove out numerous terrorists from the region, he noted.
The government has established physiotherapy centres in each district to provide support to those with disabilities and to enable them to walk and stay safe from further complications, said KP Health Minister Hisham Inamullah Khan.
The support of communities and physiotherapy is necessary to help those who are disabled become useful citizens in society, he said.
'No mercy'
Many of the disabilities caused by militants are serious and can prevent victims from working, according to Dr. Jawad Ali, an orthopedic surgeon in Khyber Teaching Hospital Peshawar.
Men, women and children have all suffered injuries both while outdoors or inside their homes, he said.
Zafeerullah, 34, was working in his mechanic shop when his right leg was hit by a stray bullet in 2008 in Swat District. He now walks with crutches.
"My leg was operated on many times but was ultimately amputated because of severe infection. Since then, I have become jobless and look to others for help," he said.
His only request is for the army to carry out full-fledged actions against militants everywhere to make the country peaceful, he said.
"The Taliban deserve no mercy," he said.
Spogmay Gul, 40, was wounded in her left thigh in 2009 when a rocket landed in her house in Mohmand District.
Since then, she has had to use a wheelchair.
The responsibility lies with militants, she said, adding that her four children have suffered from her disability.