PESHAWAR -- Police and other security forces have launched an operation in Buner District of Malakand Division after terrorists sent threatening letters to locals in recent weeks.
Terrorists once controlled a number of areas in Malakand Division before they were ousted in a military operation in 2009.
"A joint operation of police and army is going on in the high mountainous area of Elam," Inspector General of Police (IGP) Khyber Pakhtunkhwa (KP) Muhammad Naeem Khan said Monday (September 16).
The Special Service Group of the army and the Elite Force of KP Police are carrying out the operation, he added.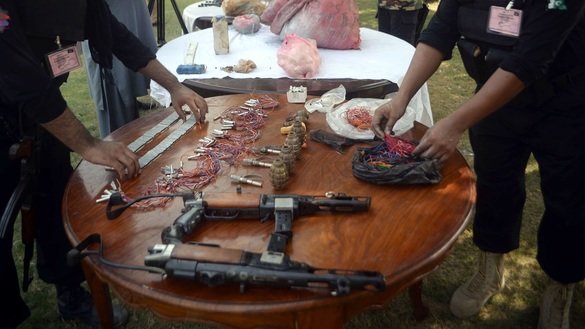 "After intelligence reports, all the suspected areas have been marked and are being thoroughly scanned," said Khan.
"The police and other security forces are determined to achieve their objective -- peace," he said.
"The joint operation is going on well so far, though no terrorist has been killed," said Nisar Mahmood, a journalist based in Peshawar.
However, "it shows the will of the government and of its forces to eliminate the group before it gains local support," Mahmood said, adding that a sense of security has increased among area residents after the actions by security forces.
Militant threats
The presence of terrorists in Buner became evident in mid-August when a Tehreek-e-Taliban Pakistan (TTP) commander, Aziz Ur Rehman, sent threatening letters to Sardar Hussain Babak, a member of the KP Assembly from Buner.
"I received a threatening letter from the local militant commander on the day of Eid ul Adha," Babak said.
The letter, written in Pashtu and penned by Rehman, went to many other recipients as well, he said.
The letter warned all recipients to obey the Taliban or face attack. It added that the TTP would resume targeted killings, bombings and other violence against those supporting the police, army and government.
"It will not be difficult for government forces to eliminate the handful of terrorists who resurfaced in Buner District in recent weeks," said Mahmood, the journalist.
Buner is surrounded by Shangla and Swat in Malakand and Swabi and Mardan districts in Mardan Division, he noted. Elam Mountain also touches Swat District.
"The recent letters to different individuals have spread a sort of terror among the local population," said Mahmood, adding that the government has launched its efforts to restore peace and hopefully will dispel the problem soon.
"Immediate measures are needed to ensure peace in Buner before the fear and threats spread to other districts of Malakand Division," said Naeem Ur Rehman, a 43-year-old resident of Mingora, Swat District.
The security forces have done a great job by restoring peace in Malakand in the last few years, he said.
"No one should be allowed to pose any threat to peace in the area," said Rehman.