PESHAWAR -- Irfan Ullah understands the physical and mental pain that victims of terrorism face every day, having lost both legs in a terrorist bombing in 2011 in Kurram District, Khyber Pakhtunkhwa.
In 2015, the struggles of the then-13-year-old spurred him to establish the FATA Disabled Welfare Organisation (FDWO), which offers physical and moral assistance to tribal residents disabled by terrorist attacks.
Since its formal registration in 2016, the organisation has provided assistance to scores of Pakistanis in an effort to help terror victims overcome their disabilities and lead a normal life.
"We started work under the banner of FDWO in 2015 after witnessing the plight and miseries of those injured in terrorism incidents that occurred in FATA," said Ullah, the chairman of FDWO, referring to the former Federally Administered Tribal Areas.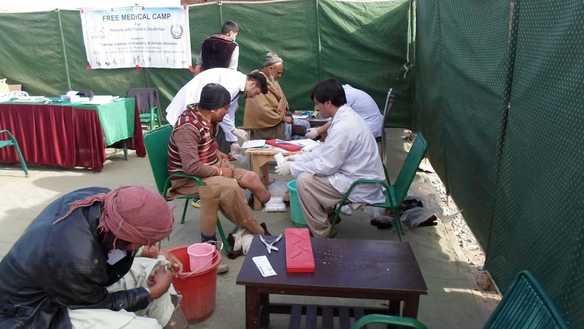 The prime objective of the organisation is to help victims in a more systematic and effective way, said Ullah, who is now 18 and in his second year of pre-medical studies at Islamia College Peshawar.
"I was a student in the fourth grade when the blast blew away both of my legs," he said. "Since then, I have been fighting a society where disabilities often deprive you of pursuing a routine life and ambitions."
"No one can better comprehend the feeling and inner seething of a human than I can, as the incident changed the course of my life and put me in a state of persistent despair," he added.
"My resilience, my dedication to share the grief of my fellow sufferers ... drove me to start an organisation for the betterment of terrorism victims in tribal areas," he said.
Care in remote areas
"The tribal area most-affected by terrorism is South Waziristan, where the residents are still mustering strength and battling the odds to return to normal lives," Ullah said.
Because of the innumerable difficulties faced by terrorism victims living in the tribal belt, FDWO recently established an artificial limb centre in Wana, according to Ullah.
"We are working to create more of these centres in all tribal districts," he said.
"There are about 15,000 tribal residents who are disabled for various reasons including polio," said Jamil Khan, FDWO spokesman. "Among those, 2,000 were disabled by various incidents of terrorism in the merged [former FATA] districts."
Apart from helping the disabled, the organisation arranges medical camps for tribe members who live in remote areas and have no access to health care, he added.
"Offering these medical camps is part of our agenda, which aims to mitigate the suffering of the deprived and needy," Khan said.
Because of the apathy of some social welfare authorities, public awareness is needed to address the plight and miseries of those disabled by terrorism, he added.
"The efforts of our organisation are incomparable to the problems of those affected by terrorism, but we are satisfied that we have started to give them moral and physical support," Khan said.
"FDWO so far has provided 186 artificial legs to terrorism victims, while 36 other survivors have been measured" for prosthetics, he added. In addition, it has distributed about 200 wheelchairs.
The community badly needs and appreciates the organisation's efforts, said Naseer Afridi, 51, who runs a spare-parts shop and is a resident of Jamrud in the newly merged tribal districts of KP.
"It would be very difficult for an outsider to realise the problems and miseries of tribe members who bore the brunt of the war against terrorism," he said. "Tribesmen are still struggling to cope with the impact of the war against terrorism, which left civilians homeless and penniless, while some will be disabled and crippled for the rest of their lives."
"Helping the disabled and providing them with humanitarian assistance and help to return to a normal life are an achievement of the organisation," he said.
FDWO and its work "need support and recognition from both government and society", he said.