PESHAWAR -- Militants' anti-polio-vaccine efforts continue to sicken children in Pakistan and Afghanistan. The two countries combined for more than 160 cases of the disease in 2019.
In 2019, Pakistan and Afghanistan had 136 and 28 cases of wild-type polio, respectively, according to the Global Polio Eradication Initiative (GPEI).
Terrorism is standing in the way of worldwide polio eradication, and both countries have been asked to devise joint strategies to ensure the vaccination of all children, said Oliver Rosenbauer, spokesperson for polio eradication at the World Health Organisation (WHO).
Khyber Pakhtunkhwa (KP) alone accounted for 92 polio cases.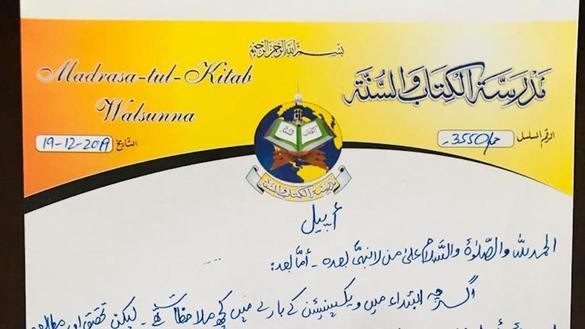 "There's a completely new strategy to counter the propaganda against polio vaccination as we try to educate those who are showing hesitancy against polio immunisation," said Dr. Rana Safdar, Pakistan's national co-ordinator for polio eradication.
Pakistan has 39 million children under age five to vaccinate, but 200,000 remain unimmunised because of refusal by parents. The country conducts four vaccination drives a year.
"We have engaged religious scholars, community elders and influencers to prevail upon the parents that vaccination is safe and desperately required to safeguard children against disabilities," he said.
"We are also trying to strengthen co-ordination with Afghanistan, another country where polio is endemic," he said.
Nigeria is the only other country with endemic polio.
Medics conducted a synchronised campaign on both sides of the border in December to ensure the administration of vaccines, said Safdar.
The countries are sharing response plans and information about new cases, he said.
"Our last face-to-face meeting with the Afghan team was in Abu Dhabi [in November]," he said. "We met on the sidelines of the Polio Oversight Board [POB], where problems and further co-operation were discussed."
The POB oversees the GPEI.
Afghanistan, another country that faces terrorism, has adopted a similar approach.
"All the infected children [in Afghanistan] were not vaccinated because of parental refusals," said Mir Jan Rasekh, a spokesman for the Afghan anti-polio programme.
"We, in co-ordination with Pakistan, are speeding up efforts in 2020 to devise mechanisms and thwart militants' propaganda against vaccination," he said.
The main problem in the past has been non-vaccination of children crossing the Pak-Afghan border, which authorities have resolved, Rasekh said, adding that the countries now synchronise their polio vaccination campaigns along both sides of the border.
About 50,000 unvaccinated children have been the major issue, with medics vaccinating 5.6 million target children in each campaign, he said. Those campaigns occur three times a year.
"To counter propaganda, we have enlisted the support of religious scholars to prevail upon the public that vaccination is allowed in Islam and that terrorists want to handicap children," said Rasekh.
"Terrorists are blowing up schools and health facilities to expose children to disabilities and deprive them of education, but we are giving a tit-for-tat response to those wanting to send us back to the Stone Age," he said.
Addressing refusals
Pakistani officials have made breakthroughs in regards to addressing parental rejections of polio vaccinations, said Dr. Nadeem Jan, a KP-based technical focal person for polio.
"A local religious scholar who previously opposed vaccination is now supporting us and has issued an edict, thanks to which refusals have drastically diminished," he said.
"In Peshawar, we used to miss 50,000 children because of parents' reluctance, which was brought down to only 4,000 in the last campaign carried out in December," Jan said.
Maulana Muhammad Amin, director of the Madrassa Tul Kitab Wa Sunnah, Peshawar, issued an edict on December 19, in which he appealed to his followers to vaccinate their children against polio.
"Previously, we opposed polio vaccination, but now we have come to know after medical research and edicts issued by Islamic scholars that the drops are safe and required by the children," he said.
He has issued instructions to his fellow scholars throughout the province to ensure the vaccination of children, he said.
The propaganda against vaccination by terrorists is condemnable because it is meant to harm children, Amin said. Islam obliges parents to take care of their children's health and those who reject vaccination are opposing the religion, he said.
Preventive measures against diseases are in line with Islam, said Amin.
Propaganda regarding polio by vested interests is the biggest hurdle to wiping out the disease, said Abdul Basit, the co-ordinator of the emergency operations centre for fighting polio in KP.
"We have been urging media, civil society, line departments [government agencies] and cross-segments of society to support the national cause by helping the government in countering anti-polio-vaccination propaganda and motivating parents to immunise their children," he said.
Anti-polio front-line workers need appreciation for their courage in carrying out campaigns amid threats by militants, he added.
WHO and the national drug regulator have certified the polio vaccines, he said, emphasising they do not harm recipients.
"In August 2019, one of my two children was diagnosed with polio because he wasn't vaccinated," said Muhammad Shah, 45, of the Mathra locality in Peshawar. "In the past six months, I have been vaccinating my second son to ensure his good health."
"Many residents of our neighbourhoods are repenting because they believed rumours and exposed their children to disabilities," he said.