KHAR, Bajaur District -- A recent four-day nationwide polio vaccination campaign saw the participation of Hazrat Wali Shah, 39, a resident of Bajaur District who contracted polio as a child.
Shah accompanied polio vaccination workers during the Monday-Thursday (February 17-20) campaign to help persuade parents who refused to vaccinate their children, according to Dr. Wazir Khan Safi, Bajaur district health officer.
Shah has raised his voice against extremists' anti-vaccination propaganda, and he actively participates in campaigns to create awareness about polio, Safi said.
"Hazrat Wali Shah is an inspiration for society, and he has clarified many minds in the past on polio, because negative propaganda misleads the public on the oral polio vaccine," he said.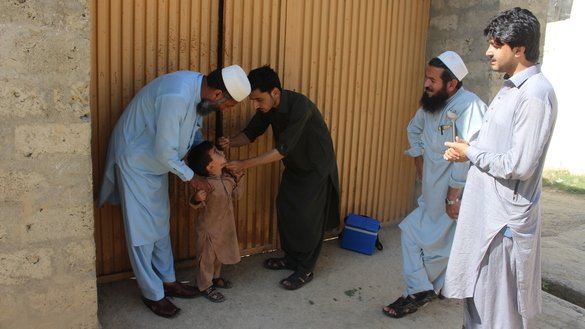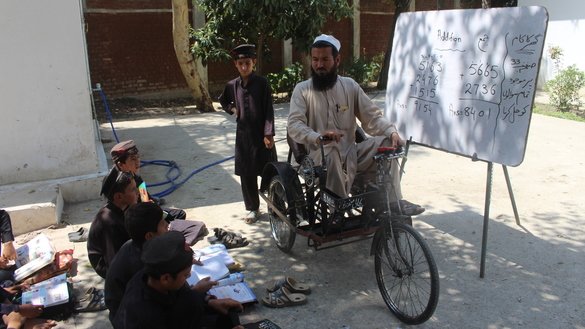 Civilians "should help polio teams and the health department as polio is destroying our children's future, and then they must rely on others", Safi said.
"The only way to eliminate polio is to vaccinate children under the age of five," he said.
"Polio vaccination is halal, and there is nothing bad in the vaccines," said Mufti Hanif Ullah Jan, a religious leader in Bajaur. "These drops are declared halal by Pakistan's leading Islamic scholars like Mufti Taqi Usmani and the late Sami ul Haq."
Bajaur ulema fully support the anti-polio drive and call on the public to make the vaccination campaign successful, he said.
Helping others succeed
Shah wants no child to experience the pain he went through during his childhood.
"I was a victim of polio in my childhood and faced many difficulties due to disability," he said. "Going to school was very difficult as the school was very far from my village."
"It was painful for me to use crutches for walking, but I never lost hope," Shah said.
Over the past 10 years, medics recorded 39 polio cases in Bajaur District, according to health officials. Fifteen cases were reported in 2009, 11 in 2010, two in 2011, five in 2012, five in 2018 and one in 2019.
"In the past, the main reason for the spread of the polio virus was militant propaganda," Shah said, adding that the number of polio cases increased in Bajaur in recent years because of uncertain security.
"After the restoration of peace in Bajaur, polio teams are easily working in the field, while in the past they were unable to move freely for vaccination," he said.
After passing the intermediate exam in 12th grade, Shah was hired to teach primary school in his village, Maminzo. After serving more than 20 years, he was appointed head teacher.
"Polio attacked my feet and hands and made me disabled, but I believe that a disabled person can be a harder worker than a normal person," Shah said.
In 2009, Shah established Anjuman Bahali Mazoran, an organisation to support residents with disabilities in Bajaur. So far, it has helped more than 2,000 such individuals.
"The main purpose of establishing the organisation is to help the disabled as I felt the pain of disability in my childhood and young age," Shah said.
Bajaur District has more than 7,000 residents with disabilities, and it had no proper organisation for support, "so I along with my friends took the initiative to help," he said.
"I have also established a skill centre where the disabled are learning tailoring skills," he said, adding that 200 individuals with disabilities have completed training and are supporting their families as master tailors.
Tight security for health workers
"The four-day polio [vaccination] campaign successfully concluded in Bajaur under tight security," said Bajaur District Police Officer Pir Shahab Ali Shah.
"Some 1,900 police personnel were deployed for campaign security, and no unpleasant incident happened," he said.
While the vaccination campaign in Bajaur was peaceful, militants continue to attack polio vaccination workers in other areas of Pakistan.
A policeman was killed and two others wounded Tuesday (February 18) by a roadside bomb targeting polio vaccination workers in Dera Ismail Khan, officials said.
A police van monitoring the polio team was hit on the outskirts of the city, said District Police Chief Wahid Mehmood.
"It was an IED [improvised explosive device] explosion in which one of our policemen got martyred while two others were wounded," he told AFP.
Sadaqat Khan, a local police official, confirmed the toll.
Nobody immediately claimed responsibility, but Tehreek-e-Taliban Pakistan (TTP) and other militants have targeted polio vaccinators in the past.
On January 29, unidentified gunmen killed two female polio workers in Swabi District, Khyber Pakhtunkhwa (KP).
'We will end polio at all costs'
"It is also terrorism if someone does not vaccinate their children ... the government wants to protect their children from life-long disabilities," KP Information Minister Shaukat Yousafzai said in a statement February 16.
"We will end polio at all costs to keep our future safe and healthy and protect our children from disability," he said.
The nationwide polio vaccination campaign aimed to vaccinate 39 million children.
In Bajaur, the target was to vaccinate 229,738 "and we have ... achieved it", Safi said.
In KP, the government sought to vaccinate more than 6.7 million children, according to Shaukat.
Pakistan is one of only three countries, along with Afghanistan and Nigeria, where the crippling disease remains endemic.