PESHAWAR -- Khyber Pakhtunkhwa (KP) has ramped up security for polio vaccination teams after the killing of two female workers in Swabi District on January 29, say officials.
Unidentified men opened fire on the polio team as it was working on January 29, according to officials.
"Video conferences are being held with all regional police chiefs on ... providing security to polio teams," KP Inspector General of Police (IGP) Sanaullah Abbasi said February 3.
KP Police have allocated maximum human resources to various districts to ensure foolproof security arrangements, he added. More contingents of police and Frontier Constabulary (FC) have rushed to districts where manpower was short.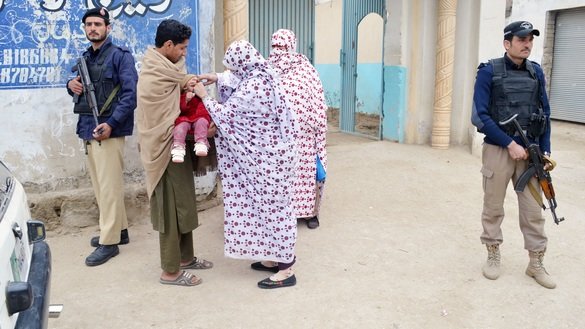 "We received more policemen from the Hazara region as well as FC, after which we have further increased the security of polio teams," said Swabi District Police Officer Imran Shahid.
Police have strengthened all entry and exit points in Swabi, he said.
"The number of policemen deployed for the security of polio teams has been increased from 560 to over 1,360 now," said Shahid, adding that two police officers accompany every female team and one every male team.
"Patrolling during the vaccination campaign has also been increased to provide a sense of security to polio teams and the public," he said.
13 attacks thwarted in 3 years
"Before the Swabi incident, police [in KP] had prevented 13 attacks on polio teams in the last three years," said DIG Police Operations KP Kashif Alam.
Terrorists targeting polio teams in KP carried out 17 attacks over the past three years, injuring one polio worker, he said, adding that three policemen sacrificed their lives in those incidents.
"We are investigating the Swabi incident after the government formed a three-member high-level committee," said Alam. The police, along with local administrators and polio vaccination organisers, are going to review and reassess security measures for thousands of polio teams, he said.
Locals elders and elected officials also are accompanying the polio teams to ensure their security.
"They are doing a great job to eradicate the crippling disease from Pakistan, and that is why we all support them in the drive," said Nazir Mohammad, a nazim from southern Peshawar.
The whole nation should play its role in making Pakistan polio free, he added.
Pakistan is one of only three countries with endemic polio.