PESHAWAR -- Pakistan Monday (August 26) kicked off a polio vaccination campaign in 46 high-risk districts to protect children from the disease.
The government kicked off the campaign in Mashokhel village, which was the site of a panic in April after videos and messages on social media falsely claimed that polio vaccines were making children sick. Panicked parents needlessly brought thousands of children to Khyber Pakhtunkhwa (KP) hospitals.
The government is going to focus on raising public awareness of the need for vaccinations, said Babar Bin Atta, Prime Minister Imran Khan's focal person for polio eradication, at a ceremony.
A total of 8.5 million children will be immunised countrywide, Atta said.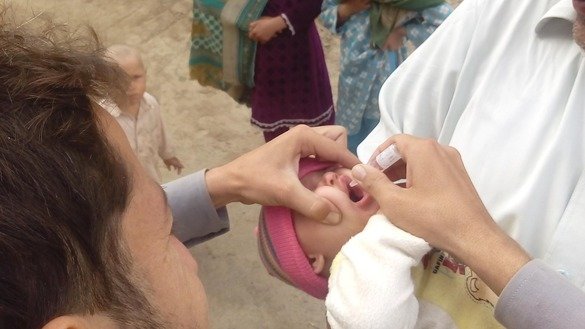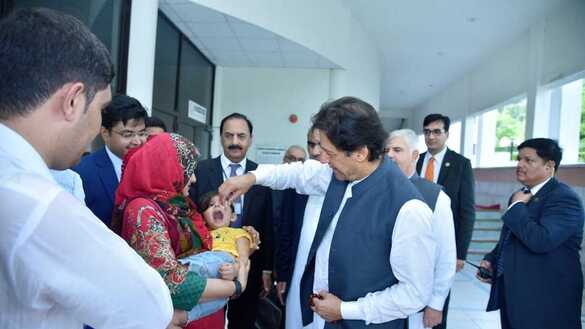 He administered drops to Nazar Muhammad, director of the Darul Qalam School, one of the schools where the rumours emerged.
The drive has begun in 29 districts targeting 4.6 million children in the province, said KP Chief Minister Mahmood Khan at the ceremony in Mashokhel.
The campaign will continue until September 1, he said, adding that officials have arranged to protect health workers against terrorists.
Prime Minister Khan deemed polio eradication as the one of the top priorities of the government during a high-level meeting on August 21.
Expressing serious concern over the recent spike in polio cases, Khan directed both federal and provincial officials to undertake effective awareness and immunisation campaigns.
He paid tribute to polio workers killed while helping to eradicate the disease. Since 2012, 76 people, including health workers and police officers, have been killed.
The Pakistan Army also assured full support to polio teams in their efforts to reach out to children in far-flung areas of the country.
Dealing with anti-vaxxers
Authorities decided to convince parents to vaccinate their children and refrain from using force, said KP Information Minister Shaukat Yousafzai at the Mashokhel ceremony.
Anti-vaxxers who are using the vaccination drive as a negotiating chip to make demands on the government -- for example, the withdrawal of taxes, pavement of roads and provision of electricity and water -- will be tried under the country's anti-terrorism law, Yousafzai said.
Traders in Bannu, which has recorded 22 of the 58 polio cases detected nationwide this year, announced on August 17 that they would not inoculate their children until the government lowered taxes.
The KP government is going to send the public a message that it should abandon opposition to vaccination for the sake of its children, said Yousafzai.
Shaheen Bibi, a 22-year-old polio worker in high-risk areas of Peshawar, said that she has accepted the challenge posed by anti-vaxxers and that she would try her best to reach every child in her area.
"We are undeterred by threats and will not leave children unvaccinated," she said in an interview.
Militants and terrorists are the enemies of society as they want to leave children disabled and close their schools, she added.
Banning vaccinations and blowing up schools are part of the militants' agenda to make the public suffer, but Pakistanis stand with their children, Bibi said.
Vaccinators will administer vaccines and not allow anyone to put the health of Pakistani children at risk, said Mushtaq Ali, a schoolteacher in Bannu.
"I request the government to take strict action against those hampering vaccination. It is the worst form of terrorism to expose children to diseases," he said.
Militancy and polio
Pakistan has become a global polio virus reservoir because of radicalised elements preventing the immunisation of children, said KP Director General of Health Services Dr. Arshad Khan in an interview.
Afghanistan, another country where polio is endemic, has registered 12 cases this year in areas controlled by the Afghan Taliban.
Militancy and misconceptions have resulted in disabilities in 41 children this year in KP, said Dr. Ghufran Khan, a polio officer in North Waziristan District.
North Waziristan has eight cases this year all due to parents' reluctance to vaccinate, he added.
It is the responsibility of parents to protect their children against diseases and ensure their healthy growth, said Mufti Ghulam Haider in University Town Peshawar.
"Those not willing to vaccinate their children are opposing Islamic injunctions that call for safeguarding children against ailments. The terrorists should not put children's lives at stake while advancing their nefarious agenda," he said.
Law enforcement agencies have orders to keep an eye on those spreading false rumours against the polio vaccine, said Kamran Afridi, co-ordinator of the Emergency Operation Centre for polio in KP.
"The same vaccines have been used worldwide to eradicate polio, and these are safe for children according to the World Health Organisation," he said.