PESHAWAR -- Inayatullah Khan, a bomb defusal expert for the Khyber Pakhtunkhwa (KP) police department, has escaped death several times in the past 19 years while protecting others from terrorist acts.
Despite being shot by militants and losing a leg in an explosion along the way, he says he wouldn't have it any other way.
"Only death can bar me from performing the duty of saving countrymen from destruction, and I will continue to foil the nefarious designs of terrorists until the last drop of blood in my body," Khan said in an interview.
Khan, known as "Tiger" by his colleagues for exhibiting extraordinary courage in battling terrorism, is head of the Bomb Disposal Squad (BDS) in Dera Ismail Khan (DI Khan).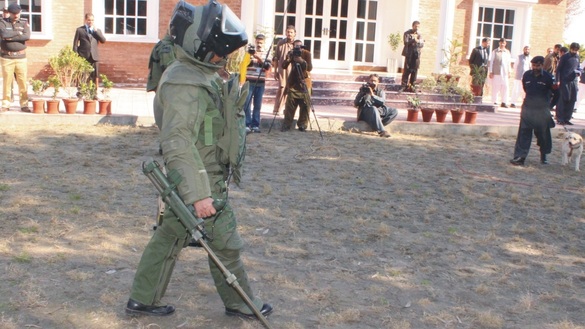 Khan has rendered more than 4,500kg of explosives ineffective throughout his career by defusing bombs, improvised explosive devices (IEDs), land mines, suicide vests, mortar shells and explosive-laden vehicles.
"Since 2000 when I joined the service until now, I have defused 295 IEDs, 350 anti-personnel mines and removed several vests from suicide bombers," Khan said.
"My call sign 'Tiger' was selected by my colleagues for use in operations against militants, but this soon became my identity. Now I have problems in being recognised by people when I introduce myself as Inayat instead of Tiger," he joked.
Undeterred by injuries
However, Khan's brushes with danger and death while on the job have been very serious.
In 2007, a 12-year-old suicide bomber blew himself up during a search of passengers of a vehicle on Bannu-DI Khan road.
"I was very close to the boy who had covered his body in a drape of cloth when he suddenly pressed the trigger and the jacket exploded," he said. "Eighteen people embraced martyrdom and 28 received injuries including me, but I remained out of danger."
In another incident, Khan was on a mission to check for explosives at a suspicious location ahead of a military convoy in North Waziristan when he found himself engulfed in a web of six IEDs planted by terrorists.
"With the grace of God, I defused all the explosives and cleared the way for security forces to go ahead and reach their target," he said.
Khan was less fortunate in January 2015, when he stepped on a land mine in the Loni area of DI Khan. The resulting explosion cost him his left leg, the same limb that militants shot up 14 years earlier.
Even though the blast injury was disabling, it didn't deter him from his mission.
After recovering from his injuries and getting an artificial limb, Khan resumed his duty with the same vigor.
In 2015, the Pakistan government decorated Khan with the prestigious Tamgha-e-Shujat (Medal of Bravery) award, the highest honor for military and civilian acts of bravery.
'Unmatched' bravery
Acknowledging Khan's bravery, sacrifice and determination, Army Chief Gen. Qamar Javed Bajwa on March 22 this year also rewarded him with Rs. 500,000 ($3,570) for his service in saving hundreds of lives in the country.
"People like Inayatullah Tiger are our country's assets, and we are proud of him," Bajwa said.
"The services rendered by the Bomb Disposal Squad (BDS) of Khyber Pakhtunkhwa in the country's fight against terrorism are unmatched," said Syed Akhtar Ali Shah, the former home secretary of KP.
The squad has defused more than 6,000 bombs in the last decade, which would have caused great destruction to life and property had they exploded, he said.
"The role of BDS in containing the insurgency that has plagued our country is meritorious, and the whole team from top to bottom has displayed the same dedication and spirit," said Shafqat Malik, head of the BDS in KP.
"Tiger is not the only one who has exhibited extraordinary valor and dedication to his profession," he said.
"The squad also have other heroes including the late Hukam Khan and the late Abdul Haq, who both embraced martyrdom in the line of duty," said Malik, referring to two members who died in Peshawar in 2012 and 2013, respectively.
"Tiger has made the whole country proud by performing his duty with extraordinary zeal and spirit," said Adnan Haider, a journalist and resident of DI Khan.
"Those like Inayatullah are a ray of hope for the people of Pakistan that our country will emerge triumphant in the fight against terrorism, and the name of the heroes of this war will be written with golden words in the annals of history," Adnan said.