ISLAMABAD -- Members of an alliance of Pakistani religious parties have come under heavy criticism after they visited Tehran to offer condolences over the killing of a top Iranian military commander.
Maj. Gen. Qasem Soleimani, commander of the Islamic Revolutionary Guard Corps (IRGC)'s Quds Force, was killed in a US drone strike in Baghdad on January 3.
Soleimani was responsible for creating and deploying Shia militias across the Middle East, Afghanistan and Pakistan to act as proxies for the IRGC and the Iranian regime.
In particular, Soleimani was behind the Zainabiyoun Brigade, a militia made up of Pakistanis sent to fight in Syria in support of President Bashar al-Assad's regime.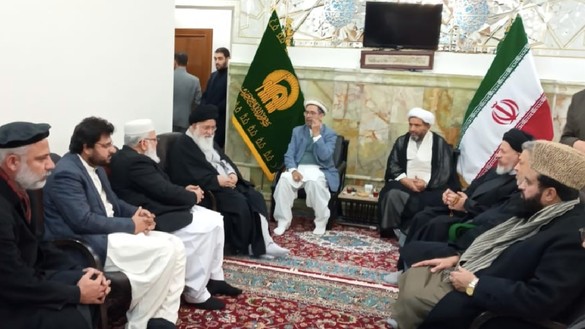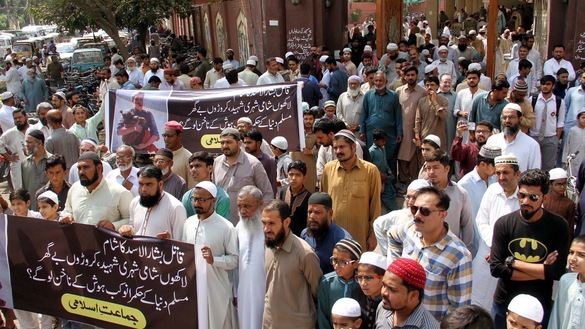 A delegation headed by Liaqat Baloch, secretary general of Jamaat-e-Islami Pakistan (JI) and top leader in the Milli Yakjehti Council (MYC), visited Iran on January 14-22.
The delegation, under the auspices of being an official MYC sanctioned mission by Liaqat Baloch's numerous messages on Twitter, visited Tehran, Mashhad and Qom and offered condolences to Iranian political and religious leaders over Soleimani's killing.
However, a number of MYC leaders in Pakistan distanced themselves from the delegation, saying the delegation was not sanctioned by the coalition and that Soleimani's support for the al-Assad regime led the killing of thousands of Syrian Muslims.
Three of the MYC's key component parties -- Jamiat Ulema-e-Islam (Fazl) (JUI-F), Jamiat-e-Ulema Islam (S) (JUI-S) and Jamiat Tehreek Ahle Hadith Pakistan (JTAP) -- voiced deep concern over the delegation's visit, the Daily Ummat Karachi reported January 16.
The MYC was formed in 1995 as a non-political alliance of religious parties to counter sectarianism after the killings of religious scholars and leaders in the 1980s.
Although the MYC comprised more than 50 religious groups at its founding, the most prominent among them were JUI-F, JUI-S, JTAP and JI.
Iran has been using MYC's platform for its own purposes and completely changed the forum's agenda, said Prof. Sajid Mir, the leader of JTAP and a member of Pakistan's Senate, adding that was why his group abandoned the council.
"The delegation visiting Iran does not represent Pakistan and its religious parties. It is merely a small group of some individuals of some religious parties," said Mir.
The JUI-F, the largest religious party of the council, also criticised the delegation's visit to Iran.
"The delegation visiting Iran is neither an MYC representative delegation nor is it representing ... different schools of thoughts of Pakistan," Maulana Ata Ur Rehman, the chief of JUI-F in Khyber Pakhtunkhwa, told the Daily Ummat Karachi.
The MYC has been inactive for past several years and it is astonishing that a delegation visited Iran in such a sensitive situation, said Rehman, another senator.
"The MYC has become a dormant religious forum for past several years after JUI-F, JUI-S and JTAP informally abandoned it," said Mushtaq Farooqi, a Karachi-based journalist covering religious parties.
However, after the visit of Liaqat Baloch's delegation to Iran, the alliance has come under severe criticism, he said.
"Pakistan's religious parties, including the JI, organised large-scale protests across the country against the Syrian regime of al-Assad for killing thousands of Muslims," said Farooqi. "And everyone knows that al-Assad used Iranian militias headed by Soleimani for the massacre."
Tehran's role in insecurity
For years Iran has been secretly supporting Shia militant groups, especially Sipah-e-Muhammad Pakistan, and the Taliban in Afghanistan.
With support and funding from Iran, SMP first came to light in the early 1990s, when sectarian conflict was at its peak in Pakistan. Since then, the group has been involved in sectarian attacks on religious scholars and professionals.
The group's objective was to stoke tensions between the nation's Sunni and Shia communities and between Saudi Arabia and Pakistan, according to officials.
Tehran's interference comes as the IRGC attempts to recruit Pakistani Shia youth -- especially pilgrims -- for its Zainabiyoun Brigade.
Dozens of Shia youth in Pakistan have been arrested in connection with charges of involvement in the organisation over the years.