ISLAMABAD -- Pakistani authorities should not have allowed Iran to host memorial events marking the second anniversary of the death of Iranian Maj. Gen. Qassem Soleimani, say religious leaders and peace activists who accuse him of fanning sectarian hatred and terrorism.
Soleimani, the commander of the Islamic Revolutionary Guards Corps (IRGC)'s Quds Force, masterminded its expansionist agenda in a number of proxy wars throughout the region, including in Iraq, Syria, Lebanon, Yemen and Afghanistan.
He was killed in a US drone strike on January 3, 2020, in Baghdad.
This year, the Iranian embassy in Islamabad and its consulates throughout Pakistan organised and funded various events across the country, particularly in Karachi, Quetta and Lahore.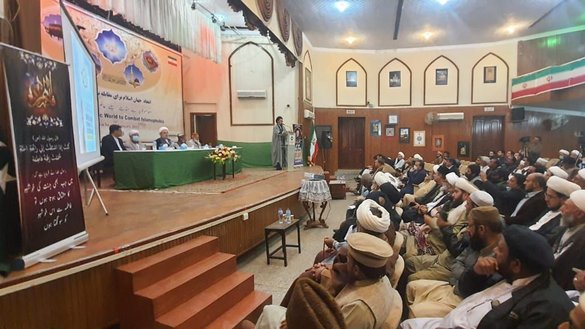 In Karachi, for example, religious leaders representing the Milli Yakjehti Council (MYC), an alliance of Pakistani religious parties, on January 4 spoke and eulogised Soleimani at an event organised by the Iranian consulate's cultural section.
Various unknown organisations also installed hundreds of banners glorifying Soleimani on main roads in Pakistani cities.
Pakistani authorities should take notice of the events and banners eulogising Soleimani, said Maulana Abdul Rasheed, a religious scholar in Karachi.
Soleimani was responsible for creating sectarian unrest in Pakistan, and he supported the Syrian regime of Bashar al-Assad, which has killed thousands of Muslims, he said.
"Organising the memorial events ... in Pakistan is a part of Tehran's efforts to portray a terrorist as a hero of the Muslim world," Rasheed said.
Iranian diplomatic missions in the country pay MYC leaders to attend events such as the one in Karachi, Rasheed added.
MYC leaders in January 2020 faced heavy criticism after they visited Tehran to offer condolences over Soleimani's killing.
"Pakistan's Muslims do not pay respects to Soleimani, who supported Yemen's Houthi rebels in attacking Saudi Arabia and Syria's al-Assad regime in killing innocent Muslims," said Rasheed.
Iran has been using the MYC for its own purposes and has completely changed the forum's agenda, according to Sajid Mir, a senator and the director of Jamiat Tehreek Ahle Hadith Pakistan (JTAP), a group formerly part of the MYC before it cut ties for that reason.
"The delegation visiting Iran [to offer condolences over Soleimani's killing] does not represent Pakistan and its religious parties. It is merely a small group of some individuals of some religious parties," said Mir.
Enflaming sectarianism
Prior to his death, Soleimani was responsible for creating and deploying Shia militias across the Middle East, Afghanistan and Pakistan to act as proxies for the IRGC and the Iranian regime.
In particular, Soleimani was behind the Zainabiyoun Brigade, a militia made up of Pakistanis sent to fight in Syria in support of al-Assad's regime and elsewhere.
He founded the Fatemiyoun Division in neighbouring Afghanistan for similar purposes.
Using such units as well as a number of other Iran-backed Shia militias, Soleimani effectively bolstered al-Assad's forces in the conflict in Syria.
Pakistan's intelligence agencies have raised concerns over Shia pilgrims being recruited by Iran into the unit.
Pakistani authorities have arrested dozens of Shia youth in connection with alleged involvement with the organisation, according to media reports.
Thousands of Pakistani and Afghan Shia fighters have been reported killed and wounded in combat in Syria over the years, mostly in operations supporting the regime of al-Assad, a close ally of Iran.
With financial support from Tehran, the Zainabiyoun Brigade has distributed several booklets in both hard copy and printable display format (PDF) in Urdu glorifying Soleimani, according to a Karachi-based law enforcement official who monitors the brigade's activities.
Another booklet, "Hum Teray Abbas Ya Zainab [O Zainab, we are your children]", had detailed profiles eulogising Zainabiyoun Brigade members slain in Syria, the official said on the condition of anonymity.
"In some profiles, slain Pakistani Shia youths' meeting with Soleimani were mentioned," the official said.
Fueling sectarianism
The memorials dedicated to Soleimani especially stand in contrast to efforts by Pakistani authorities to crack down on Iran-backed Shia groups, including the Zainabiyoun Brigade and Sipah-e-Muhammad Pakistan (SMP).
Pakistan's law enforcement agencies have intensified a crackdown on Tehran-backed Shia militant groups accused of fueling sectarian violence in Pakistan, stoking tensions between Saudi Arabia and Pakistan and sending youth to fight abroad, particularly in Syria.
In November, Pakistan created a special investigation team to probe the assassination of a Saudi diplomat in Karachi in 2011, which authorities linked to the Tehran-backed SMP.
Gunmen on motorcycles shot and killed Hassan al-Qahtani, an official at the Saudi consulate, in Karachi's upscale Defence area on May 16, 2011.
Last August, the authorities also announced the arrest of Syed Ali Raza Naqvi, an alleged member of the SMP, in the Aisha Manzil neighbourhood of Karachi.
Naqvi had been involved in the killings of religious scholars and members of rival Sunni sects in Karachi for the past three decades, according to Israr Awan, a officer with the Sindh Counter Terrorism Department.
"The arrested militant is associated with the proscribed SMP and had been in contact with fighters of the Zainabiyoun Brigade," Awan said at the time.