PESHAWAR -- Rejecting terrorism and embracing peace and tolerance were the watchwords at the recently concluded centennial of Jamiat Ulema-e-Islam (Fazl) (JUI-F), a religiously oriented political party.
Hundreds of thousands of JUI-F followers gathered in Nowshera, Khyber Pakhtunkhwa (KP), April 7-9 to celebrate the party's centennial.
The message from various speakers was consistent: embrace harmony and repudiate terrorism.
Participants included Sheikh Saleh bin Muhammad Ibrahim, the Imam-e-Kaaba (imam of the Grand Mosque of Makkah), and Saudi Islamic Affairs Minister Salih ibn Abdul Aziz ibn Muhammad Al Al-Shaykh.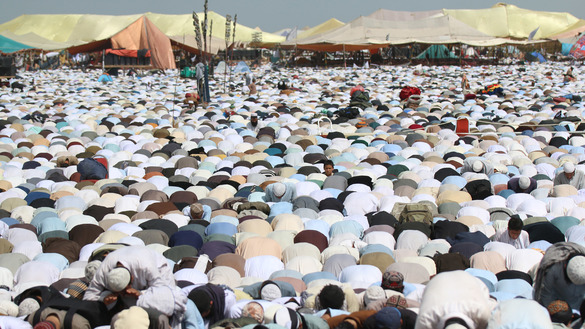 Non-Muslims joined in the celebration, including Nazir Alam, bishop of the United Church of Pakistan.
JUI-F leader, Imam-e-Kaaba denounce terrorism
"Islam is a religion of peace and has no place for terrorism and extremism," said the JUI-F central amir, Maulana Fazl-ur-Rehman, in the gathering's concluding speech April 9.
The historic gathering in Nowshera has conveyed a message of hope and peace to the world community, he said.
That message calls for "strict adherence to Islamic ideology, which preaches love, brotherhood, harmony, mutual co-existence and non-violence," he continued.
JUI-F campaigns for global unity and believes in peaceful struggle to attain that goal, he said.
"We won't allow anyone ... to sabotage inter-faith harmony in Pakistan or to create chaos and anarchy here," he concluded.
The Imam-e-Kaaba shared Fazl-ur-Rehman's commitment to peace.
"Islam has no room for violence, terrorism or sectarianism," he said in remarks to the gathering on April 7. "It exemplifies the teachings of the holy Koran and the Sunnah of the Holy Prophet (PBUH), which calls for love and respect."
Sheikh Saleh condemned those who try to link Islam to terrorism.
"Terrorism causes destruction ... that leads to chaos, anarchy, economic imbalance and social inequality," he said.
He urged Muslims to be vigilant against distortions of Islam, adding, "Those who misinterpret Islam are terrorists."
Religious scholars can do their part by conveying Islam's true message of love and peace, he said.
In conclusion, the Imam-e-Kaaba praised JUI-F for assembling such a large congregation of Muslims, saying that the event sent a message of "peace and solidarity" to the global community.
Unity among Muslims, non-Muslims
Attendees from outside the Muslim community and other foreign clerics endorsed the call for tolerance.
In his own remarks to the gathering, Bishop Nazir pledged to spread the message that Islam rejects violence. "It gives a message of peace, love and brotherhood," he said.
The bishop said he attended the JUI-F centennial to represent inter-faith harmony and mutual co-existence.
"Islam has no connection with terrorism," said Maulana Shaukat Ali Qasmi, a religious scholar from Darul Uloom Deoband.
Rejecting terrorism, sectarianism
Past and present Pakistani lawmakers addressed the gathering as well, also urging tolerance and denouncing terrorism.
Muslims have to prove to the world community that they value tolerance, respect and brotherhood and reject terrorism and sectarianism, Mian Raza Rabbani, chairman of the Pakistani senate, told the audience.
Terrorism has tarnished Islam's image, said Mufti Kifayatullah, a former member of the KP Assembly.
Islam has been wrongly presented to the world, he said, adding that linking the religion with terrorism which is incorrect and a misunderstanding.
"Religious scholars and Muslims should apprise the world that our religion fully prohibits violence with all its manifestations and calls for peace, love, fraternity and togetherness of people of all faiths and beliefs," he said.