PESHAWAR -- Pakistani authorities on Thursday (October 24) banned a volunteer group of the Jamiat Ulema-e-Islam (Fazl) (JUI-F) party ahead of a protest march this weekend.
The Interior Ministry proscribed Ansar-ul-Islam, a group of stick-wielding volunteers from the party who are tasked with providing security and maintaining discipline, as a banned private military group.
The move comes as JUI-F called for the "Azadi March", a major protest march to Islamabad starting October 27 aimed at forcing Prime Minister Imran Khan to resign.
The ban came after approval by the federal government and consent from all four provincial governments, the Interior Ministry said.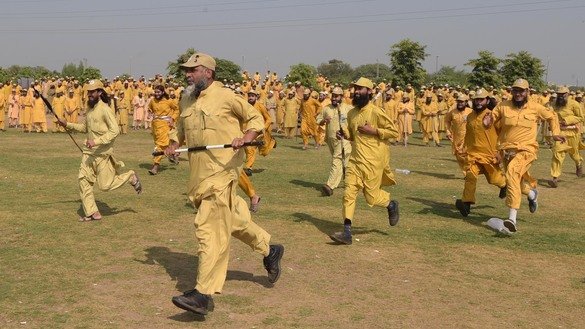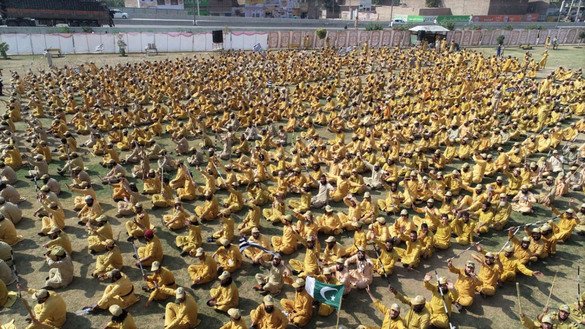 The group has been equipped with batons, sticks and sharp objects, including sticks wrapped with barbed wire, the ministry said. Ansar-ul-Islam could be equipped with arms and ammunition, and it has posed a threat to peace in Pakistan, both in Islamabad and other provinces.
Ansar-ul-Islam is an old organisation of volunteers affiliated with JUI-F that came into the limelight after its members brandished sticks at a parade in Peshawar on October 13, said Peshawar-based security analyst Brig. (ret.) Mehmood Shah.
'No room for private militias'
"The move to ban [Ansar-ul-Islam] is right because, according to the law, there is no room for private militias. Pakistan has been under tremendous global pressure to strictly watch the activities of terror outfits," he said.
The federal government had "reasons to believe that Ansar-ul-Islam is capable of functioning as a military organisation, in violation of ... Article 256 of the Constitution", said Shah.
The ban stemmed from fears expressed by the local population of Islamabad, where the Azadi March will culminate, said Sabir Shakir, a senior Islamabad-based journalist.
"Pakistan cannot afford to allow a private militia to put the lives of residents as well as of diplomats in danger," he said, adding that the government has given permission for the peaceful march.
Ansar-ul-Islam will not be allowed to take the law into its own hands, said Khyber Pakhtunkhwa Information Minister Shaukat Yousafzai.
"The government will ensure its writ to safeguard the lives and properties of the people," he said.
The party has every right to hold a protest in a democratic way, but the parade by Ansar-ul-Islam on October 13 in Peshawar clearly violated the National Action Plan, a policy aimed at putting the brakes on militant groups, Yousafzai said.
"Our measures against militant outfits and individuals have been acknowledged at the international level, and we want to further improve the country's image," he said.