PESHAWAR -- Khyber Pakhtunkhwa (KP) Police officers have been undergoing enhanced anti-riot training across the province in preparation for upcoming political protests and marches planned for the region.
Thousands of protesters from the religious party Jamiat Ulema-e-Islam (Fazl) (JUI-F) and other opposition parties are expected to march to Islamabad on Thursday (October 31) to protest government policies.
Pakistani authorities on October 24 banned a volunteer group of JUI-F ahead of the march.
The Interior Ministry listed Ansar-ul-Islam, a group of stick-wielding JUI-F volunteers, as a banned private military group.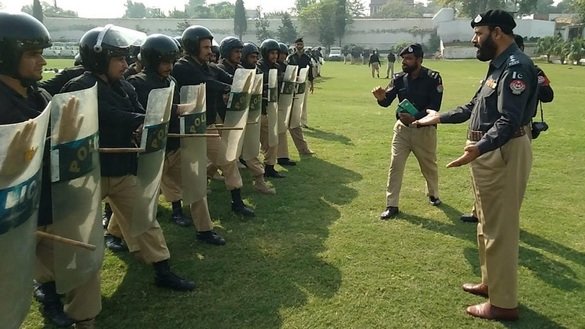 The move came as JUI-F called for the "Azadi March", a major protest march to Islamabad starting October 27 aimed at forcing Prime Minister Imran Khan to resign.
Enhanced training for KP Police will help them be better prepared for the event, say police officials in the region.
Routine operations
"We have given anti-riot refresher training to 2,250 police officers in Peshawar in the last few days so they can better handle protests, marches and other events," said Capital City Police Officer (CCPO) Peshawar Karim Khan.
"The refresher course was done at the Malik Saad Shaheed Police Lines, where officers were also given initial first-aid training," he said.
Officers at each police station in KP are learning how to provide emergency medical aid to police as well as to anyone detained by security personnel if needed.
About 3,200 anti-riot police will be deployed in the provincial capital for the October 31 march, said Peshawar police. The force will have support from another 2,000 reserve police officerswith armoured personnel carriers, prison vans, water cannons and rapid-response forces.
Police across Peshawar have orders not to take action against the protesters unless they break the law or become violent. The marchers are planning to reach Islamabad on October 31.
The anti-riot training is part of routine operations, said Kokab Farooq, a spokesman for KP Police.
"Apart from the specialised training, there are refresher courses that are being arranged by the district police on their own so that policemen are ready to deal with protests and sit-ins," he said.
Convoys of protesters
There are seven specialised schools across the province that are part of the KP Police Public Disorder and Riot Management Department, with one specifically aimed at training police officers on riot control, said Farooq.
The school was set up in Mardan in January 2015 and has trained about 6,000 police officers, ranging from the deputy superintendent of police to constables. The specialised school in Mardan trains police officers in areas including mob psychology, mob handling, crowd control, negotiation skills and stress management techniques.
Apart from providing training to the police officers, KP Police have reinforced the windscreens and windows of patrol cars to prevent damage in case the protests turn violent, said Superintendent of Police (SP) Peshawar Atiq Shah.
This move will protect the cars and the officers onboard from any harm, he added.
Convoys of opposition parties began leaving for the Azadi March in Islamabad on October 27 and no incidents have been reported so far, Shah said.
"No untoward incident happened as the police properly handled such a large number of protesters without causing any issue," he said.
"The anti-riot training for police across the province was much needed, and it will further improve the handling of protests and violent mobs," said Qaisar Khan, a Peshawar-based journalist.
The specialised schools also boost police officers' skills in maintaining order, he said.