Pakistani authorities have found evidence that militants are using safe havens in Iran to launch attacks in Pakistan following the arrest of a suspect in the killing of a retired judge.
Noor Muhammad Meskanzai, a former chief justice of the Balochistan high court, was shot and killed in Kharan city, Balochistan province, on October 14 at a mosque.
The Balochistan Liberation Army (BLA), a proscribed militant outfit, claimed responsibility for the killing.
Balochistan's Counter-Terrorism Department (CTD) and other law enforcement agencies in a joint raid in Kharan district on Friday (October 28) arrested Shafqatullah Jhalanzai, a BLA member and the main suspect in Meskanzai's murder, Aitzaz Goraya, a senior CTD official, said in Quetta.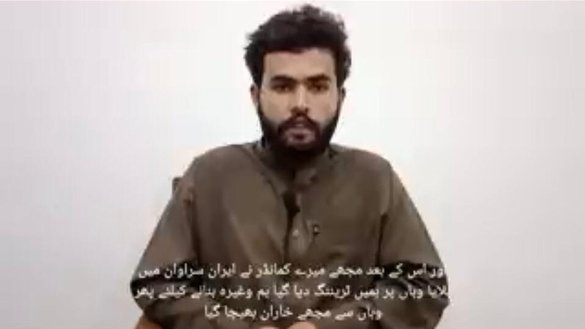 Jhalanzai confessed to killing Meskanzai and other attacks on security forces in the province, Goraya said Saturday.
In a video statement released by the CTD and seen by Pakistan Forward, Jhalanzai confessed that he had received training for militant activities in Sarvan, a city in Sistan and Baluchestan province, Iran.
Pakistani authorities blamed Tehran for allowing militant groups to operate from safe havens in its territory following attacks in February.
Militants from the BLA on February 2 staged twin assaults on army posts in Noshki and Panjgur districts, Balochistan.
The Baloch Liberation Front (BLF), another proscribed militant group, on January 25 killed 10 security personnel in Kech district.
Then-Interior Minister Sheikh Rasheed Ahmad in a written reply submitted in response to questions from the National Assembly in March confirmed that banned militant groups were regrouping via Sistan and Baluchestan.
The Baloch militant groups orchestrated from Iran the recent attacks on Pakistani security forces, according to the Jamestown Foundation, a Washington-based think-tank.
Dr. Allah Nazar, a BLF militant leader, is also suspected of operating from Iran against Pakistan, it said in a report published on March 25.
"The BLA and BLF are beneficiaries of Iran's lenient attitude towards them because Iranian security forces have given protection and refuge to them and other Baloch rebel groups," it said.
The Pakistani groups have used this protection to attack Jaish al-Adl, an Iranian militant group that opposes Tehran for its alleged oppression of the Baloch ethnic community in Sistan and Baluchestan, the report said.
Pakistan has repeatedly raised with Iran the issue of the growing presence of Baloch militant groups, it added.
Iran's interference
Islamabad's patience with Tehran has worn thin in recent years over cross-border militancy and Iranian interference in its affairs.
In a security crackdown in February, Pakistani authorities discovered links between Pakistani money launderers and Iranian intelligence.
The Federal Investigation Agency (FIA) on February 9 arrested a senior official of the Karachi-based House Building Finance Corporation, a housing finance company that is a subsidiary of the State Bank of Pakistan.
The official was detained for alleged involvement in "conducting hundi and hawala business for Iranian intelligence", Dawn reported.
That arrest came after authorities busted a racket of hawala and hundi businesses in Karachi, arresting 13 suspects and seizing amounts of foreign and local currencies equal to tens of millions of rupees, according to an FIA official in Karachi.
"Several Pakistani intelligence agencies have been sharing information about the growing influence of Tehran in Pakistan's internal security affairs," the official said on the condition of anonymity.
Preliminary reports suggest that the Iranian intelligence agency was attempting to fund Tehran-linked militant groups such as the Zainabiyoun Brigade and Sipah-e-Muhammad Pakistan (SMP), the official said.
Iran's Islamic Revolutionary Guard Corps (IRGC) formed the Zainabiyoun Brigade, a militia comprised of Pakistanis sent to fight in Syria in support of Bashar al-Assad's regime.
Though the Zainabiyoun Brigade has yet to be banned in Pakistan, the government has proscribed two lesser-known Shia outfits, Ansar-ul-Hussain and its offshoot, Khatam-ul-Anbia, under the Anti-Terrorism Act 1997 in 2016 and 2020, for their links with Syrian war recruiting.
The Iranian regime also allegedly has provided support and funds to the outlawed SMP, a Shia terror outfit.