QUETTA -- Iran's Islamic Revolutionary Guard Corps (IRGC) is targeting Pakistani migrants and pilgrims for recruitment for its Zainabiyoun Brigade, a militia made up of Pakistanis sent to fight in Syria in support of President Bashar al-Assad's regime.
The US Treasury Department in January announced sanctions against the Zainabiyoun Brigade as part of efforts to "shut down the illicit networks the regime uses to export terrorism and unrest across the globe".
Nevertheless, the Zainabiyoun Brigade is increasing its recruitment of Pakistani Shia men for its geopolitical and strategic interest, say analysts.
"The Iranian Zainabiyoun Brigade, which per our reports have a stronghold in the Zahedan area of Iran close to the Pak-Iran border, is mainly targeting Pakistani Shia youngsters who entered Iran on pilgrimage or work visas," said Khalid Nabeel, a Quetta-based defence official who previously served on the counter-terrorism desk of a law enforcement agency.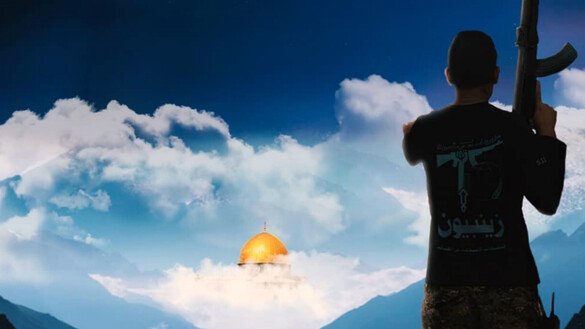 "The undercover agents of the [IRGC] initially offer jobs to jobless Shia when they enter Iran from Pakistan and Afghanistan," he said.
"Every year, more than 40,000 Shia pilgrims from Pakistan visit Iran for the holy places," Nabeel said.
"Pakistan has formed a very result-oriented strategy for countering the foreign influence on our soil, and now the pilgrims are also passing through a comprehensive security mechanism on their departure and return," he added.
"No doubt Iran has been using its proxies on our soil, but as the environment is changing, the Iranian regime is also stepping up its influence on the Pakistani Shia minority," said Nabeel.
"Our findings have confirmed that the militant group Zainabiyoun Brigade has now changed the strategy of fighters' recruitment in Pakistan," a senior Islamabad-based intelligence official said on the condition of anonymity.
"Earlier the recruitment took place in Pakistan, but now after a crackdown and intelligence based-operations, this process is taking place in Iran," he said.
Security agencies in Pakistan are working to counter the Zainabiyoun Brigade and other groups involved in the recruitment of Shia fighters, according to the official.
A 'proxy game'
"Iran is playing a massive proxy game in neighbouring Pakistan and Afghanistan, and it is trying to enhance its influence via Shia groups working for its agenda in the region," the official said.
"We have reports that Iran, following its ongoing crisis amid US economic sanctions, has been trying to use its proxies on our soil to streamline bilateral trade and other ties that could benefit its financial interests," he said.
"In the past couple of years, several key suspects linked with the Iranian military were arrested in different parts of Pakistan and are still in custody for further investigation," the official said.
"We will never allow any group or country to use our soil for any military gains," he said.
"Jobless Shia youth are the main target of the Zainabiyoun Brigade," said senior Islamabad-based defence analyst Maj. (ret.) Omar Farooq.
"Iranian influence in Pakistan has always been a key concern of our security establishment... it is the need of the hour to take this matter up diplomatically with the Iranian government," Farooq said.
"We must not allow any country to manipulate our political situation... Iran is trying to gain the support of the [Shia] religious community in Pakistan," he said.
"The [IRGC] is basically deploying all its resources to use religion for its military goals; therefore, we are witnessing the rising anger of our Shia minority community against those steps taken by the United States and other countries against Iran for its nuclear dealings," he said.
Iran is also increasing its influence on Pakistani Sunni Muslims, said Farooq, adding, "Countering the narrative and goal of rival Saudi Arabia in Pakistan is the prime focus of Iran."
The involvement of Pakistani citizens in war in Syria and in other countries at the behest of Tehran leads the international community to blame Pakistan for exporting terrorism, according to Farooq.
Controlling the border
The porous border Pakistan shares with Iran needs a comprehensive security strategy, and ignoring its importance may create more security challenges for Pakistan in the future, according to Shantul Girganari, a Lahore-based security analyst.
"Without controlling the illegal movements on the Pak-Iran border, in my opinion, it is much harder to stop the transportation of those fighters being moved by the Zainabiyoun Brigade from Pakistan to Iran," he said.
"We are already in a state of war, and the recent wave of terrorism shows that the anti-peace elements are boosting their campaigns in the country," Girganari said. "The law enforcement agencies working to counter terrorism in the country must also keep a vigilant eye on every movement on our borders."
"Controlling the illegal movements on our border with Iran and Afghanistan is our key concern, and we are taking every possible step against the human trafficking," said Shafiq ur Rehman Shahwani, a Quetta-based senior Federal Investigation Agency (FIA) official.
"We have a reasonable security deployment on our shared border with Iran, and we expect Iran to ensure border security on its own side," he said.
"The FIA anti-human trafficking cell is actively working to counter groups that are involved in the transportation of illegal immigrants to Iran and other European countries," he added.
"Our teams are taking strict actions against human smuggling groups that may have links with anti-peace elements," he said, adding that in the past few years Pakistani authorities have arrested a large number of illegal immigrants and would-be illegal immigrants trying either to re-enter Pakistan or to enter Iran.