QUETTA -- Iran's meddling in Syria and its recruitment of Pakistani and Afghan Shia Muslims to fight in support of the Bashar al-Assad regime are fomenting sectarian violence in the region, officials and specialists warn.
"Iran is sponsoring the civil war in Syria, and Iran's Islamic Revolutionary Guard Corps (IRGC) is providing arms, money, and political and strategic support to Shia fighters," Imran Abdullah, a senior Pakistani intelligence official based in Islamabad, told Pakistan Forward.
"The emerging sectarian divergence is fueling militancy in the region," he said.
"The recruitment of Pakistan- and Afghanistan-based Shia fighters for the Iranian cause is a serious concern," he said, adding that the Pakistani government is actively monitoring those involved.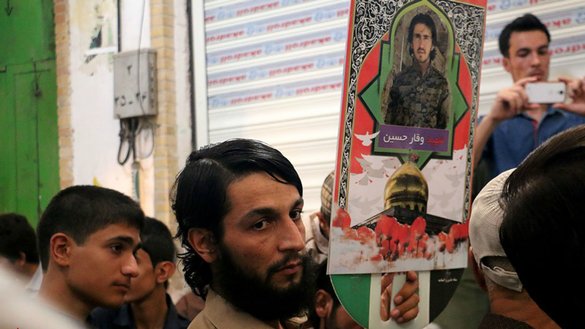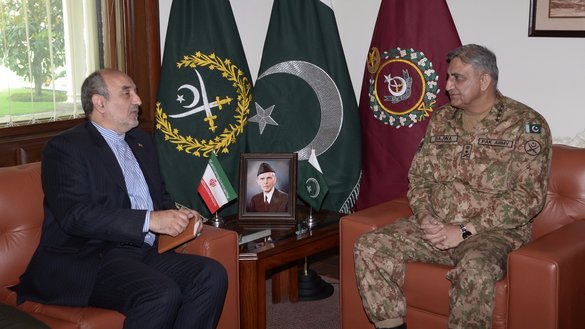 Counter-terrorism and intelligence agencies "have been given the task of unearthing the growing Iranian influence in the Pakistani Shia community," Abdullah said. "We will never allow our people to be used as proxies of external causes."
Shia pilgrims who use the Quetta-Taftan route to visit sacred sites in Iran are under close observation, he said, adding that in March "a large number of suspected Shia pilgrims found to be in contact with the IRGC were apprehended in different parts of Balochistan by security forces."
"Some elements linked with the Zainabiyoun Brigade are recruiting and shifting Shia fighters from Pakistan [...] using the cover of pilgrims," he said. "We are [investigating] Iran's involvement in Shia fighters' recruitment from Pakistan and neighbouring Afghanistan."
The Zainabiyoun Brigade recruits from among Shia Pakistanis living in Iran, Shia Hazara refugees living in Pakistan and other Shia native to Pakistan.
Iranian cultural centres 'involved'
"Iran is directly involved in a proxy war in Syria, and I can confirm that we have evidence that a large number of Pakistani Shia fighters have been recruited and shifted to Syria for the Iranian cause," a top Pakistani Ministry of Defence official told Pakistan Forward on the condition of anonymity.
"Our intelligence reports confirmed that [...] Iranian cultural centres in different parts of the country are also involved in the covert enrolment of Pakistani and Afghan Shia youth for military aims," he said.
"Investigations are in progress, and the state is taking every possible step to [address] the issue with utmost priority," he said.
Iran's meddling in regional affairs goes beyond recruiting for the Zainabiyoun Brigade, he said.
"The recent revelations about detained Pakistani terrorist Uzair Baloch perpetrating violence and sectarian conflict in Pakistan and facilitating his escape to Dubai on an Iranian passport are also solid evidence of the negative Iranian role," he said.
Uzair, a notorious Pakistani gangster, was involved in "espionage activities by providing secret information regarding army installations and officials to foreign agents (Iranian intelligence officers)", according to a joint investigation report delivered to the Sindh Home Department April 29, 2016, Pakistan Today reported.
Fomenting religious war
"Iran is not only concentrating on recruiting Shia youth, but it is also involved in pursuing its agenda via Shia religious scholars based in different parts of Pakistan," Ghulamullah Tohidee, a religious scholar from Pashin District of Balochistan and specialist on Middle Eastern affairs, told Pakistan Forward.
"Iran-backed scholars are fuelling the Syrian conflict as a religious war," he said.
"Some Iranian-backed Shia scholars are preaching the Iranian agenda in their seminaries, and they are also covertly assisting the Zainabiyoun Brigade to recruit fighters for the Iranian cause in Pakistan," he said, adding that these Iranian-backed religious scholars are operating in Rawalpindi, Islamabad, Punjab, Sindh, Parachinar, Gilgit-Baltistan, Quetta, Larkhana Sindh and other parts of Pakistan.
"Foreign funding is one of the biggest factors promoting extremism in Pakistan, and for the ongoing Syrian war, Iran is also pumping money via local Shia to promote a distorted version of Islam and militancy," Tohidee said.
"Without a doubt, foreign proxies are using our soil for their causes," Maj. (ret.) Muhammad Omar, a senior security analyst based in Islamabad, told Pakistan Forward.
"Funding from external sources without necessary accountability is assisting the nefarious designs of anti-peace elements in Pakistan," he said, adding that the state should "respond promptly" to such interference because "Iran-backed Pakistani Shia fighters [can] create mayhem upon their return [to Pakistan]."
"Iran is trying to export its revolution in other Muslim countries too; that is why it is largely engaged in the Syrian war," he said.
"The ongoing war in Syria is not a war of religion," Tohidee said. "Rather, it is a war of political aims, and all those supporting the al-Assad regime are trying to uphold the Iranian cause."
"Pakistan is not in a position to fight others wars," he said. "We must revisit our policy of handling such attempts."
Recruiting students in Iran
"The IRGC mainly recruit poor Pakistani Shia who have an immigrant status in Iran," Hashim Abid, a retired Ministry of Defence official based in Taftan, told Pakistan Forward. "A large number of Zainabiyoun fighters are also reportedly recruiting Pakistani students studying in Shia seminaries in Qom, Iran."
Al-Mustafa International University in Qom "is one of the biggest universities providing special education to foreign Shia clerics and missionaries about Iranian revolutionary agenda", he said. "We have reports that the first group of Pakistani Shia fighters who joined the Zainabiyoun Brigade was a group of students from Al-Mustafa University."
The university also "operates several seminaries and cultural centres in Pakistan and tries to export the violent Iranian ideology [here]", he said, adding that "recruiting foreign Shia who adhere to the Iranian cause is the key responsibility of the enrolment section of Al-Mustafa University."
"Pakistan has always played an independent role in regional politics," he said, adding that Pakistani leaders should continue to increase their efforts in minimising Iranian involvement in Pakistan for the broader national interest.