ISLAMABAD -- Political analysts and common Pakistanis expressed mixed reactions to Prime Minister Imran Khan's first address to the nation after he took the oath of office.
Khan gave a wide-ranging, televised address late Sunday (August 19) in which he announced reforms targeting corruption and focusing on human development.
He spoke for more than an hour, repeating many of his campaign pledges to build an Islamic welfare state but also touching on problems rarely mentioned by Pakistani prime ministers such as child sex abuse and climate change.
Without naming names, he vowed to improve Pakistan's relationship with neighbouring countries, and to improve security in Balochistan Province and in the tribal areas along the border with Afghanistan.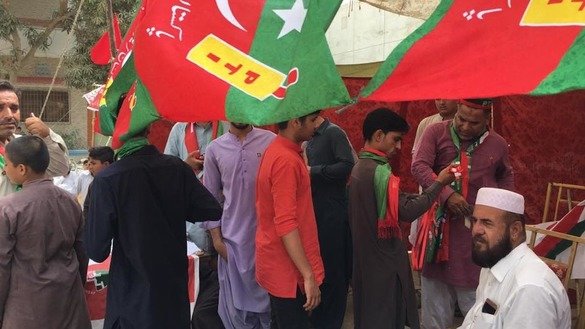 "We want peace because Pakistan cannot prosper until the peace is restored," he said.
Khan said he has retained the Interior Ministry portfolio for himself as he personally oversees steps against money laundering and graft.
He called for a progressive tax system and urged wealthy citizens to pay a higher percentage to benefit the needy. However, he did not explain how he would enforce more taxation, especially on the rich.
Pakistan will begin an austerity drive to reduce foreign debt, he said. To start, Khan announced measures to cut down his own as well the country's budget, including reducing the Prime Minister's Office staff from 524 to 2.
"I will be staying in a three-bedroom house that served as the military secretary's house," he said, adding that the prime minister's official residence will become a university.
"I will fight the corrupt. Either this country will survive, or the corrupt [will survive]," he said.
Other major points of Khan's speech included reforming the financial, education and healthcare sectors, calling on Pakistanis overseas to help rebuild the country, revamping the judiciary, implementing Khyber Pakhtunkhwa's policing model in Punjab Province and devolving power away from Islamabad.
Noble promises bring hope
Khan's promises resonated with many Pakistanis.
"Khan discussed all the issues that ordinary [citizens] have been facing on a daily basis," Sabookh Syed, an Islamabad-based political analyst and journalist, told Pakistan Forward. "It was an inclusive speech."
Ghousuddin Ali, a student at the University of Karachi, said he felt like Khan spoke directly to the masses.
"We hope he will deliver on his promises because he discussed all the issues the country has been facing," he told Pakistan Forward.
Amar Guriro, a Karachi-based journalist covering environmental issues, said he appreciated that Khan discussed climate change, pollution and efforts to make Pakistan "greener".
"Pakistan has been facing several environmental challenges that pose serious threats to human health and life," he told Pakistan Forward.
Khan's mention of environmental issues in his first speech as prime minister "gives hope that the newly elected government will take environmental issues seriously", he said.
Critics lament 'superficial' security plan
Opposition party leaders and other analysts, however, criticised Khan for ignoring terrorism and militancy in his speech.
"Khan did not say even a single word about the killers of 70,000 Pakistanis in incidents of terrorism," Saeed Ghani, a Pakistan People's Party parliamentarian from Karachi, told Pakistan Forward.
The security roadmap was missing from Khan's speech, said Rafiullah Kakar, a political analyst and Rhodes Scholar now based in Quetta.
"Khan made only a superficial reference to terrorism," he told Pakistan Forward.
"He talked about enforcement of the National Action Plan, but it was only a provisional arrangement to deal with terrorism. It is not adequate to deal with a multi-faceted threat of terrorism."