ISLAMABAD -- Pakistan is working with international organisations to manage the nation's rapidly growing population.
The Pakistani government June 2 announced plans to form the Population Commission of Pakistan and Population Task Force to manage the country's alarming population growth rate.
The population of Pakistan numbers 207.77 million, with an average household size of 6.45 persons, according to the Pakistan Economic Survey 2017-18, citing statistics from the 6th Population & Housing Census-2017.
In 1998, Pakistan had just 132.35 million people. The annual population growth rate from 1998-2017 averaged 2.4% nationally, according to the census.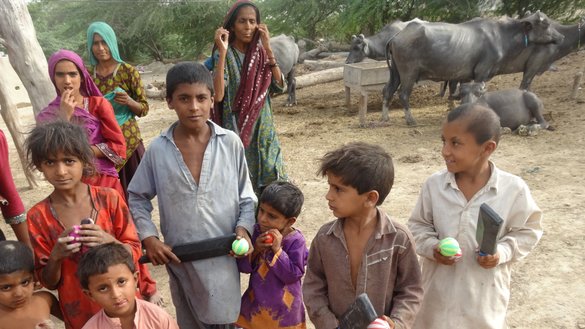 Cultural, socioeconomic factors
Some 6 million married women in Pakistan say they either do not want to have more children or wish to space apart births, but many are unable to follow their desires, said Dr. Zeba Sathar, the country director for Pakistan of the New York-based Population Council NGO.
in Pakistan, "a preference for sons is still evident," she said, pointing to a high mortality rate among female infants and girls both in the past and present.
"Sex preference has an influence on birth outcomes in a natural fertility regime, but in a society still near the onset of fertility transition, it may influence whether and at what parity contraceptive use is initiated," Sathar said, referring to the transition from high to low fertility.
Iran, Bangladesh and Indonesia have all achieved a rate of 2.5 births per woman despite introducing family planning methods a decade after Pakistan, she noted. Pakistan has a fertility rate of 3.5, according to 2016 data from the World Bank.
Major urban centres such as Karachi and Lahore are being squeezed for space as population densities continue to rise, Farid Midhet, a leading demographer and former director at the Asia Foundation, told Pakistan Forward June 10.
"Only 30% of Pakistan's citizens use contraception, the lowest rate in the region. Not surprisingly, the country also boasts the highest fertility rate in the region," she said.
Family planning programmes and healthcare policies should focus on increasing the availability and usage of contraceptives through campaigns run by female health workers and through inclusion of men and religious leaders' support, he said.
Contraceptive use increases with women's education, he said.
Only 25% of uneducated married women used contraception, as compared to 43% among those with higher education, Midhet said, citing the 2017 Pakistan Demographic and Health Survey (PDHS).
"In general, women do not begin to use contraception until they have had at least one child, after which use increases rapidly with the number of children." he said.
Efforts under way
"The Ministry of Planning and Development, UN Population Fund and UN Development Programme launched a joint project in June to effectively deal with population-related Sustainable Development Goals," Ambreen Raza, secretary of the Punjab Population Welfare Department, told Pakistan Forward in July.
Such goals include reducing poverty and hunger, among others.
The provincial government will also join the effort, which includes the establishment of the much needed and proposed Population Commission of Pakistan, she said.
Such an agency would "have the highest commitments from federal and provincial governments and all other private sector stakeholders and development partners in matters related to population ... and sustainable development," Raza said.
Meanwhile, the Punjab Population Welfare Department has been utilising art as a tool to inform and motivate residents to keep their families small and help manage population growth.
Such activities allow the Population Welfare Department to draw attention to the immediacy and importance of population-related issues, with the goal of formulating development plans and programmes and find solutions.
"Communication strategy tools are the only way to inculcate and raise awareness among the population," said Raza. "Art activities can be very important where literacy is low or where written information is not widely circulated."
At the federal level, the Ministry of Planning and Development has begun sending ulema to villages and rural areas to teach the latest medical and scientific know-how on population management as well as family planning while keeping in mind the wishes of all family members.
The goal is to counter prevalent myths and misunderstandings and to raise awareness about family planning methods in accordance with Islam.
"To counter the population challenge, the government is dedicated to taking advantage of the authority enjoyed by religious segments in society," Raza said. "The ministry has already engaged ulema and imams of various mosques in its scheme of public counseling vis-a-vis family planning."
Religious scholars join in
Maulana Raghib Naeemi, the chief administrator of Jamia Naeemia Lahore, told Pakistan Forward in August that he uses Islamic arguments to prove that Islam fundamentally approves and endorses family planning and reproductive health programmes.
"Family planning is not sinful and anti-Islam. Islam permits family planning and birth spacing in regard to frequent births harming the mother's health," he said.
Islam has a holistic and all-encompassing vision that covers virtually every aspect of family life, including breast feeding, birth spacing, inter-spousal relations and the conduct of matrimonial life, Naeemi said.
Naeemi cited Al-Ghazali, a prominent Islamic scholar from the 12th century, who "supported the use of contraceptives with one's wife to protect her from the dangers of childbirth, or simply to preserve her beauty".
The imam also "supported economic reasons for family planning such as wishing to limit the family to a manageable size," he said.
Couples should jointly decide how many children they should have and when, said Naeemi.
"Another valid reason for practicing contraception in Islam is the well-being of children," he said. "The presence of a nursing infant is a major reason for birth control. A new pregnancy sets an upper limit on lactation length, resulting in palpable harm to the child being nursed."
Even the holy Koran implicitly supports spacing births, Naeemi said, citing a verse that says: "And mothers shall suckle their children two full years to complete breast feeding."
Pakistan's ulema fear that the population increase endangers the country's future and feel a civic and social responsibility to mobilise communities and ito inform the public about population and development-related issues, he said.
Meanwhile, parents have a responsibility to provide justice and distribute resources equally to their children in order to raise them as good members of society, Naeemi said.