KARACHI -- Pakistani Prime Minister Imran Khan and his newly elected government are set to take on a myriad of domestic and external challenges, not least of which is the country's long problem with terrorism and militancy.
Khan gave a wide-ranging, televised address on August 19 in which he announced his government's reform plans, targeting corruption and focusing on improving human development.
Building on many of his campaign pledges, Khan vowed to build an Islamic welfare state, modeled loosely after the city of Medina, and touched upon pressing issues rarely mentioned by his predecessors, including child sex abuse and climate change.
Although analysts and critics pointed out that Khan did not discuss how his government would tackle militancy and terrorism in the county, his party, the Pakistan Tehreek-e-Insaf (PTI), does include a discussion of national counter-terrorism policy in its 2018 manifesto.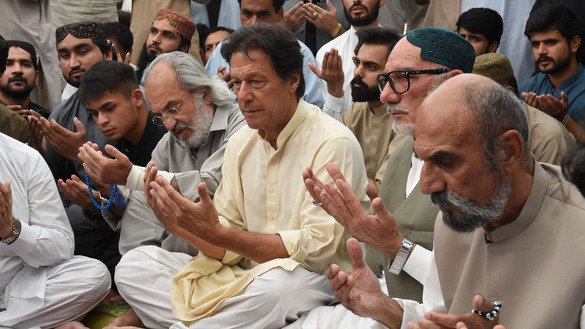 The document calls for immediate steps to reform the criminal justice system and to revise anti-terror legislation to improve the focus on fighting terrorism. To counter jihadist militancy, the policy also highlights a four "E's" approach: Expose, Enforce, Eliminate and Educate.
"The first part is 'exposing' the links between active and passive terrorists and winning over the latter," Muhammad Amir Rana, director of the Islamabad-based think tank Pak Institute for Peace Studies (PIPS), told Pakistan Forward. "The second part is about 'enforcing' the [counter-terrorism] National Action Plan [NAP] as well as Pakistan's international treaty and convention commitments on counterterrorism."
"The third seeks to 'eliminate' hardcore terrorists, while the fourth calls for 'educating' people by developing a counter-ideological narrative on terrorism," said Rana.
Khan's new government will have to deal with some critical challenges linked to countering terrorism and militancy, he added.
Avoiding complacency
Despite a significant decline in terror incidents and related fatalities over the past five years, militancy continues to fester across the country, posing a significant challenge for the new government.
Khan's PTI-led coalition government assumed power during a small window of relative peace, as compared to the terrorist threats that confronted the previous two governments, led by the Pakistan Muslim League-Nawaz (2013-2018) and the Pakistan Peoples Party (2008-2013).
A report produced by an international research institution highlights an overall turning point in the fight against extremism and shows a global decline in the number of deaths caused by terrorism, including in Pakistan.
"In a positive trend, Afghanistan, Nigeria, Syria and Pakistan -- which are among the five countries most impacted by terrorism -- all recorded a reduction in the number of deaths from terrorism," said the Global Terrorism Index 2017 report published by the Institute for Economics and Peace at the University of Maryland.
Pakistan saw 956 deaths caused by terrorism, a 12% decrease, according to the report, adding that this was the lowest number of deaths since 2006.
In its 2017 annual security report, PIPS, the Islamabad-based think tank, also found that Pakistan's internal security situation had improved, with a 16% decrease in the number of terrorist attacks in Pakistan from the previous year.
Even with the reduction of violence -- especially compared to the general election in 2013 -- bombings at election rallies ahead of this year's July 25 general election killed more than 200 people.
Such attacks included a suicide bombing on July 13 that killed politician Siraj Raisani during an election rally in Mastung, Balochistan. The bombing, claimed by the "Islamic State of Iraq and Syria" (ISIS), took at least 149 lives.
In another incident on July 11, Tehreek-e-Taliban Pakistan (TTP) claimed responsibility for a bombing in Peshawar that killed at least 21 people, including local Awami National Party (ANP) leader Haroon Bashir Bilour.
Challenges remain
Despite modest progress by Pakistani leaders in tackling terrorism, many security challenges continue to challenge Pakistan's internal stability and remain unaddressed, the PIPS report noted.
"Some new challenges are rearing their heads, such as the emergence of self-radicalised individuals and small terrorist cells, growing incidence of religious extremism including on educational campuses, persistent cross-border attacks by Pakistani militants [in] Afghanistan and the increasing footprints of [ISIS] in parts of the country and the convergence of its Afghan fighters near Pakistani border," according to the report.
Although such groups are significantly weakened, Pakistan still faces threats as militants continue their terrorist acts, said Abubakkar Yousafzai, a Karachi-based civil society activist who campaigns against militants like the Taliban.
"Thousands of Pakistanis have been killed in terror attacks all over the country over the past several years," Yousafzai told Pakistan Forward. "Khan should have clearly articulated and announced [his government's] internal security policy in his first public speech as prime minister."
Adding that a rise in religious fundamentalism and intolerance is another challenge to the country, Yousafzai noted that "Stopping proscribed outfits from re-emerging with new names and acting against those groups promoting religious hatred should be the top challenge of the new government."