ISLAMABAD -- Pakistan Tehreek-e-Insaf (PTI) chief Imran Khan, Pakistan's soon-to-be prime minister, has vowed to foster a "balanced relationship" with the United States.
The United States has been one of Pakistan's primary allies since the nation achieved independence in 1947, but relations between the two countries have been up and down over the past three decades.
"Our government will engage with the United States to make this relationship more balanced and trustworthy. We count trade and economic relations with the US as extremely important," Khan said to acting US Ambassador to Pakistan John F. Hoover Wednesday (August 8), Dawn reported.
Khan stressed the need to revitalise diplomatic ties and to transform the relationship for the benefit of both countries.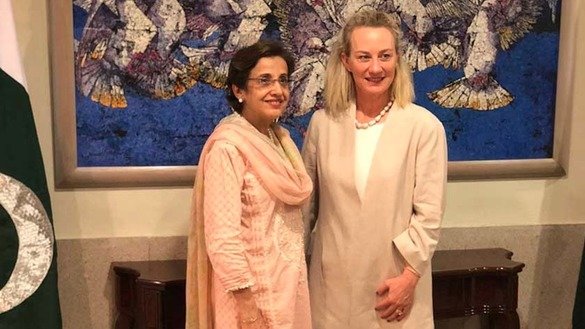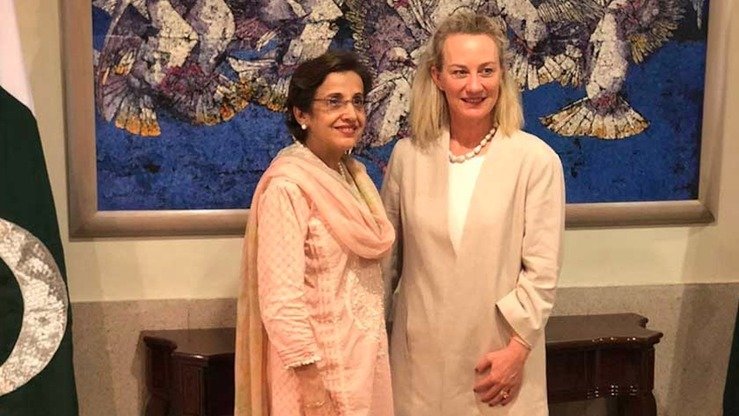 "We want a relationship with America that benefits both the countries, that it is a balanced relationship, and God willing, we will try our best for that balanced relationship," Khan said earlier in his televised victory speech on July 26 after his party won the general elections.
Pakistan cannot carry on by severing relations with the United States, Khan said repeatedly during the campaign.
For its part, the US administration also said that it looks forward to working with the new government of Pakistan.
"As Pakistan's elected leaders form a new government, the United States will look for opportunities to work with them to advance our goals of security, stability, and prosperity in South Asia," a US State Department spokesperson said in a July 27 statement.
Challenges remain
Although Pakistani analysts have welcomed Khan's promise to improve relations with the United States, challenges remain.
"The PTI's inclination towards China will be viewed cautiously in Washington," said Ihsanullah Tipu Mehsud, an Islamabad-based journalist who covers security relations for international publications.
On the other hand, Khan in his first public address sought more cordial relations with the United States based on mutual respect, a stance contrary to his pre-election criticism of US policies in the region, Mehsud noted.
Raees Ahmed, a Karachi-based political analyst, supported Khan's vow to build ties with the United States.
"Change in Pakistan's foreign policy in the upcoming government would be widely welcomed, but such a move will be challenging," Ahmed told Pakistan Forward. "Imran struck a positive and forward-looking tone in his speech. It is good omen."
"Pakistan has also suffered because of terrorism and militancy, and good relations between the two countries, as well as with neighbouring countries such as Afghanistan and India, can bring peace in the region," Ahmed said.
Afghanistan, a major issue
The conflict in Afghanistan is the main reason behind the recent deterioration of ties between the United States and Pakistan, according to analysts.
"The road to good relations between the Pakistan and United States goes through Afghanistan," Ahmed said. "And Imran did not address the question of tackling the presence of militant groups within Pakistan's border."
Afghan and US officials have regularly accused Taliban militants of using sanctuaries in Pakistan to launch deadly attacks. Islamabad has rejected such claims, alleging that Pakistani militant groups such as Tehreek-e-Taliban Pakistan (TTP) are hiding in Afghanistan's border areas.
In January, Washington suspended security assistance to Pakistan for its alleged failure to tackle terrorist groups on its soil.
Later in June, the Financial Action Task Force (FATF), a global anti-money laundering watchdog, placed Pakistan on its "grey list" for "strategic deficiencies" in its ability to prevent money laundering and terror financing.
Imran Khan in his July 26 speech also emphasised better relations with Afghanistan, with a proposal for open borders and free trade.
His remarks have brought political analysts hope that Khan will help bring peace to the region, reduce border tensions and promote trade and cross-border travel. However, concerns remain that the new government will be unable to adopt an independent policy on Afghanistan, given Pakistan's powerful military.
Khan's comments are aimed at trying to obtain a better bargaining position in regards to Afghanistan and India and to bolster Pakistan's security policy, said Ijaz Khan, a Peshawar-based political analyst and former faculty member of the University of Peshawar.
Relations between Pakistan and the United States or between any pair of countries are "a continuous process of bargaining," he told Pakistan Forward.