ISLAMABAD -- US Secretary of State Mike Pompeo held cordial meetings with Pakistani officials in Islamabad Wednesday (September 5), hours after saying he hoped to "reset" Washington's relationship with Pakistan.
Pompeo's conciliatory remarks come days after Washington confirmed plans to cancel $300 million (Rs. 36.9 billion) in military aid to Pakistan, citing Islamabad's inaction to rein in terrorist groups.
But Pompeo, making his first visit as top US diplomat to Pakistan, said it was time to "turn the page".
In Islamabad, Pompeo and the US delegation met with newly appointed Foreign Minister Shah Mehmood Qureshi and Chief of Army Staff Gen. Qamar Javed Bajwa, after which Pompeo told Prime Minister Imran Khan he was "pleased" with the outcome.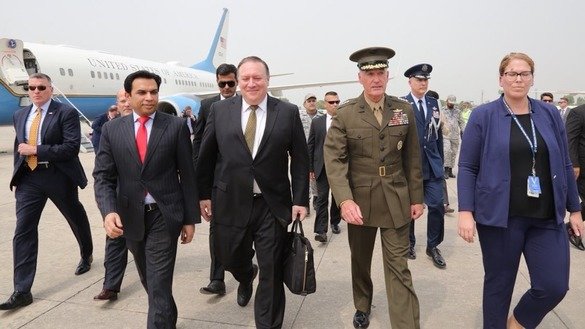 "We had an excellent meeting. I'm very happy with the meeting we had," Qureshi agreed.
New beginnings
On a plane ahead of his trip to South Asia, Pompeo said he wanted to visit Pakistan first, at the beginning of Khan's term, "in an effort to reset the relationship between the two countries".
"There are lots of challenges between our two nations, for sure, but we're hopeful that with the new leadership that we can find common ground and we can begin to work on some of our shared problems together," he said.
US officials have long wanted more Pakistani action against the Afghan Taliban and the Haqqani Network, which stage spectacular attacks inside Afghanistan from safe havens along the border between the two countries.
A Pakistani crackdown on the militants could be pivotal in deciding the outcome of the long-running war in Afghanistan, say American officials.
In his televised victory speech on July 26, Khan vowed to seek and advance a "balanced relationship" with the United States.
Shared goals, reconcilliation
The election of Khan could provide a fresh impetus, said Pompeo.
"I hope we can turn the page and begin to make progress," he said. "But there are real expectations."
Pompeo and Khan agreed that peace in Afghanistan was a "shared goal", said Pompeo.
US military aid to Pakistan, which a broader freeze that the US government announced in January affected, could resume under the right circumstances, suggested Pompeo.
"We were providing these resources when it made sense for the United States because the partnership was in a place where the actions of our two countries made sense to do that," he said. "If that arises again, I'm confident we'll present to the president the rationale for that."
Zalmay Khalilzad, a high-profile former US ambassador to Afghanistan, Iraq and the United Nations, will be appointed to lead US peace efforts in Afghanistan, confirmed Pompeo.
"Ambassador Khalilzad is going to join the State Department team to assist us in the reconciliation effort," he said.
"We need Pakistan to seriously engage to help us get to the reconciliation we need in Afghanistan," Pompeo said, according to Dawn.
Setting the right tone
Pompeo's visit is setting the right tone for mending the contentious relationship between the two countries, say analysts.
"His visit is very crucial as he is visiting Pakistan after the Ghazni attack in Afghanistan and after the US government's announcement of cutting off military aid to Pakistan," said Tausif Ahmed Khan, a Karachi-based political analyst.
"It is a great opportunity for Pakistan's new government to fix its relations with Washington and the neighbouring countries of India and Afghanistan and build a consensus in areas of mutual interest," he told Pakistan Forward.
"Improving relations with these countries will help Pakistan to overcome terrorism on its soil," he said.
After Islamabad, Pompeo will travel on to India, where and US Defence Secretary Jim Mattis intend to meet with their counterparts on a range of defence and trade issues.
[Zia Ur Rehman from Karachi contributed to this report.]