ISLAMABAD -- US Secretary of State Mike Pompeo's visit to Islamabad on Wednesday (September 5) has helped to assuage the diplomatic tensions between the two countries, government officials and analysts said.
It was the first high-level visit from Washington since Pakistan elected a new government last month.
Pompeo, who was accompanied by Chairman of the Joint Chiefs of Staff Gen. Joe Dunford, stayed in Islamabad for almost five hours, during which the US delegation met with newly elected Prime Minister Imran Khan.
The delegation also met with other senior military and civilian leaders, including Chief of the Army Staff Gen. Qamar Javed Bajwa and Foreign Minister Shah Mehmood Qureshi.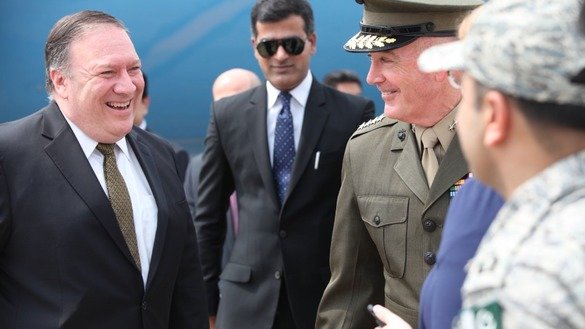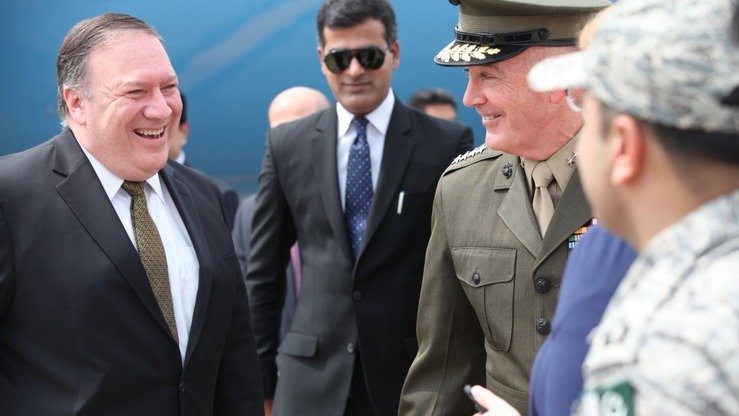 In Islamabad, Pompeo "conveyed the need for Pakistan to take sustained and decisive measures against terrorists and militants threatening regional peace and stability", State Department spokesperson Heather Nauert said in a statement.
Diplomatic tensions between Washington and Islamabad have somewhat eased after Pompeo's visit to Islamabad, said Qureshi.
"Pakistan wants to see and review its policies with the United States in a new light and to have an approach that also involves its neighbours," Qureshi told reporters.
Fostering better relations
Although Washington has been one of Islamabad's key allies since Pakistan's independence in 1947, the relationship between the two has seen ups and downs over the past three decades.
After his election on July 25, Khan vowed in a televised victory speech to the nation that his government would seek a 'balanced' relationship with the United States.
Analysts, who lauded Khan's conciliatory position towards Washington, say that Pompeo's recent visit to Pakistan carries the potential to 'reset' the recently strained relationship between the two countries.
"The United States recognised Pakistan without hesitation and provided us with aid when we were in dire need due to conflict with India over the distribution of wealth after the partition," said Ibrahim Qazi, a Lahore-based political analyst who studies Pakistan's foreign relations.
Even after the September 11 attacks, Washington embraced Pakistan by designating it a major non-NATO ally in the US-led war against terror, which Pakistan facilitated by providing land, air and sea corridors for the war in Afghanistan, he said.
"[The United States] has provided Pakistan with a tremendous amount of aid [both military and civilian] worth an estimated $78 billion (Rs. 9.6 trillion) [since Pakistan's independence]," Qazi told Pakistan Forward.
"Pakistan remained an important US ally in the Cold War, but.. the United States changed its regional approach towards India and Pakistan as the latter became close with China," Qazi told Pakistan Forward.
However, Pompeo's recent visit provides a good opportunity for the two countries to mend their tensions, reset ties and collaborate on important regional issues, he said.
Pakistan's position on Afghanistan
One of the major reasons for the recent deterioration in US-Pakistan ties is Pakistan's policy on the Afghan conflict, say most analysts
Both US and Afghan officials have repeatedly accused Pakistan of providing sanctuaries and a support network to Afghan Taliban militants who regularly attack NATO and Afghan forces.
Islamabad has rejected such claims, alleging that Pakistani militant groups such as Tehreek-e-Taliban Pakistan (TTP) are hiding in Afghanistan's border areas and using the region to stage attacks inside Pakistan.
Last week, Washington announced its intention to suspend $300 million (Rs. 37 billion) in military assistance to Pakistan and "reprogramme" those funds for other purposes, citing Islamabad's inaction towards terrorist groups.
Pompeo's visit to Islamabad matters because of an uptick in Taliban attacks in recent months, including a five-day siege in Ghazni Province, say some Afghan political analysts.
"Without engaging Pakistan, peace efforts in Afghanistan will be impossible," said Sharifullah Shinwari, a Kunar-based tribal elder and analyst who monitors Pakistan-Afghan relations.
After becoming prime minister, [Imran] Khan has held three lengthy meetings with Bajwa to discuss security issues ahead of Pompeo's visit, Shinwari told Pakistan Forward. "It shows that Pakistan's civilian and military leadership seems to be on the same page while meeting Pompeo. It is a good omen."