KABUL -- The United States said the Taliban's failure to engage in talks to end Afghanistan's nearly 17-year conflict was "unacceptable" and called on Pakistan to exert more pressure on the militants.
US envoy Alice Wells made the remarks during a visit to Kabul on Saturday (June 30), two weeks after an unprecedented ceasefire triggered spontaneous street celebrations involving Taliban fighters and security forces.
Wells arrived in Pakistan Monday (July 2) for talks with Pakistani officials.
"I think [the ceasefire reaction] creates this impulse for everyone to renew their efforts to find a negotiated political solution," Wells, the principal deputy assistant secretary for the State Department's Bureau of South and Central Asian Affairs, told reporters.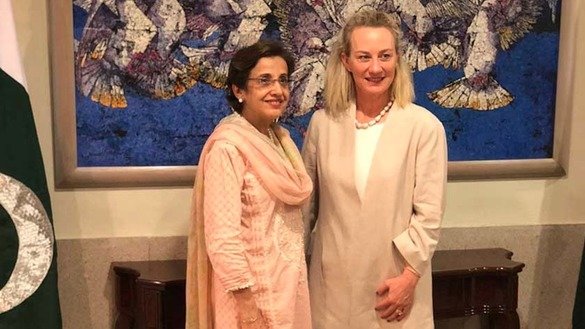 "Increasingly I think it's becoming simply unacceptable for the Taliban not to negotiate."
The Taliban have so far ignored President Ashraf Ghani's offer of peace negotiations. Instead, they have insisted on direct talks with the United States, which Washington has repeatedly refused.
Wells said that since the Afghan government and United States were willing to start talking without preconditions, the onus was now on the Taliban to respond.
"Right now it's the Taliban leaders... who aren't residing in Afghanistan, who are the obstacle to a negotiated political settlement," she said.
Pakistani action needed
"Pakistan has an important role to play... but we have not yet seen that sustained and decisive action on the part of Islamabad," Wells said.
"It's going to be very hard for us to achieve our objectives... if Pakistan isn't working with us."
Wells conferred with Foreign Secretary Tehmina Janjua upon her arrival in Pakistan Monday. She was scheduled to meet Pakistani Chief of Army Staff Gen. Qamar Javed Bajwa Tuesday, Voice of America reported.
The White House has been ratcheting up pressure on Islamabad to crack down on extremist groups operating in the country after suspending military aid to Pakistan in January because of its alleged inaction on the issue.
Pakistani authorities have successfully cracked down on Pakistani Taliban militant groups and al-Qaeda operating on its soil, said Tahir Khan, an Islamabad-based journalist who writes about terrorism and Pakistan-Afghanistan affairs.
The United States has acknowledged such actions and made clear its appreciation, he said.
"But it seems there is no approval or satisfaction between the two countries ... on the Afghan Taliban, and the United States is pressuring Pakistan to 'do more' to resolve Afghan turmoil," Khan told Pakistan Forward.
"Pakistan has done some things in this respect, and some things still need to be done," he said.
[Zia Ur Rehman from Karachi contributed to this report.]