PESHAWAR -- Pakistani lawmakers, analysts and business leaders are welcoming a newly implemented framework for engagement with Afghanistan, expressing hope that it will open new avenues of co-operation and develop mutual trust between the neighbouring countries.
Afghan President Ashraf Ghani and Pakistani Prime Minister Shahid Khaqan Abbasi on April 6 agreed on seven underlying principles of the Afghanistan-Pakistan Action Plan for Peace and Solidarity (APAPPS).
On May 14, delegations from the two countries led by Afghan Deputy Foreign Minister Hekmat Khalil Karzai and Pakistani Foreign Secretary Tehmina Janjua finalised the agreement in Islamabad.
"APAPPS provides a framework to strengthen mutual trust and deepen interaction in all spheres of bilateral engagements. It is also a mechanism for finding solutions to bilateral areas of concern," said the Afghan Foreign Ministry in a statement.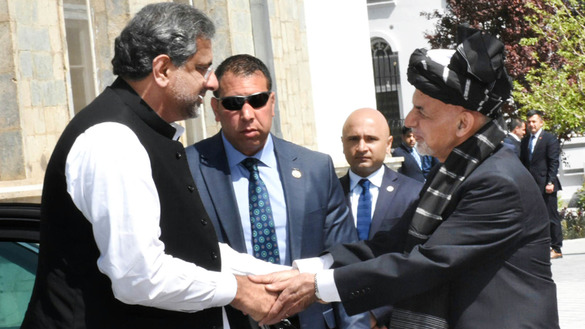 "Both sides agreed that effective and full implementation of APAPPS would contribute towards the common objectives of eliminating terrorism and achieving peace, stability, prosperity and development of the peoples of the two countries," the statement said.
The seven principles include Pakistan's support for the Afghan-led peace process, both countries taking action against security threats to either country, and denying the use of their territory to any anti-state elements.
Further, the two sides pledged to jointly implement the agreed upon actions through liaison officers.
They committed "to avoid territorial and aerial violations of each other's territory ... to avoid public blame games and instead use APAPPS co-operation mechanisms to respond to mutual issues of contention and concerns ... [and to] establish working groups and necessary co-operation mechanisms ... for full implementation of the APAPPS".
Lawmakers support
Lawmakers from various political parties in Pakistan declared their support for APAPPS.
"We welcome the historic decision to implement APAPPS, keeping in view its importance in addressing the mutual concerns of the two neighbouring countries," said Qaumi Watan Party chairman Aftab Ahmad Khan Sherpao.
"APAPPS will create opportunities for both Pakistan and Afghanistan to sit together and decide matters of significance in a congenial environment, dispelling impressions of past mistrust," he told Pakistan Forward.
"Mutual confidence and mutual respect will bring both countries closer, leading to a better understanding and willingness to accept each others' point of view," he said.
"We expect that developing consensus through a proper consideration of each other's stances will facilitate both parties to resolve the matters that are in limbo owing to the absence of an agreed upon mechanism," said Haroon Bashir Bilour, spokesman for the Awami National Party in Khyber Pakhtunkhwa.
The initiative will produce far reaching effects in the region, which has witnessed turmoil due to past misunderstandings and a lack of confidence between the two countries, he told Pakistan Forward.
Trade and security co-operation
"The initiative is capable of producing positive implications on the economic conditions of both countries by enhancing the declining trade transactions of [the Afghanistan-Pakistan Transit Trade Agreement]," said Zia-ul-Haq Sarhadi, former head of the Pakistan-Afghanistan Joint Chamber of Commerce and Industry, referring to an agreement inked in 2010 between the countries to facilitate trade.
"In this time of interdependence, where the world is considered a global village, even a minor agreement between nations can change the whole situation, affecting matters ranging from security to economics," he told Pakistan Forward.
The business community expects that APAPPS will result in increased cross-border trade, he said, noting that the existing trade has been diverted to Bandar Abbas and Chabahar ports because of unfavourable transit conditions, border closings and mistrust between the countries, he said.
"Geographic proximity, centuries-old traditions and the pressing threat of insurgency are the reasons requiring both countries to sit together and develop a consensus to resolve their problems," said Brig. (ret.) Mehmood Shah of Peshawar, former security secretary for the Federally Administered Tribal Areas (FATA).
"Chances of reconciliation and development of mutual trust will increase greatly if both countries accept each other's priorities and work on a common agenda with confidence," he told Pakistan Forward.
"Both the parties will now be in a better position to iron out differences and reach solutions on a variety of issues ranging from security to the economy in the context of APAPPS," Shah said, adding that effective implementation of the plan will be a decisive factor.
"The plan should be pursued with sincerity and positive intentions as these are the keys that will increase the productivity and effectiveness of APAPPS," he said.