ISLAMABAD -- Pakistani forces are poised to halt Central Asian militants fleeing Syria from entering Pakistan with the aim of targeting infrastructure and development projects, security analysts say.
"It is true that the militants from Uzbekistan and Turkmenistan who migrated to Syria are coming back to their home region and that they could [attempt to] infiltrate Afghanistan and Pakistan," Abdullah Khan, managing director of the Islamabad-based think tank Pakistan Institute for Conflict and Security Studies, told Pakistan Forward.
Many of these militants are fleeing the ranks of the "Islamic State of Iraq and Syria" (ISIS), which has been pushed out of Iraq and is on its last legs in Syria.
Others are allied with the Islamic Movement of Uzbekistan (IMU) and the China-based East Turkestan Islamic Movement (ETIM), according to a recent report published by the Institute of Strategic Studies Islamabad (ISSI).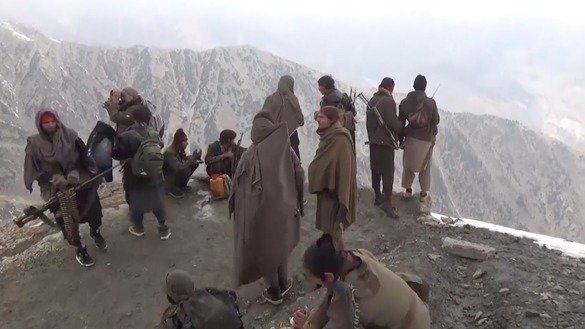 Militants belonging to these notorious international terrorist groups are being sent to Afghanistan to intensify bloodshed and terrorist activities in the region, Khan said.
To end the carnage in Afghanistan and throughout the region, all major security players should develop a joint strategy to discourage militancy and promote peace, he said.
Security personnel should also protect Pakistan's border with Afghanistan and further improve intelligence networks and co-operation among various intelligence and security organisations, Khan said.
Assessing the risks
After ISIS's recent defeats, scores of IMU and ETIM militants might now have their sights set on Afghanistan and Pakistan, ISSI research fellow Mir Sherbaz Khetrani wrote in a May 15 report.
Pakistan's intelligence agencies have carried out secret operations in Gilgit-Baltistan, Khyber Pakhtunkhwa and Balochistan to hunt down militants from both the IMU and ETIM, the report said, citing The News International.
ETIM advocates independence for Uighurs living in Xinjiang Province, China, and with that in mind, ETIM militants could seek to sabotage Chinese investment in Pakistan, according to the ISSI report.
In February, US air strikes hit Taliban and ETIM training facilities in Badakhshan Province, Afghanistan.
"The destruction of these training facilities prevents terrorists from planning any acts near the border with China and Tajikistan," NATO commander Air Force Maj. Gen. James B. Hecker told reporters.
Meanwhile, the IMU -- which perpetrated suicide bombings against the US and Israeli embassies in Uzbekistan in 2004 -- has factions variously loyal to the Taliban or ISIS.
The IMU also is accused of bombings in Tajikistan and Kyrgyzstan in 2005 and 2006.
Pakistan remains vigilant
Some factions of the IMU have pledged allegiance with ISIS in Afghanistan and its members returning from Syria might find some sympathy there, said Brig. (ret.) Mehmood Shah, former security secretary for the Federally Administered Tribal Areas (FATA).
"But they will not be able to find a safe haven in Pakistan," he told Pakistan Forward.
Three years ago, about 200 militants from pro-ISIS IMU factions and the Taliban died in a battle between the two groups in Afghanistan, Shah said.
Although the pro-ISIS IMU has manpower and expertise in carrying out suicide and other bombings, it "would face a very tough time in Afghanistan because of its rivalry with the Taliban".
Plus, Afghan and coalition forces have set their sights on ISIS and have caused significant casualties, he said.
As for ETIM, Shah said it is a smaller, much less formidable militant outfit in China and some border areas with Afghanistan. Its militants have been involved in stabbings in Xinjiang Province, China, he said.
The knife assaults indicate that ETIM is far from capable of suicide or other bombings, he said. However, ETIM activists are said to be skilled at creating pamphlets and brochures that promote militancy and religious hatred.