ISLAMABAD -- All signs indicate an increase in co-operation between the Afghan Taliban and China, which analysts say could push Uighur separatists to join the local affiliate of the "Islamic State of Iraq and Syria" (ISIS) in Afghanistan and Pakistan.
China has in the past blamed the East Turkestan Islamic Movement (ETIM) for terror attacks, and has used the group as justification for its measures in Xinjiang, where rights groups say that more than a million Muslims are incarcerated in indoctrination camps.
And while the Taliban in a deal inked with the United States in February 2020 agreed to prevent the use of Afghanistan's soil by any international terrorist group, members of al-Qaeda, the ETIM, Tehreek-e-Taliban Pakistan (TTP) and others were seen fighting alongside the Taliban as they took over Afghanistan in August.
China and Pakistan have also accused the ETIM and its allied groups, including the TTP, of carrying out attacks on Chinese nationals and projects linked with China's Belt and Road Initiative (BRI).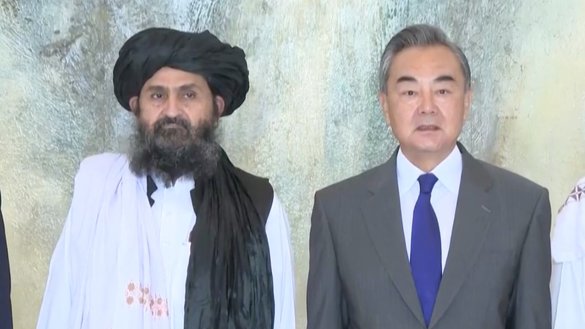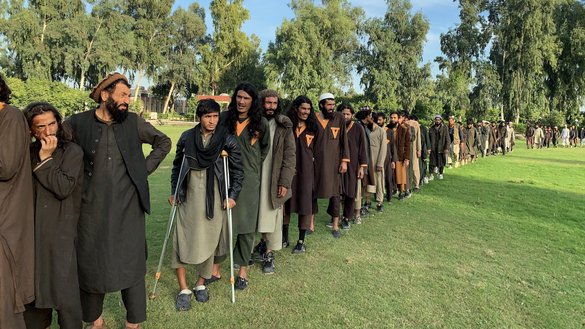 Islamabad and Beijing held the TTP and ETIM responsible for the July 14 suicide attack killing nine Chinese engineers, who were working on a hydroelectric project in Kohistan district, Pakistan.
"Beijing has been pushing the Afghan Taliban to hand over ETIM militants to Chinese authorities and crush their sanctuaries in Afghanistan," an Islamabad-based security official said on the condition of anonymity.
"But we fear that if the Afghan Taliban under Beijing's pressure take any action against the ETIM, the Uighur separatists could join ISIS-Khorasan [ISIS-K], a local affiliate of ISIS operating in Afghanistan and Pakistan."
Pakistan and other neighbouring countries are already concerned about the re-emergence of ISIS and fear that the militant group could attract transnational militant outfits into its ranks, said the security official.
ISIS ties
ETIM enjoys working relations with ISIS as a large number of Uighur separatists joined the group in Syria and fought against Syrian President Bashar al-Assad's forces.
At least 5,000 Uighurs went to Syria to fight -- though many have since left, the Associated Press reported in December 2017, citing Uighur activists and Syrian and Chinese officials.
In July, the United Nations Security Council (UNSC) estimated the number of militants belonging to the ETIM and its successor, the Turkistan Islamic Party (TIP), at between 1,500 and 3,000, in Idlib province, Syria.
Meanwhile in Afghanistan, the ETIM is believed to have several hundred members and remains active in Badakhshan, Faryab, Kabul and Nuristan provinces.
The UNSC observed that ETIM in Afghanistan had focused "primarily on actions targeting China", while the group in the Syrian Arab Republic had a "more global outlook".
ISIS-K has been capitalising on the Afghan Taliban's deal with Washington, championing itself as the only still-unreconciled insurgent movement in the region and wooing transnational militant groups, such as the ETIM.
ISIS has mocked the Taliban's return to power in Afghanistan in its official publication Al-Naba, alleging that the Taliban had not engaged in genuine "jihad", criticising al-Qaeda and other groups for "congratulating the Taliban", and announcing that it was preparing for a new phase of "jihad" in Afghanistan.
Beijing-Taliban co-operation
Co-operation between the Taliban and Beijing risks even closer ties between the ETIM and ISIS, observers say.
China on September 8 pledged $31 million in immediate aid to the interim Taliban government as the group imposed its harsh rule across Afghanistan.
Earlier, in July, a top-level Taliban delegation led by co-founder Mullah Abdul Ghani Baradar met with officials in Beijing.
By meeting with Chinese Communist Party (CCP) leaders, the Taliban signalled that they were willing to overlook China's atrocities against Muslims in Xinjiang, which rights groups and Western governments say amount to genocide.
The atheist CCP, meanwhile, is turning a blind eye to the Taliban's extremist ideology and violent ouster of the former Afghan government.
Chinese officials praised the insurgent group as an "important military and political force" in Afghanistan, according to news reports.
"The Afghan Taliban's silence over China's ill treatment of Muslims has provided ISIS-K an opportunity to attract the ETIM to its ranks," said Abdul Kareem, an Islamabad-based security analyst who monitors militant groups' publications.
ISIS, on the other hand, regularly publishes Uighur-language editions of magazines, criticising Beijing for its mistreatment of Xinjiang inhabitants, he said.
Certain crimes committed in Xinjiang by Chinese authorities have been particularly galling to Muslims around the world, including the arbitrary detention of more than 1,000 imams and religious figures in the region, the destruction of at least 16,000 mosques, and the systematic rape of Muslim women.
The Taliban, who portray themselves as defenders of Islam, seem willing to overlook the slaughter and enslavement of Muslims -- for the right price.