ISLAMABAD -- Civil activists, lawmakers and civilians in Pakistan are protesting the Taliban's atrocities in neighbouring Afghanistan, which has seen days of bloody fighting between the militants and Afghan forces in recent months.
Since May, a growing Taliban offensive in various Afghan provinces has led to skyrocketing civilian casualties, the displacement of thousands of families and widespread destruction.
In the latest example of violence, the Taliban Friday (August 6) fatally shot the Afghan government's spokesman near a mosque in Kabul, days after warning they would target senior administration figures in retaliation for increased air strikes.
In Lahore, locals took part in a rally July 21 organised by the NGO Rawadari Tehreek to condemn the Taliban's violence in Afghanistan and to show solidarity with the Afghan people.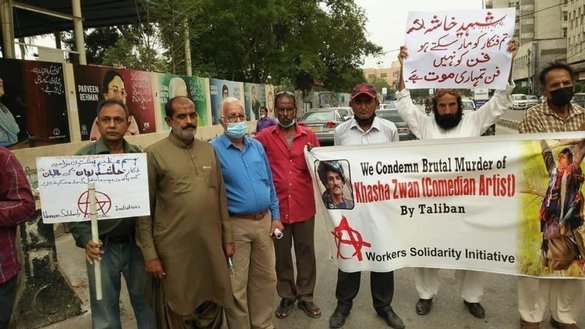 It is not only Afghans but the entire world that does not want the return of the Taliban regime, demonstrators said.
"The Pakistani people are concerned with the Taliban's continuing attacks on civilians and want to show solidarity with Afghan people who are resisting them," said Jabbar Bhatti, one of the protesters.
"The Taliban have nothing to do with Islam. They are inhumane and barbaric," he said.
Since the ouster of the Taliban regime in 2001, women's rights in Afghanistan have improved, with more girls attending schools and more women joining the workforce and entering politics, said Fauzia Ali, a women's rights activist who attended the protest.
She cited reports that the Taliban have imposed restrictions on women in areas they have recently seized.
"But women across the world, including Pakistan, are with Afghan women and support them in resisting the Taliban," Ali said.
Locals in Karachi on July 25 also gathered outside the local press club to condemn the Taliban's killing of Afghan comedian Nazar Mohammad, popularly known as Khasha Zwan, in Kandahar.
The Taliban on July 29 claimed responsibility for killing Mohammad, who was known for posting humorous videos online, after clips earlier emerged on social media showing him being beaten and then showing his dead body.
The Taliban cannot intimidate the Afghan people with their violent activities, said protesters in Karachi, holding signs with Mohammad's portrait.
"We are hopeful that the Taliban will be defeated and that the intolerance, violence and hatred it espouses will be stamped out," said William Sadiq, the protest organiser.
"Afghans have seen enough misery, most of which goes unreported. All of Pakistan wants an end to this continued killing," he said.
Afghans thankful for Pakistanis' support
Pakistani politicians have condemned the Taliban for their actions.
Pakistanis have suffered from the terrorism of the Tehreek-e-Taliban Pakistan (TTP), a proscribed terror group allied with the Afghan Taliban, Zakir Shah, a leader of the Awami National Party in Peshawar, noted.
Pakistanis fully support the Afghan government and civilians' defiance of terrorists, he said.
The TTP has carried out hundreds of attacks on Pakistani security forces and civilians.
More than 150 Pakistanis, mostly children, were killed on December 16, 2014, when TTP terrorists stormed a school in Peshawar. More than 110 others were wounded.
The Pakistani army responded with a military operation against militant groups operating in tribal areas that forced the TTP to relocate to Afghanistan, where the Afghan Taliban have been providing it sanctuary.
"The Taliban, whether they are in Pakistan or Afghanistan, are two sides of the same coin and involved in killing innocent people," Shah said.
The support shown by thousands of Pakistani youth for anti-Taliban campaigns has been encouraging for the Afghan people, Azmat Noori, a Kabul-based political activist, said.
Pakistanis on social media are connected with Afghan peace activists and are making known their opposition to Taliban militants who are waging a violent insurgency in Afghanistan, he said.